If you're a mushroom lover or you're simply looking for vegetarian onigiri ideas, this recipe is for you!
A few month's ago, I went on a temporary vegetarian diet for personal reasons and noticed how difficult it was to find healthy vegetarian food aside from salads, smoothie bowls and falafels. Not that there's anything wrong with them because I love them all, but the variety of food options were severely lacking in my opinion.
I still wanted to eat foods that I enjoyed and onigiri's happen to be one of my favorite lunch and snack to eat. I've previously posted onigiri recipes like my salted salmon onigiri and tuna onigiri but I wanted to challenge myself to make a 100% vegetarian onigiri. So that's the origin of this mushroom onigiri 🙂
I recommend using an assortment of 'meatier' mushrooms for the filling like shiitake and king oyster mushrooms but any mushroom would honestly work for this!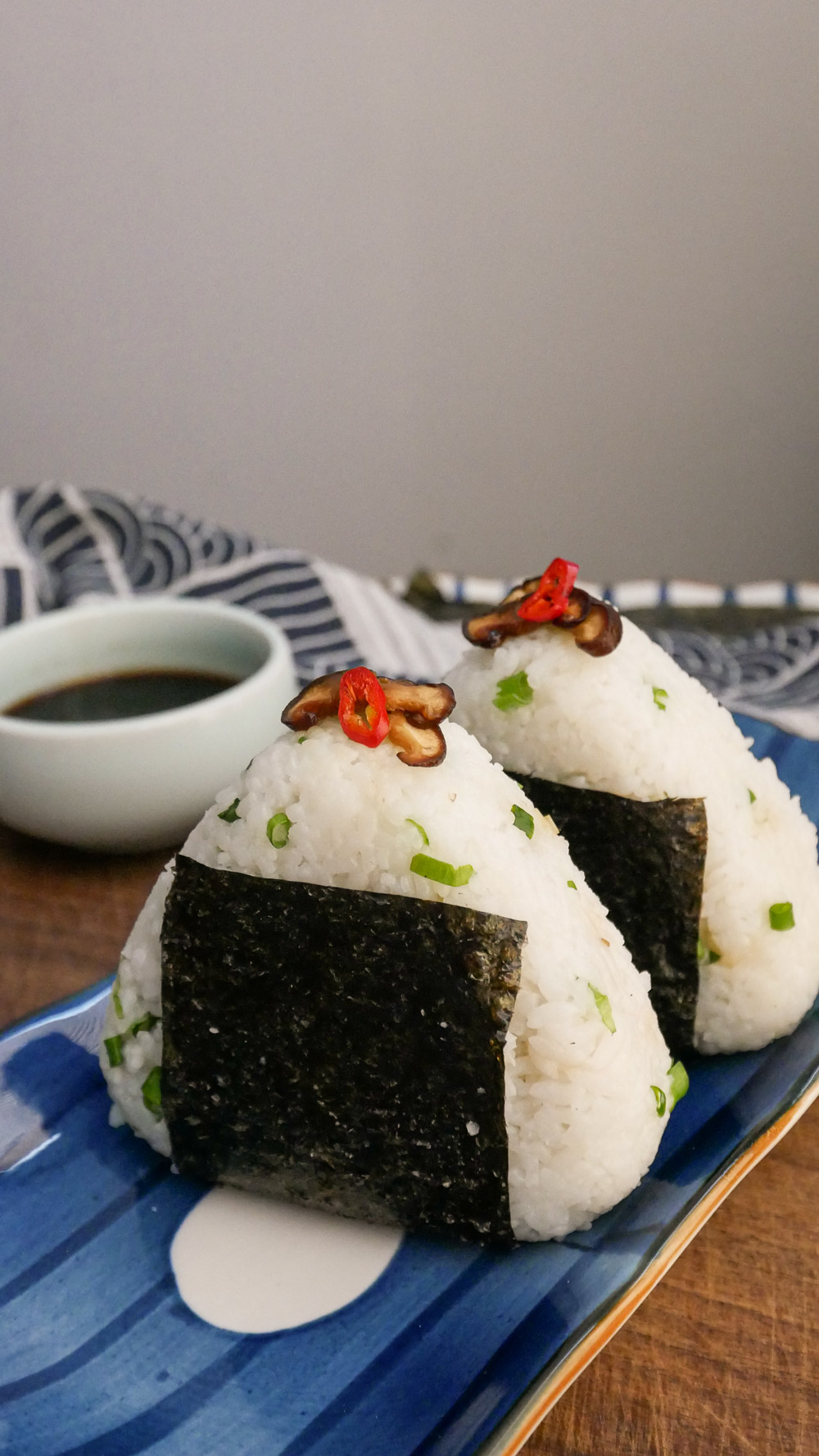 Mushroom Onigiri
Ingredients
3

cups

cooked short grain rice

room temperature

6

oz

assorted mushrooms

chopped, like shiitake, shimeji, king oyster

2

scallions

chopped + divided

1

tbsp

sesame seeds

1

red hot chili pepper

sliced (optional)

1/2

tsp

salt

nori sheets
Mentsuyu Sauce
1/2

cup

soy sauce

1/4

cup

mirin

or cooking wine

1/4

cup

sake

3

pieces

dried kelp

about 2 oz

1/4

medium

onion

sliced
Instructions
Let's make the mentsuyu sauce! Combine soy sauce, mirin, sake, dried kelp, and sliced onion in a pot. Bring to a boil and reduce to medium-low heat. Simmer for 7-10 minutes then strain. The sauce can be stored in a tight lid container for up to 1 month in the fridge.

In a pan, add the chopped mushrooms and allow this to cook down for 1-2 minutes. Add 2 tbsp of the mentsuyu sauce and stir until mushrooms are fully coated. Taste the mushrooms and add more sauce if needed.

Transfer the mushrooms to a heatproof bowl and add half the scallions, sliced peppers, and sesame seeds. Mix until thoroughly combined.

In a bowl with the cooked rice, add the remaining half of the scallions and mix until combined. If you are using a mold to shape the onigiri's, season the rice with salt now. If you are shaping the onigiri by hand, do not season the rice with salt in this step.

Let's shape the onigiri! If using a mold, follow the instructions according to the package.

If you're shaping by hand, place a sprinkle of salt on your hands and grab about 1/4 cup rice and flatten it out on your palms. Place 1-2 tbsp of the mushroom mixture in the center. Top with some more rice and press it down so the rice on top sticks to the rice on the bottom. Using your palms, apply pressure and shape the onigiri into a triangle. This may take some practice and a few tries.

After the onigiri is shaped, wrap a sheet of nori on the underside of the onigiri.

*Onigiri's can be made in advance and can be eaten cold too! To serve the next day, wrap the onigiri in plastic wrap and place in the refrigerator. The plastic wrap will keep the moisture in and prevent the rice from drying out*
Pin & save this recipe for later!