Gamja Jjageuli is a delicious Korean stew made popular by famous celebrity chef Baek Jong Won. It was featured on the show "Delicious Rendezvous" where they highlighted local produce to help Korean farmers. 
However, the recipe that we'll share is not an exact copy of the original recipe by Chef Baek Jong Won. We made slight modifications, but we know you'll enjoy it too!
If you're a potato fiend like me, you'll LOVE this! Gamja Jjageuli is a spicy, hearty Korean potato stew and it's the ultimate comfort food. This dish is a 'rice thief' when translated from Korean because it's the perfect accompaniment for rice. And you'll need lots of it.
I usually use russet potatoes but sometimes I'll switch it up and use Korean or Japanese sweet potatoes. The sweet and salty combo makes this stew incredibly delectable!
Perfect for the cool weather, Gamja Jjageuli is the ultimate comfort food for the soup season. It will drive spicy food lovers crazy, but those who are not can still enjoy this dish by adjusting the spiciness. 
What makes this Korean potato stew even more appealing is that it is a simple one-pot meal that you can prepare in less than 30 minutes. All you have to do is to place all ingredients in a pot and wait for it to cook. You don't have to be a chef or advanced home cook to make this– just follow my instructions step by step.
Here's a little more information about Gamja Jjageuli including how it's cooked, and some tips and tricks to make the dish more flavorful and addictive.
What is Gamja Jjageuli?
Gamja means spud or potato in Korean, while Jjageuli refers to Korean stews that are reduced down with potatoes. While Jjageuli isn't a word that is as widely used as "gook" (soup) or "jjigae" (stew), Gamja Jjageuli is a very popular dish in Korea.
It refers to a dish made with potato and pork, and cooked in a spicy thick broth. It is a local dish in Chungcheong-do, Korea, but that version involves boiling seasoned pork and vegetables instead of Spam such as in this recipe.
As the ingredients boil away, the starch from the potatoes makes the broth thicker and stew-like. Compared to stews, it has less broth and the texture is more sauce-like than soupy.
How to Make Gamja Jjageuli
There are different versions of Gamja Jjageuli, but here's our simple and very affordable, yet tasty recipe!
Step 1: Wash and peel your vegetables.
The first step is to prepare your vegetables. Wash the potatoes, onion, long green pepper, and scallions. Peel the potatoes and onions.
Step 2: Slice your vegetables.
Cut the potatoes and onions into ½ inch thick pieces. Mince the garlic, cut the green peppers, and chop the scallions finely. Set aside.
Step 3: Smash the Spam into small pieces.
Place the Spam in a plastic bag or Ziploc and smash it with your palms to turn it into smaller pieces. You can also use the back of a spoon, but using your hands is way easier and faster. 
Step 4: Layer the ingredients in the pot.
Once all your ingredients are ready, you can start layering them in the pot starting with the potatoes and onions. Put the Spam on top of these and distribute the minced garlic, sugar, coarse and fine gochugaru, soy sauce, doenjang, gochujang, green peppers, and lastly, pour some water. 
Make sure that you don't add too much water because you want the soup to be thick enough. You can avoid loose stew by adding water until all your ingredients are just about submerged.
Step 5: Boil and simmer.
Bring to a boil and reduce the heat to low. Simmer for about 10 to 15 minutes. You'll know that your Gamja Jjageuli is ready when the potatoes are soft enough and mashable. However, the longer it cooks, the more the individual flavors of these ingredients come together to complement each other and make the dish tastier.
Step 6: Top with scallions and serve with rice.
Scallions are probably the most commonly used garnish in Korean dishes and this is not an exception. Finish off your Gamja Jjageuli with some chopped scallions for freshness and you have a dish too flavorful to eat straight. So serve your special homemade Korean potato stew with some white rice and enjoy!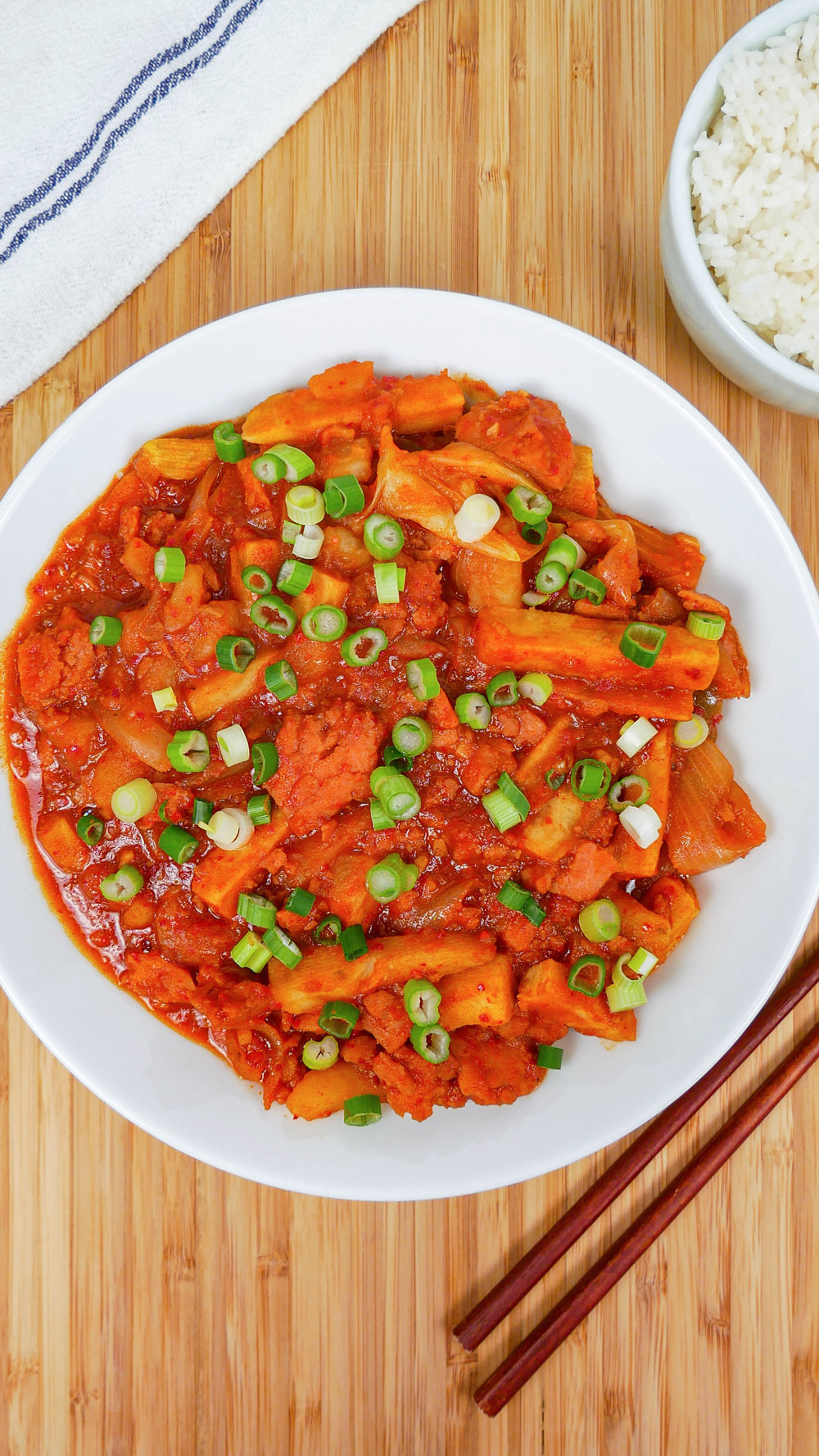 Gamja Jjageuli (Korean Potato Stew)
Here's how you make the ultimate comfort food!
Ingredients
2

potatoes

1/2

onion

medium sized

1

long green pepper

sliced

2

garlic cloves

minced

1

scallion

chopped

1/2

can (200g)

Spam

Lite or Low Sodium
Seasoning
1

tbsp

gochujang

(Korean red pepper paste)

1

tsp

doenjang

(Korean soy bean paste)

2

tbsp

coarse gochugaru

(Korean red pepper powder)

1

tbsp

fine gochugaru

1.5

tbsp

brown sugar

3

tbsp

soy sauce

4

cups

water
Instructions
Wash and peel the potatoes.

Slice potatoes and onions into 1/2 inch thick pieces.

Mince the garlic, cut the peppers, and chop the scallions.

Place the spam in a plastic bag or Ziploc bag and smash down with your hands into small pieces.

Layer a pot with the potatoes, onions, spam, garlic, sugar, coarse and fine gochugaru, soy sauce, doenjang, gochujang, green peppers, and water.

*Note: Add water until the ingredients are just about submerged. Too much water can result in a loose stew.

Bring to a boil, reduce the heat to low, and cook for 10-15 minutes. The stew is ready when the potatoes are soft and mashable

Top with scallions for freshness and enjoy with lots of rice!
Notes
If you don't have fine gochugaru, you can substitute it with coarse gochugaru. 

The ingredients should be just about submerged in water when adding to the pot. This stew is meant to be thick so adding too much water can result in a loose and runny stew. 

Sometimes, I'll switch it up and use sweet potatoes instead of regular potatoes. Any type of potato will work for this but I recommend using starchy potatoes.

Doenjang is an essential part of this dish. Don't skip it! It gives the dish a wonderful depth of flavor and it won't taste the same without it.

Crushing the Spam gives the stew a better taste and texture. Simply cutting it into cubes does not make it taste as good.

Feel free to adjust the amounts of red and green peppers, as well as red pepper powder if you have a low tolerance for spicy food. 

If you have some leftovers, store them in an airtight container and keep them in the fridge for up to 2 days. Reheat in the microwave.
Final Thoughts
Gamja Jjageuli is the perfect hearty meal for days when your pantry is running low on fresh produce and you want a quick weekday meal. It only requires a few key ingredients, and is very easy to make. In fact, you can say that it only requires a bit more preparation compared to cooking Korean ramyun. 
For those who are fond of Korean food or want to explore this cuisine, Gamja Jjageuli is a good starting point. It combines all the classic Korean flavors from the gochugaru, gochujang, and doenjang. 
If you haven't tried this simple versatile dish yet, try out this recipe and let me know your thoughts! I also love seeing pics of your dish, so feel free to send me a snapshot of your own version of Gamja Jjageuli!
Pin & save this recipe for later!