Vegetarians and shroom lovers – this mushroom bao is for you!
Each bite of this mushroom bao will take you on a journey of taste and texture. The tender oyster mushrooms dressed in a delicious savory sauce coupled with pickled cucumbers, spicy Thai chilis, and fresh scallions make this a healthy and irresistible bao.
I'm using shredded oyster mushrooms but feel free to use any mushrooms you desire! Just be sure to cut them up into small or bite-sized pieces.
Mushrooms are like sponges so it's important to keep these two things in mind:
Avoid washing the mushrooms under running water to prevent them from soaking in more moisture. To clean the mushrooms, simply use a damp paper towel and wipe off any visible dirt or grit.
When cooking the mushrooms, start off with a dry hot pan first. You don't want to use any oil or butter in the beginning, otherwise, the mushrooms will soak it all up (remember, they're sponges!). Allow the mushrooms the cook in a dry pan first and once their natural water evaporates, then you can then add oil, butter, or any liquid seasoning (like soy sauce).
If you've been following my bao series, you know how I feel about homemade versus premade store-bought baos. Homemade steamed bao buns just taste so much better and they can be stored in the freezer and reheated for recipes like this one!
Looking for more delicious bao fillings? Check out my other bao recipes below!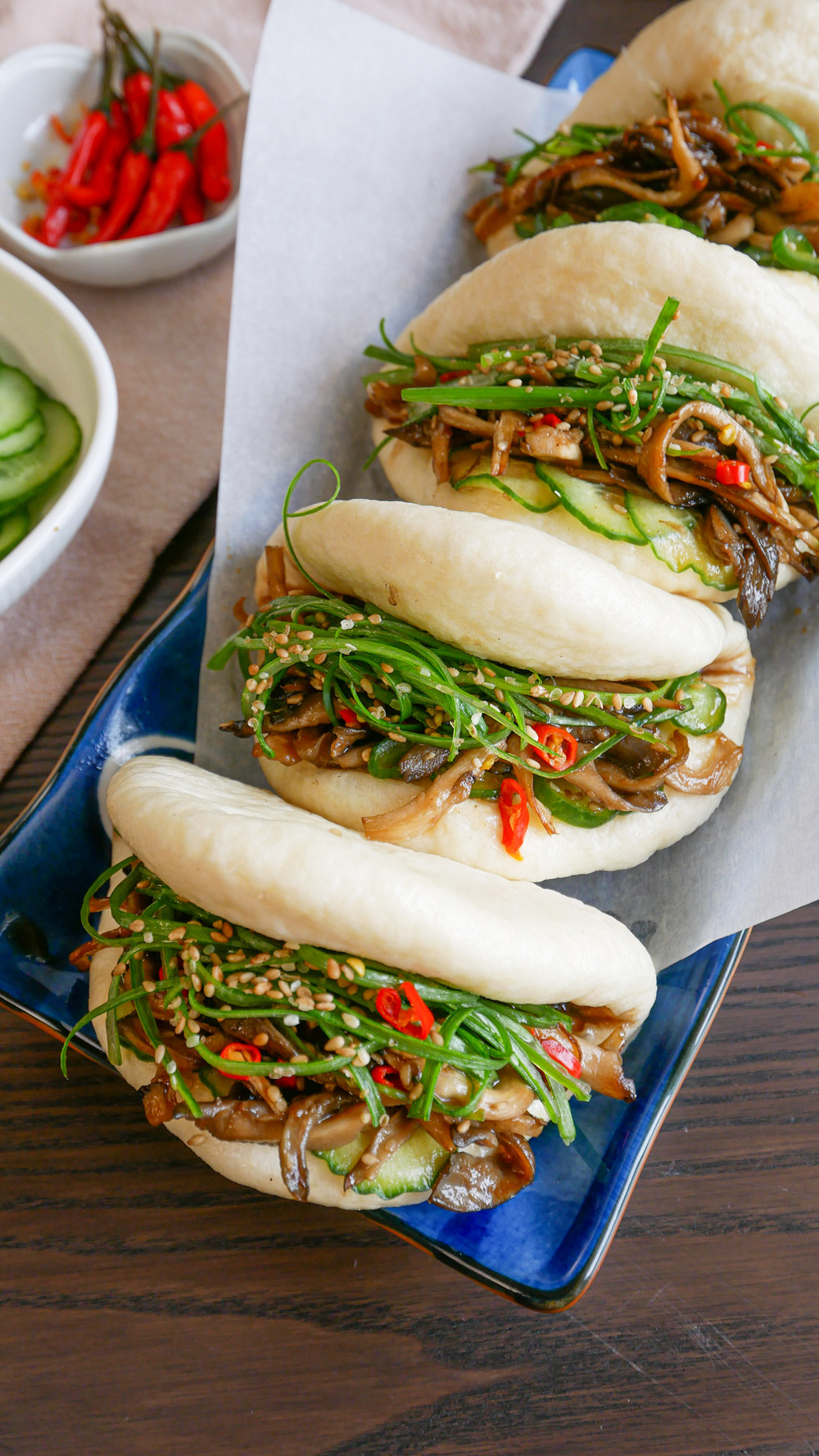 Mushroom Bao
Ingredients
10

oz

oyster mushrooms

substitute with your choice of mushrooms

4

steamed baos

see note 1

1

tbsp

oil

1

tsp

soy sauce
Hoisin Sauce
2

tsp

hoisin

1

tbsp

soy sauce

2

tbsp

maple syrup

substitute with honey

2

tsp

sesame oil

1/8

tsp

Chinese five spice powder
Pickled Cucumbers
1/3

cup

Persian cucumbers

thinly sliced

1/2

tsp

salt

1/2

tsp

sugar

2

tsp

rice vinegar

1

tsp

roasted sesame seeds
Garnish
2-3

thai chilis

chopped

2

scallions

thinly sliced

1

tsp

roasted sesame seeds
Instructions
Place the thinly sliced Persian cucumbers into a small mixing bowl. Add salt and mix thoroughly until well combined. Set aside for 15 minutes to draw out the moisture.

In the meantime, prepare the hoisin sauce by combining hoisin, soy sauce, maple syrup, sesame oil, and Chinese five-spice powder in a small bowl. Using a whisk, mix the ingredients together until well combined. Set aside for later.

After 15 minutes, squeeze the cucumbers to get rid of any excess water. Transfer to a new bowl then combine sugar, rice vinegar, and roasted sesame seeds. Mix well and taste to adjust the seasoning. Set aside for later.

Prep the mushrooms by wiping them down with a damp paper towel to clean off any visible dirt. Shred them into thin strips to resemble 'pulled pork'. If using different types of mushrooms, slice them into small chunks or bite-sized pieces.

Set a nonstick pan over medium-high heat. Once the pan is hot, add the shredded mushrooms and spread them out evenly across the pan. Cook until all the natural water from the mushrooms has evaporated. Be sure to stir so the mushroom is evenly cooked!

Once the water has evaporated, add oil to prevent the mushrooms from burning then stir. Next, add 1 teaspoon of soy sauce and stir until well combined. When the mushrooms are nicely charred and browned, remove them from the heat and transfer them to a bowl.

In the same pan over medium heat, add the hoisin sauce from earlier. Reduce until slightly thickened or until it coats a spoon or spatula and slowly drips off. Remove from the heat and add 1 to 2 tablespoons of the thickened sauce into the bowl with mushrooms. Mix the mushrooms and hoisin sauce until combined. Reserve the remaining sauce to be used to assemble the baos.

To assemble the baos, first have the steamed baos hot and ready! Take one bao and add a small spoonful of the reserved hoisin sauce at the bottom, making sure to spread it out evenly so the entire bottom layer of the bao is coated. Layer on the pickled cucumbers then take about 1 to 2 tablespoons of the mushroom and place it on top. Add another spoonful of the hoisin sauce on top of the mushrooms. Garnish with Thai chilis, scallions, and roasted sesame seeds.

Repeat for the remaining baos and enjoy!
Notes
If using store-bought bao buns, steam them by following the package instructions. If making bao buns from scratch, check out my Steamed Bao Bun recipe. 
Pin & save this recipe for later!