Korean Curry Rice is a classic homey dish that you'll find in every Korean home, and a comfort food many people grew up eating. 
It's made with instant curry cubes that can be found at most Asian supermarkets. They usually have different varieties based on the spice level. I like my curry spicy so I usually get the one that says 'hot' on the label.
I like keeping it simple with carrots, onions and potatoes but you can add meat or any other veggies to make a hearty dish. It's extremely versatile so you can make it just how you like! 
You'll find many different versions of Korean Curry Rice, but here, I'll share with you my own take on this simple yet fantastic dish!
What is Korean Curry Rice?
Korean Curry Rice (ka-re-raice) is a saucy, stew-like curry dish served over a bowl of fresh rice. This dish was originally introduced by the Japanese to Korea and has since become a staple in Korean homes. Compared to the Japanese version, Korean Curry Rice is generally lighter and can be paired with kimchi. 
It is relatively easy to make and only requires instant curry mix. You can either use curry in powder form or curry blocks (also called curry roux). The good thing about curry roux is that it contains fat, giving it a richer taste and allowing it to make the sauce thicker.
You can make it purely with vegetables or add your preferred type of meat.
How to Make Korean Curry Rice
Korean Curry Rice is so tasty, you wouldn't believe that it is this easy to make. Follow the step-by-step instructions below to make this perfect Korean comfort food at home.
Step 1: Prepare your vegetables.
Prepare your potatoes, carrots, and onions by peeling and washing them. Next, dice them into bite-sized chunks. Mince your garlic cloves and chop the scallions finely. Set everything aside.
Step 2: Heat your cooking oil.
In a pot or pan, heat up 2 tablespoons of cooking oil on medium heat.
Step 3: Drop your onions and garlic.
Once your oil is hot, add your onions and garlic. It is recommended to cook the onions first, as garlic burns easily. Remember not to let your garlic burn, as this gives off a bitter taste.
So let your onions caramelize and wait until they turn almost translucent first before adding the garlic. Stir occasionally until the garlic is light brown. This should just take about 1 to 2 minutes.
Step 4: Mix in your potatoes and carrots.
Next, add in your potatoes and carrots. Stir fry for about 2 to 3 minutes or until the potatoes are partially translucent. Once you achieve this color, add some water.
Step 5: Add your instant curry cubes.
Bring your dish to a boil and add the curry cubes or instant curry mix. Stir it well until the curry becomes fully dissolved and incorporated.
Keep in mind that the curry cubes that this recipe requires are the ones imported from Korea or Japan and can be found in Asian grocery stores. This is not the same as Indian curry.
Step 6: Turn down the heat and reduce the sauce.
Turn the heat to low and let it simmer for about 10 minutes to reduce the sauce. Ideally, you'd want to achieve a stew-like consistency. However, it is up to you to decide your desired thickness for the sauce. 
If you accidentally reduce the sauce too much and it becomes too thick, you can loosen it up by adding a bit of water. Just add small amounts of water until you get the consistency that you want.
On the other hand, if your dish becomes too soupy, you can reduce the sauce further by letting it cook under low heat until it thickens.
Step 7: Serve and enjoy!
Once you're satisfied with the consistency of the curry, serve over a bed of fresh rice and garnish with scallions. You can also pair it with Korean side dishes such as kimchi, cabbage salad, and danmuji (yellow pickled radish).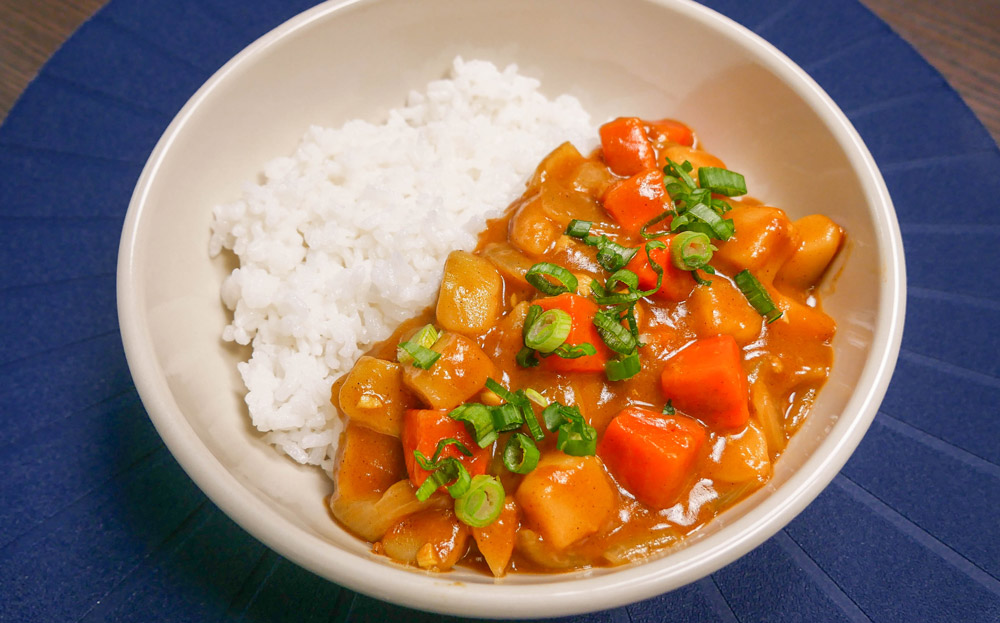 Korean Curry Rice
This Korean Curry Rice recipe is affordable, yet tasty, as it requires only a few ingredients that may even be readily available at home.
Ingredients
2

potatoes

diced

1

medium

onion

diced

1/2

carrot

diced

2

cloves

garlic

minced

1

scallion

chopped

1/2

package

instant curry cubes

(4 cubes)

2

tbsp

cooking oil

4

cups

water

or low-sodium chicken stock
Instructions
Peel the potatoes and carrot.

Chop the potatoes, carrot, and onion into bite sized chunks.

Mince the garlic cloves and chop the scallions.

In a pot or pan, heat up 2 tablespoons oil on medium heat.

Add the onions and garlic and cook for 1-2 minutes.

Mix in the potatoes and carrots and cook for 2-3 minutes.

Once the potatoes are partially translucent, add the water.

Bring to a boil and add the instant curry cubes. Mix well.

Turn the heat to low and cook down, about 10 minutes or until the desired thickness.

*Note: If the curry is too thick, add some water to loosen it up. If the curry is too loose, cook it down to let it thicken.

Serve over a bed of rice and garnish with scallions.
Notes
Customize this dish according to your preferences. You can add your favorite vegetables or meat for a heartier dish.

These instant curry cubes can be found in most Asian markets. They usually have different varieties based on spice level so you can pick the one that you prefer. There's usually spicy, medium, mild, and non-spicy so everyone can enjoy it, even kids.

Try to cut the vegetables in the same size so they will cook evenly.

Yellow potatoes hold less starch than russets. If you're looking for a low-carb option, you can use sweet potatoes, parsnips, or rutabaga instead.

You can keep your leftovers in an airtight container and refrigerate them. This can last up to 4 days. Make sure that you store the curry separately from the rice so your rice won't soak up all the sauce. Simply reheat the curry in the microwave or on the stove when you're ready to eat.
Final Thoughts
Korean Curry Rice is one of my family's go-to meals. I even have fond childhood memories of walking into our kitchen and smelling this dish cooking on the stove. 
The Korean Curry Rice recipe I'm sharing is the most basic version that only requires potatoes, carrots, and onions. But don't be fooled by the simplicity of this dish! Do it right, and you will surely be blown away by the beautiful combination of flavors.
Also, in case this dish is too simple for you, you can easily modify my recipe and make your own version with lots of different vegetables and any meat of your choice. What I personally love most about cooking Korean curry is that it can take less than half an hour to prepare. This means you can quickly cook this anytime, even on weekdays. 
So the next time you stock up your pantry and visit a Korean grocery store or Asian market, don't forget to pick up a box of instant curry cubes! You can just store it in your kitchen cabinet, and you'll find that it comes in handy whenever you want to whip up a hearty homecooked meal for your family or friends!
If you haven't cooked Korean Curry Rice before or you're exploring other versions, give mine a try and let me how you like it!
Pin & save this recipe for later!