These crispy potato cheese donuts are incredibly indulgent and the best way I can describe them is like a warm hug. After biting into the crispy panko breadcrumbs, you're met with soft mashed potatoes followed by a sweet and tender onion ring and finally, an ooey gooey cheesy center.
I'm making the potatoes from scratch but if you have leftover mashed potatoes, this is a great recipe to use them up!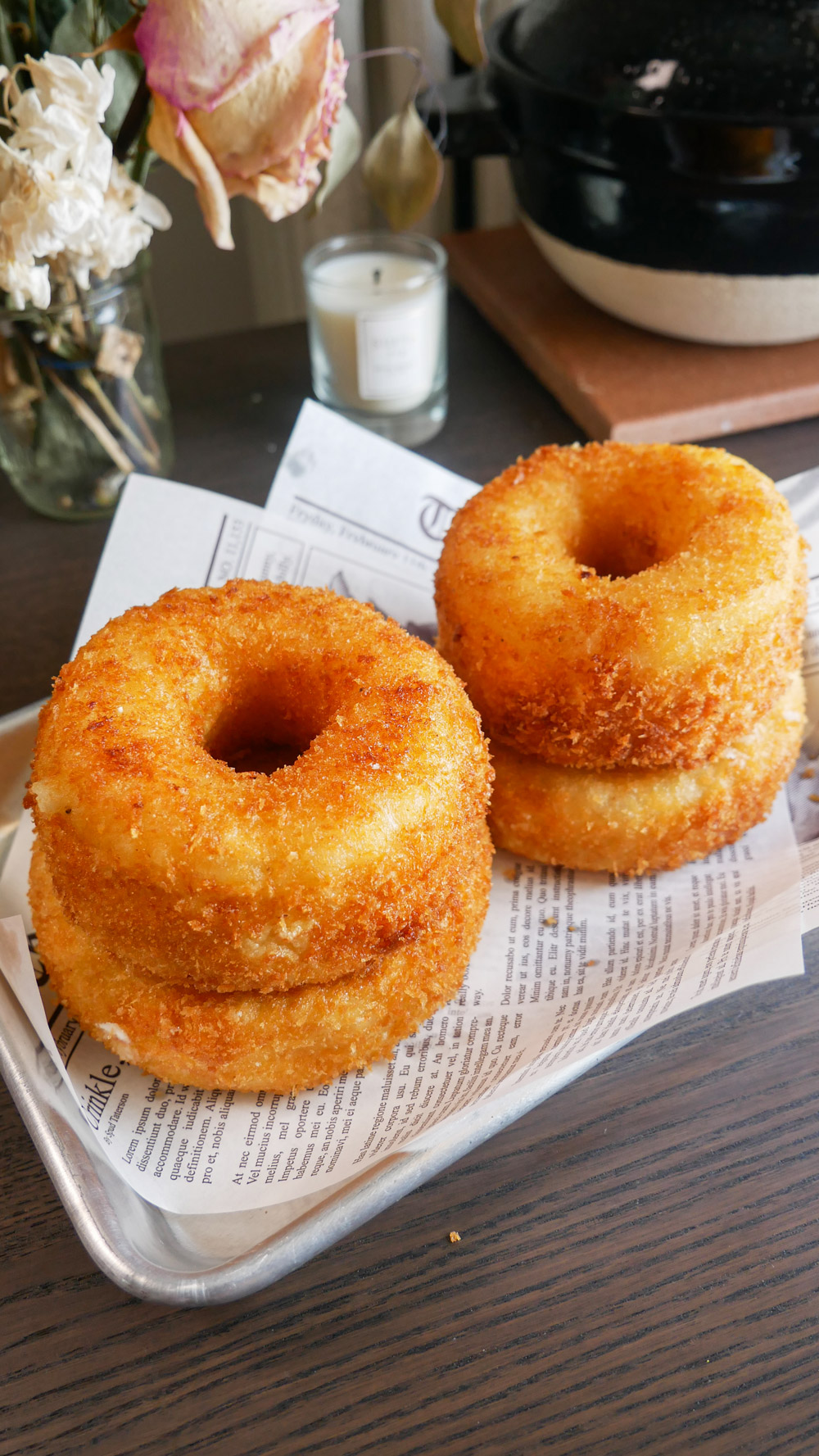 Potato Cheese Donuts
Ingredients
6-7

russet potatoes

about 800g

1/2

tsp

salt

adjust to taste

1/4

tsp

black pepper

3

tbsp

potato starch

substitute with cornstarch

4-6

onion rings

sliced into 1-inch thick rings

4-6

oz

block of mozzarella cheese

substitute with pre-sliced cheese
Dredge
1/2

cup

potato starch

substitute with cornstarch

1/2

tsp

garlic powder

1/4

tsp

salt
Breading
3/4

cup

panko bread crumbs

1/4

tsp

salt
Instructions
Start by peeling the potatoes then roughly chop them into 1-inch pieces. Arrange them in a steamer basket and steam for 15 minutes or until fork tender. If you don't have a steamer, you could also microwave the potatoes. Place them in a microwave-safe bowl and add 1 tbsp of water. Cover with plastic wrap and microwave for 4 minutes. After 4 minutes, toss the potatoes then cover again. Microwave for another 4 minutes or until fork tender.

While the potatoes are cooking, prepare the onions. After peeling the onion, cut the onion into 1-inch thick pieces. Be sure not to cut the onion from the stem to the root – you want to cut them into onion rings. Carefully remove each layer. Depending on the size of the onion rings you want, pick out 4 to 6 rings that are similar in size.

Next, slice the block of mozzarella cheese into 1/4-inch thick pieces. It should be the same width as the thickness of an onion ring, about 1 inch.

Once the potatoes are cooked, allow them to cool for a few minutes. Then transfer them to a medium-sized mixing bowl. Using a fork, ricer, or masher, mash the potatoes until smooth. Add potato starch, 1/2 tsp salt, and black pepper. Mix together until well combined.

Take one onion ring then place a slice of mozzarella cheese along the inside of the onion ring. Make sure that the entire ring is lined with cheese.

Next, take a fistful of the mashed potato and roll it out into a thin log. Line it on the inner and outer ring of the onion and cheese, covering all surface areas, including the top and bottom.

Shape it into a round donut shape then repeat until all the potatoes are used up.

In a pan over medium heat, heat neutral oil to 375F (190C).

While the oil is heating up, prepare the dredge, egg batter, and breading station. In a shallow bowl, combine potato starch, 1/2 tsp garlic powder, and 1/4 tsp salt for the dredge. In a second shallow bowl, whisk two eggs with 1/4 tsp salt. In a third shallow bowl, combine panko bread crumbs and 1/4 tsp salt. Be sure to give each bowl a good mix.

Take one potato cheese donut and coat it in the dredge, making sure all sides are coated. Transfer it to the egg wash and coat on all sides. Next, transfer it into the breading, making sure to gently press the breadcrumbs onto the surface so it adheres better.

Carefully place the donut into the hot oil. I recommend using a spatula to do this – the potato donut is dense and heavy so you want to be careful here!

Fry on each side for 2 to 3 minutes until golden brown and crispy. Remove from the oil and allow it to rest on a wire rack to cool slightly. Repeat for the rest of the donuts.