Today we're entering the world the fusion food and experiencing a marriage between an all-American classic hot dog and a spicy, tangy kimchi chili. We're making Kimchi Hot Dogs – yaa you read that right!
The oh-so-humble backyard bbq hot dog is getting a Korean makeover and let me tell you, it's the kind of transformation that'll make you wonder why you haven't tried this sooner.
Why you'll love this recipe
If you're craving something unique, exciting, and downright delicious for your next summer gathering or backyard BBQ – *enter the Kimchi Hot Dog*.
Most of us have had a standard hot dog served in a hot dog bun but the real game-changer here is the homemade kimchi chili. It's spicy, tangy, and hearty – just filled with a medley of textures and complex flavors that complement the hot dog deliciously.
But it's not just about the taste, it's also incredibly easy and simple to put together. Even if you're a novice in the kitchen, this recipe is foolproof and something that you can easily prepare. The best part about this recipe is that the kimchi chili can be made in advance and reheated when you're ready to serve the hot dogs.
So, whether you're throwing a backyard barbecue, or just craving a quick yet elevated lunch or dinner, this recipe does not disappoint.
Cooking Tips for Kimchi Hot Dogs
For best results, use fermented or extra sour kimchi. The funkiness and sourness of the kimchi will add tons of flavor to the chili.
Be mindful of the saltiness of the chili. Since hot dogs are already salty on their own, you don't want the chili to be too seasoned otherwise, the kimchi hot dog will turn out overly salty.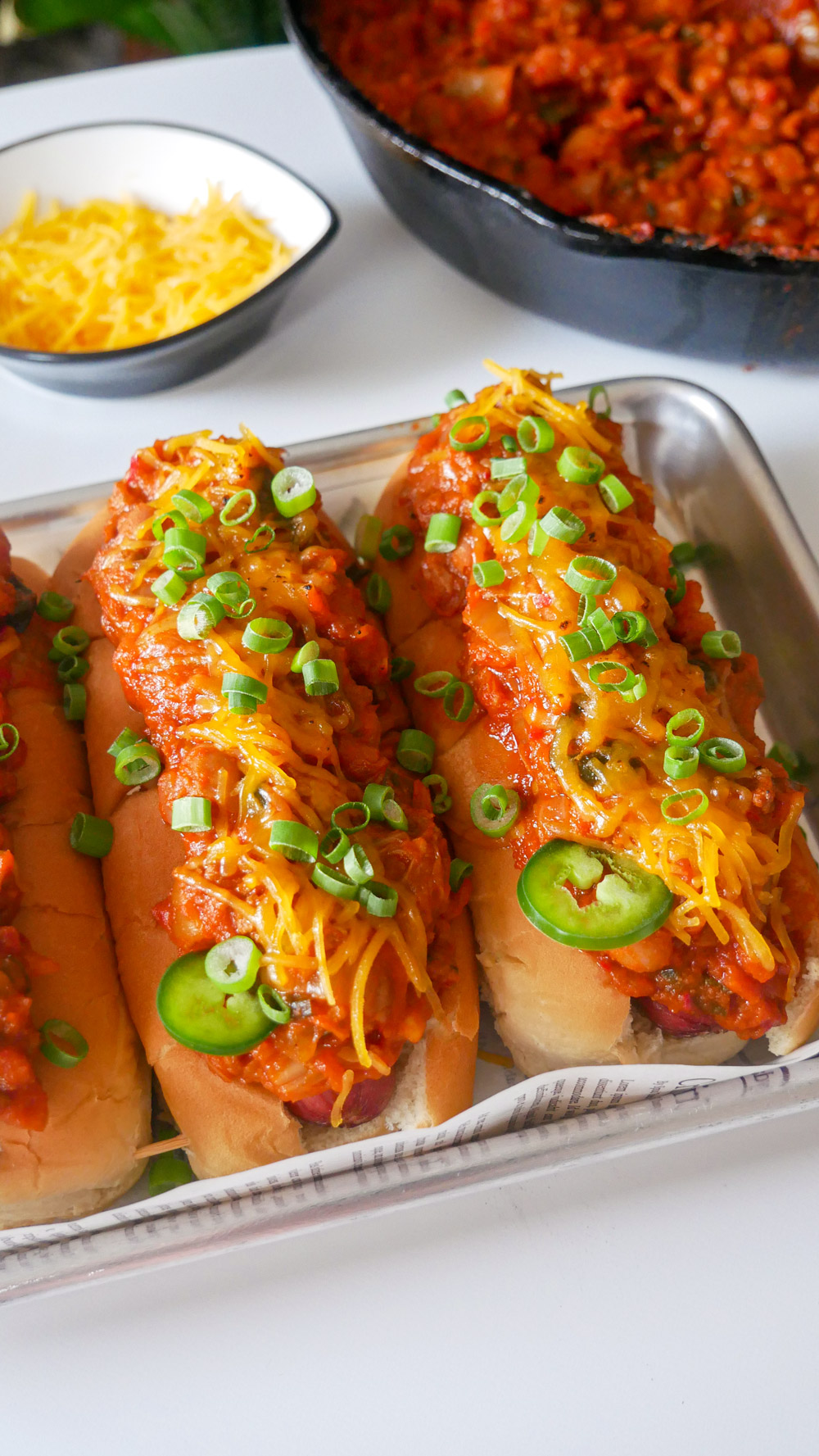 Kimchi Hot Dogs
Ingredients
Kimchi Chili
2

tbsp

neutral oil

1/4

medium onion

chopped

5

garlic cloves

minced

1/2

cup

kimchi

rough chopped

2

oz

ground beef

1

tsp

onion powder

1

tsp

garlic powder

1

tsp

gochugaru

1/2

tsp

chili powder

1/2

tsp

smoked paprika

1

tbsp

tomato paste

15 oz

can

tomato sauce

2

tbsp

Ketchup

1

tbsp

Dijon Mustard

1

tbsp

Worcestershire

1

cup

chicken stock

low-sodium

1

tsp

sugar

1/2

cup

pinto beans

1/8

tsp

salt

to taste

1/8

tsp

black pepper
Garnish
Shredded cheddar cheese

Scallions

chopped

Jalapenos

sliced
Instructions
In a pan, heat neutral oil over medium heat. Toss in the onion and garlic, then saute for 2 to 3 minutes.

Once the onion and garlic are fragrant, add the kimchi and saute for 1 to 2 minutes.

Toss in the gound beef. Using a spatula, break it up into small pieces

Season with onion powder, garlic powder, chili powder, smoked paprika, gochugaru, salt and black pepper.

Add the tomato paste and mix until everything is evenly coated.

Add the tomato sauce, ketchup, dijon mustard, Worcestershire, chicken stock, sugar and pinto beans.

Simmer for 15 to 20 minutes or until it reaches your desired thickness.

Cook the hot dogs according to the package instructions.

To assemble, place a hot dog inside a hot dog bun. Then slather on a generous amount of chili on top.

Garnish with shredded cheese, scallions and jalapenos.