I love onigiri's because they always take me back to Japan! I remember waking up every morning and looking forward to breakfast at 7/11 or Lawson's. I'd always get onigiri's and sandwiches like Tamago Sando (Japanese egg sandwiches) and it'd be the best way to start my day.
This salted salmon onigiri recipe is the simplest, quickest and most delicious way to make an onigiri! Only a few ingredients are needed you so you want to make sure you're using the highest quality and freshest ingredients.
After several attempts to make onigiri's by hand, I decided to purchase an onigiri mold from Amazon to shave off some time. I found a SUPER CUTE Kirby mold and I fell in LOVE. It was seriously a gamer changer and my onigiri's come out perfect every time! If you don't want have a mold and want to shape it by hand, there are a ton of resourceful videos on YouTube that show you how it's done.
Salmon is just one of many fillings you can use to make onigiri's. Some other popular fillings include tuna + mayo, mushrooms, bonito flakes, spicy cod roe, and more! Feel free to use any filling that you like 🙂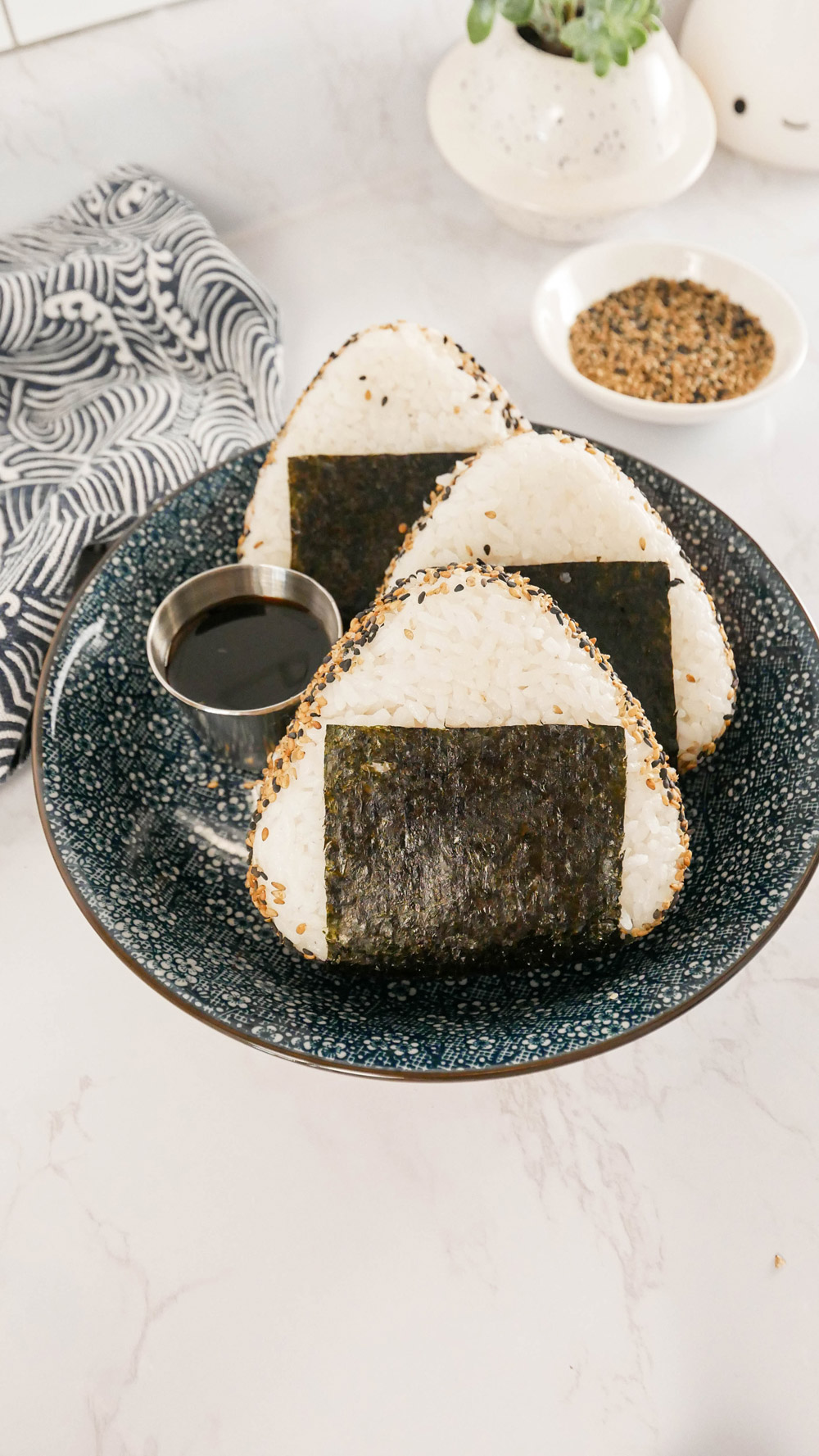 Salted Salmon Onigiri
Ingredients
8

oz

salmon

skin on

3

cups of

cooked rice

short grain

1/2

tsp

salt

to taste

nori sheets

sesame seeds for garnish
Instructions
Cut the salmon into thin slices. Salt generously on all sides.

Broil the salmon for 10-12 minutes until browned.

Cut the salmon into small pieces. If you have freshly cooked or warmed rice, allow it to cool to room temperature so you don't burn yourself!

If using a mold, follow the instructions according to the package.

If you're shaping by hand, place a sprinkle of salt on your hands and grab about 1/4 cup rice and flatten it out on your palms. Place 1-2 tbsp of the salmon in the center. Top with some more rice and press it down so the rice on top sticks to the rice on the bottom. Using your palms, apply pressure and shape the onigiri into a triangle. This may take some practice and a few tries.

After the onigiri is shaped, roll it in sesame seeds and wrap a sheet of nori on the underside of the onigiri.

*Onigiri's can be made in advance and can be eaten cold too! To serve the next day, wrap the onigiri in plastic wrap and place in the refrigerator. The plastic wrap will keep the moisture in and prevent the rice from drying out*
Notes
Feel free to use any filling you like! 🙂
*Disclosure: I only recommend products I would use myself and all opinions expressed here are my own. This post may contain affiliate links that where I may earn a small commission, at no additional cost to you. *
Pin & save this recipe for later!