Chicken congee (jook/juk) or dakjuk is my ultimate comfort food.
Congee or 'jook' in Korean is typically eaten when you're sick so, my mom who is Korean, would make this whenever I was feeling under the weather. In Chinese culture though, specifically Hong Kong where my dad is from, congee or 'jok' is commonly eaten for breakfast with a side of fried crullers.
I think it's pretty cool how we are all so different culturally but share so many similarities in food. Almost every culture, has their own version of congee and every family has their own rendition of this dish.
Growing up my mom would make this for me whenever I was sick but now, I can do the same for her and the people I love!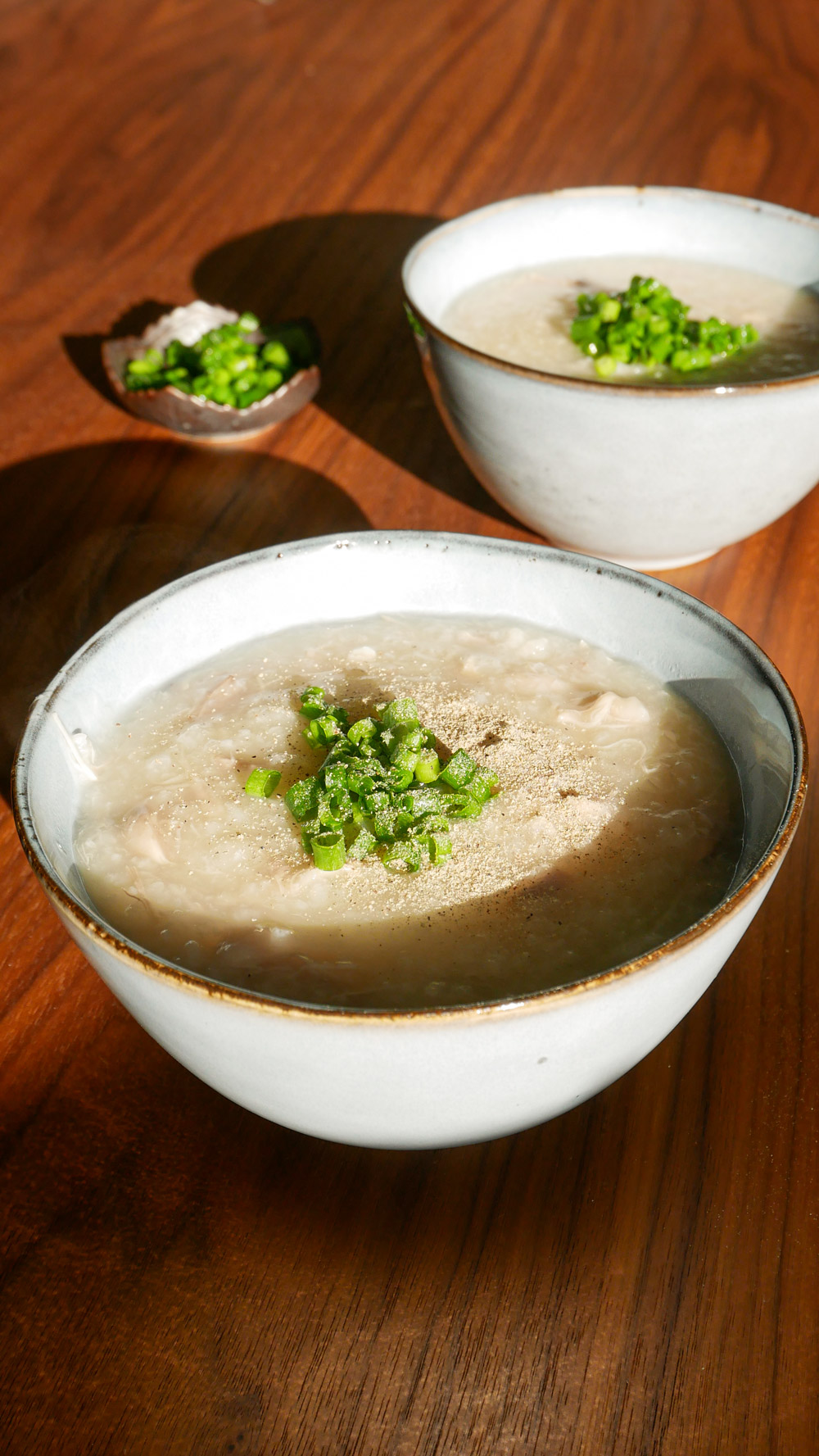 Chicken Jook
Ingredients
2

lb

chicken drumsticks,

or thighs

1

tbsp

mirin,

or cooking wine

1

cup

white rice,

short-grain

1

medium onion,

cut in half

12

garlic cloves

4

slices of

ginger

1

scallion,

finely chopped

10

cups

water

1

tsp

salt,

adjust to taste

white pepper,

garnish
Instructions
Soak the rice in cold water for at least 30 minutes.

In a deep pot, add chicken, mirin and enough water to submerge the chicken. Bring to a boil, then reduce to a simmer for 5 minutes. Drain the water and thoroughly wash the chicken to remove any remaining scum.

In the same pot, add 10 cups water with the chicken. Bring to a boil then add onion, garlic, ginger, and scallions. Reduce to a simmer over medium-low heat and cover. Boil for at least 1 hour.

Remove the chicken and set aside to cool. Strain the broth. *Optional* – pick out the garlic and set them aside.

Drain the rice and transfer it to a new pot. Pour in the chicken broth (about 5-6 cups). Simmer on low for 45 minutes, making sure to mix occasionally to prevent the bottom from sticking or burning.

In the meantime, shred the cooled chicken into thin strips. Add the chicken and garlic into the congee.

Simmer for another 15-20 minutes or until it reaches desired consistency. Season with salt.

Serve in a bowl and garnish with scallions and white pepper.
Pin & save this recipe for later!