Tomato Egg makes for a great vegetarian meal and is perfect for those days when you want to be in and out of the kitchen. Every Chinese home has its own version of tomato egg and this is my take on it! The tangy stew-like tomato along with the soft silky eggs are the perfect combination to enjoy over a bed of rice.
My man does not like tomatoes but he LOVES it when I make this quick and homey meal. It also happens to be one of my comfort foods when I don't know what else to eat or when I want a quick healthy and delicious home-cooked meal.
I prefer using vine tomatoes for this recipe because they are juicier but you can use any kind of tomatoes you like!
What is Tomato Egg?
Tomatoes and eggs are a perfect match. While there are a lot of creative ways to incorporate these two golden ingredients to create a flavorful dish, my personal favorite is something fairly simple– cook them into Tomato Egg where they are the star of the dish.
So what exactly is Tomato Egg? As the name suggests, it is a dish that incorporates tomatoes and soft scrambled eggs. The garlic and scallions add to the aroma, and the sweet and savory taste from the sugar and soy sauce perfectly complements the slightly tangy tomatoes and velvety, creamy eggs. 
This hearty dish is full of nutrients and tastes just as good as your guilty pleasures. Plus, it is quick and easy to make even during the weekdays when everyone's busy with the hustle and bustle of their daily lives. 
Quick and Easy Comfort Food
Tomato Egg is something that I made often when I was in college. When I was tired and hungry from class and wanted to make something quick with the ingredients that I already have in my fridge, tomato egg never failed to save the day!
My love for Tomato Egg didn't end there. During busy work days when I come home from work, I would just cook some fresh rice, whip up some Tomato Egg while the rice is cooking, and voila! I have a complete, balanced meal in under 15 minutes!
If you want to learn how to make Tomato Egg, you've come to the right place.
How to Make Tomato Egg
Whether it's your first time trying out Tomato Egg or you want to explore a different version of this recipe, simply follow these steps:
Step 1: Prepare the Eggs.
Start by cracking the eggs in a mixing bowl and adding the sesame oil, Shaoxing wine, white pepper, and salt. Beat the eggs for a minute and then set aside.
Step 2: Prepare the tomatoes & aromatics.
If you're using fresh tomatoes, cut them in half and cut each half into three wedges. Make sure to remove the stems.
Next, mince the garlic, and chop the scallions finely. Make sure to keep the white and green parts separated. The white parts are best for sauteing, while the green parts are ideal for garnishing.
Step 3: Cook the eggs.
Preheat your wok or deep pan over medium heat until it starts to smoke. Add a tablespoon of oil and pour in the egg mixture right away. Scramble the eggs until they're slightly underdone and then remove them from the wok to stop the cooking. You'd want them underdone as you'll cook them again later together with the other ingredients.
Step 4: Cook the rest of the dish.
Once you've cleared your wok, add another tablespoon of oil and then saute the garlic and white part of the scallions. After a minute, you can already add the tomatoes, salt, sugar, and water, making sure that everything is combined thoroughly. 
After about two to three minutes, you should see the tomatoes soften. Once they do, it's time to add in the cooked eggs and season with soy sauce and salt according to your preference.
Step 5: Assemble and serve.
Transfer the eggs to a bowl or plate and then garnish with the green parts of the scallions. If you love spicy food, feel free to drizzle some chili oil. This dish is also best served with steamed rice so make sure that you have some ready before cooking this quick dish!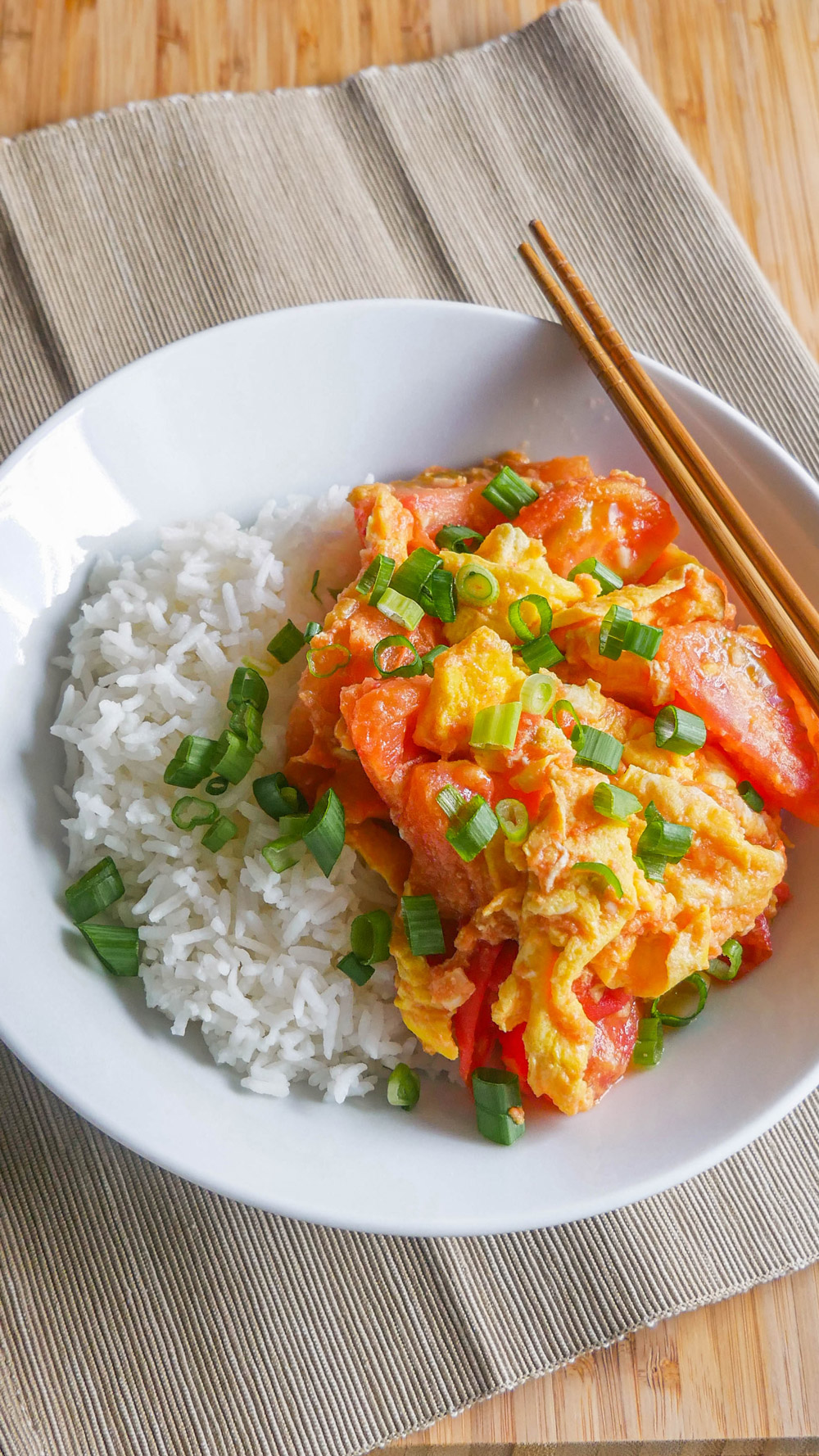 Tomato Egg
This tomato and egg combo will keep you coming back for more. Turn it up a notch and add a drizzle of chili oil on top. Enjoy!
Ingredients
4

tomatoes

on the vine, medium sized

2

garlic cloves

minced

1

scallion

chopped (green & whites separated)

2

tsp

sugar

2

tbsp

water

1

tbsp

soy sauce

adjust to taste

2

tbsp

cooking oil

salt to taste
Egg Mixture
5

eggs

1/2

tsp

sesame oil

1/2

tsp

Shaoxing wine

1/4

tsp

salt

dash of

white pepper
Instructions
In a bowl, crack 5 eggs and add the sesame oil, Shaoxing wine, white pepper, and salt. Whisk well and set aside.

Cut the tomatoes in half and cut each half into three wedges.

Mince the garlic. Chop the scallions (keep the white and green parts separated).

Heat 1 tablespoon of oil in wok or deep pan.

Pour in the egg mixture and scramble until slightly underdone. Remove and set aside in a bowl.

In the same pan, heat up the remaining tablespoon of oil on medium heat. Add the garlic and white part of the scallion

After one minute, add the tomatoes.

Stir in the salt, sugar and water, mix well.

Once the tomatoes have softened, about 2-3 minutes, mix in the cooked eggs.

Season with soy sauce and salt to taste.

Garnish with the green part of the scallions and serve with rice.

Optional – drizzle some chili oil on top!
Notes
I prefer using vine tomatoes because they are juicier but you can substitute this with any tomatoes you like.
Soy sauce brands can differ in terms of sodium levels so feel free to adjust to taste!
Make sure to get all the prep work done before you heat up your wok as this dish is meant to be quick.
A large non-stick wok is best for cooking this dish as it allows you to toss the ingredients around without making a huge mess but any deep pan would work too. 
When making this dish, timing is important. You don't want it to be too runny or overcooked, so as soon as the eggs are set but still slightly underdone, remove them from the heat.
Make sure to use fully ripe tomatoes as they are juicier and produce a better texture.
If you can't find Shaoxing rice wine, you can use mirin or dry sherry which are more common.
Final Thoughts
Tomato Egg perfectly embodies the common phrase "less is more". Although it doesn't involve any fancy ingredients or complicated cooking techniques, it is a huge hit because the simple ingredients complement each other so well!
One of the best things about making Tomato Egg is the simplicity of the process. You can make it in about 10 minutes using just a single pan. And yes, this also means that it requires minimal cleanup.
It is easily one of my favorite dishes in Chinese cuisine that I make at least once throughout the week. The simple yet distinct flavor notes and textures of this dish are so satisfying that I can eat it anytime of day– whether for breakfast, lunch, or dinner.
Watch the Video!
Pin & save this recipe for later!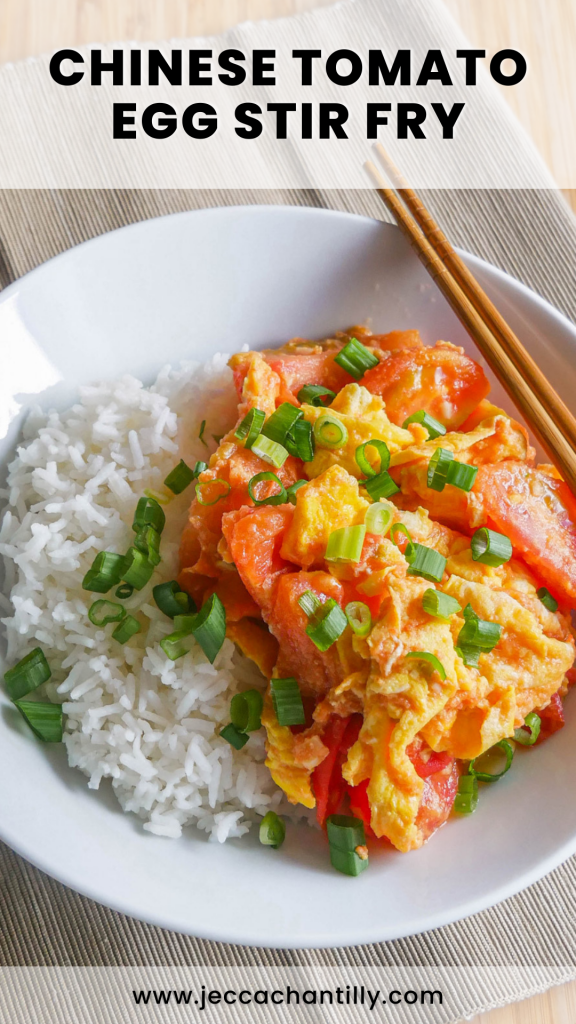 *Disclosure: I only recommend products I would use myself and all opinions expressed here are my own. This post may contain affiliate links that where I may earn a small commission, at no additional cost to you. *