Lately, I've been looking for ways to use healthier ingredients for cooking and since I regularly use mayo in salads and sandwiches, I decided to make a healthier alternative. And so came the birth of my own version of vegan mayo!
The consistency and taste are comparable to regular mayo which is why I think it makes a great substitute. Plus, it doesn't contain any of the fats and cholesterol that commercial ones do. It's also really simple to make since all you need to do is to throw everything – from the tofu, olive oil, apple cider vinegar, water, salt, and a little Dijon mustard – into a blender. Once the mixture is smooth, you can transfer it to a tight-lid jar or container and it will stay fresh for up to 2 weeks in the fridge!
If you plan on making this recipe, you can add a few extra dollops because it's healthy and guilt-free!
Why you'll love this Easy Vegan Mayo Recipe
If you've tried making traditional mayo from scratch, then you know how much care and effort it takes to create the perfect flavor and consistency. But with this recipe, you won't even have to worry about breaking a sweat since the blender will do most of the work!
Once you have all of the ingredients, you can easily throw them in the blender, and you'll have the smoothest vegan mayo in as fast as 10 minutes. If you scroll down below, you can also check out a few of my favorite flavor combinations for homemade sauces with this vegan mayo as the base!
Meet the Secret Ingredient: Silken Tofu
It might come as a surprise that silken tofu is the main ingredient for this recipe! It's often used as a dairy substitute in vegan dessert recipes, but I find that it also makes a great condiment substitute for mayo. Because of its high moisture content, blending silken tofu creates a rich creamy consistency that's similar to traditional mayo.
Be sure not to confuse silken tofu with block tofu! Although they're both made from soybeans, block tofu has a firmer and drier consistency than silken tofu. Silken tofu can usually be found in the refrigerated tofu section, so double-check the label to ensure you're getting the right tofu for this recipe!
How do I prepare this Easy Vegan Mayo?
The great thing about this recipe is how convenient it is to put together. You can have your own vegan mayo in just a few minutes with a few simple ingredients. To make this recipe, follow the directions below:
Step 1: Mix the ingredients
In a blender, combine the silken tofu, olive oil, apple cider vinegar, water, salt, and Dijon mustard.
Step 2: Blend!
Blend the ingredients until smooth. Depending on your desired consistency, you can adjust the amount of water. If it's too thick, add a few tablespoons of water at a time until you're happy with the consistency!
Don't forget to get a taste of the mayo to check that all the flavors and seasoning is to your liking. Once you're satisfied, transfer to a glass jar or airtight container. Enjoy!
Preparation Tips for this Easy Vegan Mayo Recipe
Making this mayo doesn't require a ton of skill or experience or culinary know-how. But here are a few tips you can follow to ensure you get the perfect vegan mayo every single time!
If you don't have a blender available at home, you can also use an immersion blender or a food processor to prepare this recipe. You can also whip this up by hand but it will take a lot of time and elbow grease to complete (which I don't recommend)
Make sure all of the ingredients are at room temperature to make them emulsify better.
To ensure the mixture creates a smooth emulsion, slowly add the oil to the blender while the rest of the ingredients are blended. 
Ingredient Substitutions
Olive oil: oil stabilizes the mayo so it maintains its creamy consistency. If you don't have any olive oil on hand, you can also replace it with another neutral-tasting oil, including canola oil, grapeseed oil,  avocado oil, sunflower seed oil, or peanut oil.
Apple cider vinegar: apple cider vinegar regulates the pH and adds a tangy flavor to this recipe. If it's unavailable, you can also substitute it with rice vinegar, white vinegar, or lemon juice.
Dijon mustard: Dijon mustard also helps stabilize the mayo mixture so there won't be any separation. It also helps the mayo build flavor with its tangy and spicy elements. If you can't find Dijon mustard, you can substitute it with yellow mustard for a milder flavor.
Vegan Mayo Flavor Customizations
I've been substituting regular mayo with vegan mayo for all my favorite sauces like my Chipotle Lime Dipping Sauce in my Baked Vegan Katsu with Eggplant recipe. For more ideas, check out some of my favorite flavor customizations below!
Garlic lemon mayo – this garlicky and tangy dipping sauce is perfect for my Zucchini Katsu recipe. To make it, combine vegan mayo, grated garlic, lemon juice, lemon zest, cayenne pepper, salt, and black pepper. Mix and enjoy!
Creamy jalapeno mayo – I love Taco Bell's creamy jalapeno sauce so swapping the mayo for vegan mayo would make this a healthy copycat version. It was the most delicious and perfect sauce for my Kimchi Breakfast Crunchwrap recipe so don't sleep on this! To make the sauce, mix vegan mayo, pickle juice, pickled jalapenos, paprika, cumin, garlic powder, onion powder, sugar, chili powder, and salt. 
Gochujang mayo – this sauce is spicy, garlicky, and full of umami. I always make this whenever I make my Pickle Brine Fries recipe. To make, combine vegan mayo, gochujang, gochugaru, sugar, garlic, sesame oil, and rice vinegar, then mix!
Frequently Asked Questions
How to store vegan mayo?
Keep this vegan mayo stored in the fridge in a tight-lidded jar or airtight container for up to 2 weeks. Since it doesn't contain preservatives, the shelf life is considerably shorter than commercialized mayos. But with this recipe, I swear you won't have a problem finishing it in just a few days!
Avoid putting the mayo in the freezer to prevent the emulsion from breaking. Breaking is when the ingredients in an emulsified sauce separate. In this case, freezing will cause the silken tofu and oil to separate if stored in the freezer. If you notice the mayo has an off-smell or color, that's a sign that it has gone bad and you'll need to throw it away immediately.
How to know if the vegan mayo has spoiled?
Since you're making homemade vegan mayo, expect it won't last as long compared to commercial mayo because it won't have any preservatives. One way to know if vegan mayo is spoiled is when it develops a pungent or acidic smell. Once its color deviates from its creamy white hue, it's also another indicator the mayo has gone bad. Lastly, spoiled mayo would also have a sour taste. If you notice any of these signs on your vegan mayo, make sure to discard it immediately.
Dijon mustard vs Yellow Mustard
You're probably more familiar with yellow mustard as it's commonly used to enhance the flavors of hot dogs and hamburgers. It's made from yellow mustard seeds, vinegar, and water, with a hint of turmeric to brighten up its color. While Dijon mustard may have a paler yellow hue compared to yellow mustard, it makes up for it in its flavors. Since it contains brown or black mustard seeds and white wine, switching to a less acidic liquid makes the condiment spicier and more pungent. I prefer to use Grey Poupon Dijon mustard for this recipe because it gives it a bit of tang and spice. But you can also use a different type or brand of mustard if you want a milder condiment.
What recipes will Vegan Mayo go well in?
If you're looking for more ways to incorporate this vegan mayo into your meals, I have plenty of recipes and ideas for you! Here are a few of my best recommendations:
1. Burger – if you're dreaming of a delicious burger, look no further than my healthy Mushroom Steak Burger recipe. I've created a Gochujang mayo sauce to go with this dish, but feel free to swap the mayo with this vegan alternative!
2. Udon – this may not be a typical dish you'd expect to add mayo, but my Mentaiko Udon recipe will taste better with a spoonful of it.
3. Poke bowl – if you're craving a tasty salmon meal, you'll want to give my Spicy Salmon Poke Bowl a try. 
4. Corn dogs – Korean corn dogs may taste great on their own, but I'll sometimes drizzle some mayo on top for extra flavor!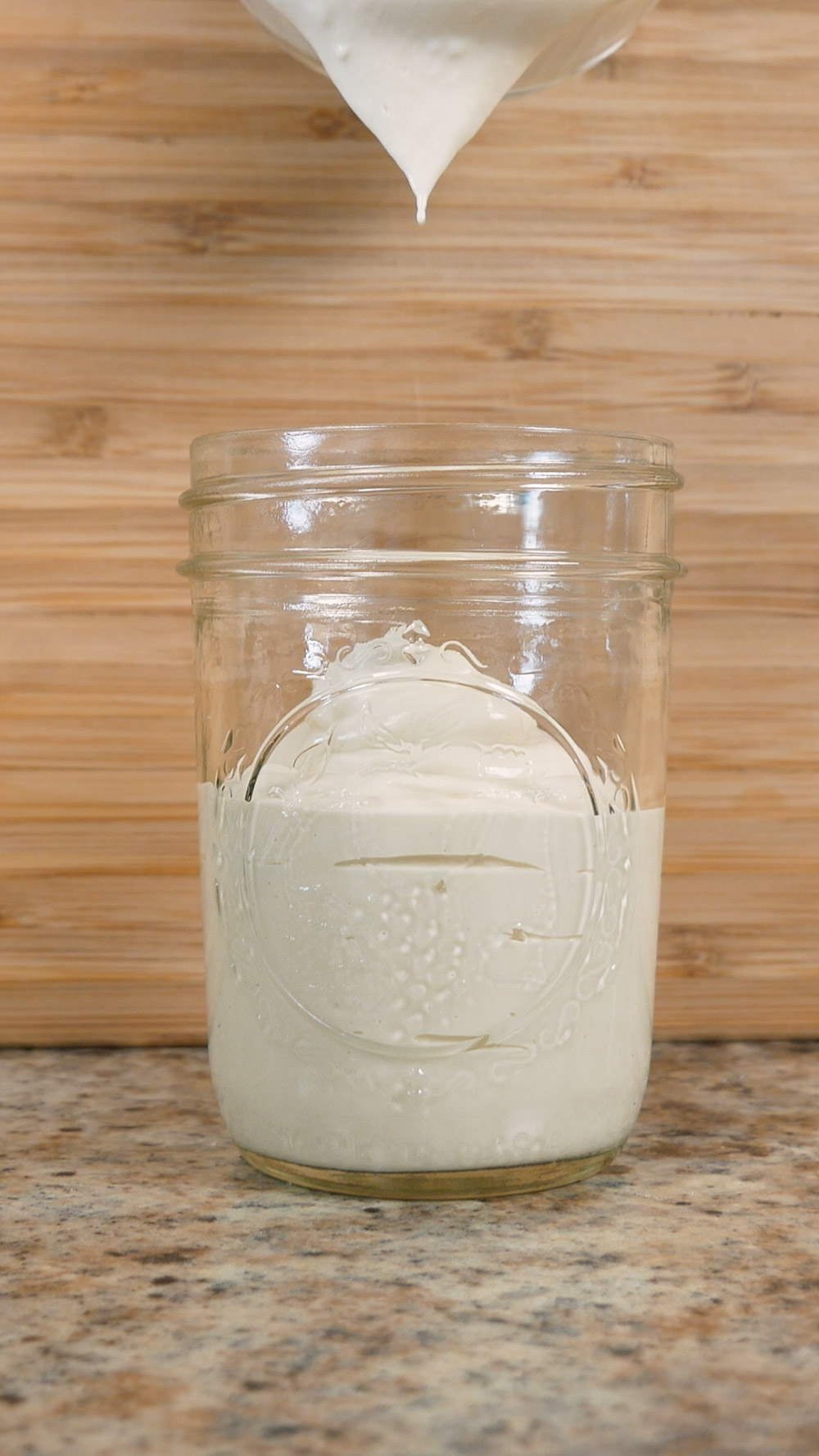 Easy Vegan Mayo Recipe
Ingredients
1

block of

silken tofu

1 1/2

tbsp

olive oil

1

tbsp

apple cider vinegar

or white vinegar, lemon

1-2

tbsp

water

1/2

tsp

salt

1/2

tsp

Dijon mustard
Instructions
In a blender, combine the tofu, olive oil, apple cider vinegar, water, salt, and Dijon mustard.

Blend until smooth. Adjust the amount of water based on the desired consistency.
Pin & save this recipe for later!