This miso marinated cod can be prepared in advanced for a quick, delicious and healthy meal any day of the week!
I was inspired by Nobu's miso black cod recipe but quickly realized that black cod (or sablefish) wasn't really accessible for most people. So, I decided to try this recipe out with regular cod one day and it turned out so good! This recipe would work really well with other fish including salmon, halibut, and mackerel too.
I prefer broiling the fish to get that nice char but you can also bake this as well. Keep in mind that miso burns fairly quickly so it's important to keep your eye on the cod.
Once the fish is cooked, all you need is a bowl of fresh rice and your favorite salad or side dish to complete this fantastic meal!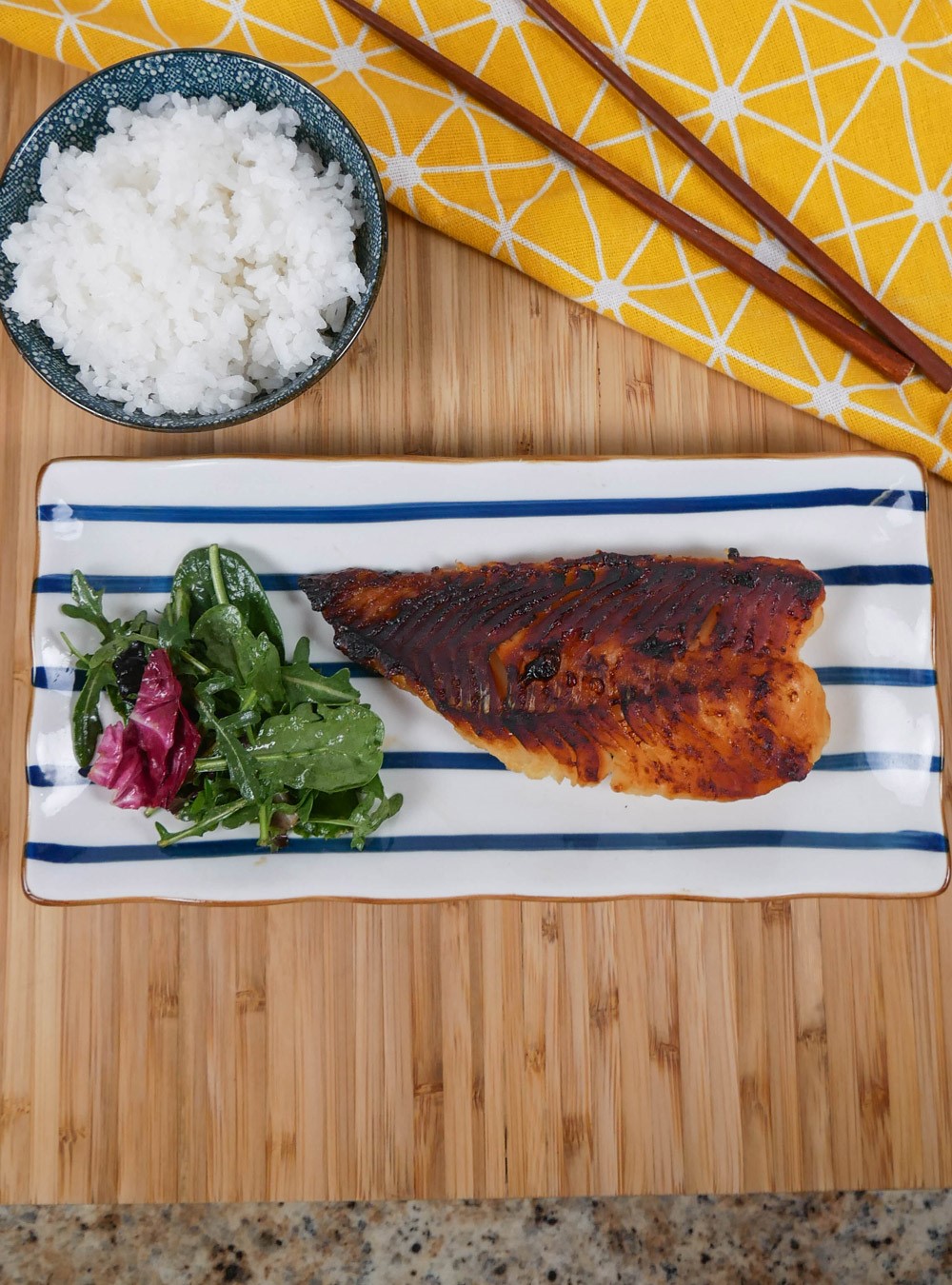 Miso Cod
Ingredients
1

lb

cod

5

tbsp

sake

5

tbsp

mirin

5

tbsp

white miso paste

2

tbsp

sugar

1

tbsp

sake

to soak fish
Instructions
In a pot, bring sake and mirin to a boil over medium heat.

Turn the heat to low and add the miso paste. Whisk until the miso paste has dissolved. Add the sugar and whisk to combine well. Remove from heat and let cool completely.

Place the cod in a bowl and pour 1 tbsp sake. Let soak for 5-10 minutes.

Pat the cod with a paper towl to dry well.

Pour half the miso marinade on the botton of an air tight container.

Place the cod in the container in one layer. Pour the remaining half of the miso marinade on top of the cod. Using a spoon or spatula, spread the marinade so it fully coats the fish.

Cover with plastic wrap and before putting on the air tight lid.

Place in the fridge and allow to marinate for 2-3 days.

When you're ready to cook the fish, wipe off the excess miso marinade on the cod with your hands or paper towel.

Lay the cod on a lined sheet tray and broil for 10-12 minutes or bake for 15-20 minutes at 400°F / 200ºC until slightly charred.

Serve immediately with a fresh bowl of rice and your favorite side dishes.
Notes
Substitute cod for any other fish including salmon, halibut, and mackerel.
If you prefer to bake the cod, set your oven to 400°F / 200ºC and bake for 15-20 minutes or until charred and browned.