I've been using plant based meat for traditional asian recipes lately, and I've been loving it! This Impossible meat Mapo Tofu recipe is no exception. These meat alternatives have really been a game changer in my home and I don't think I'll ever go back.
Mapo Tofu is notorious for being a rice killer so make sure to prepare extra rice for this dish.
This recipe is spiced on all levels from start to finish. It has a Thai chili and dried red chili infused oil, followed by ground Sichuan peppercorns, then finished off with my homemade chili oil. When making this recipe, be sure to adjust the saltiness and spiciness according to your preferences by tasting as you go.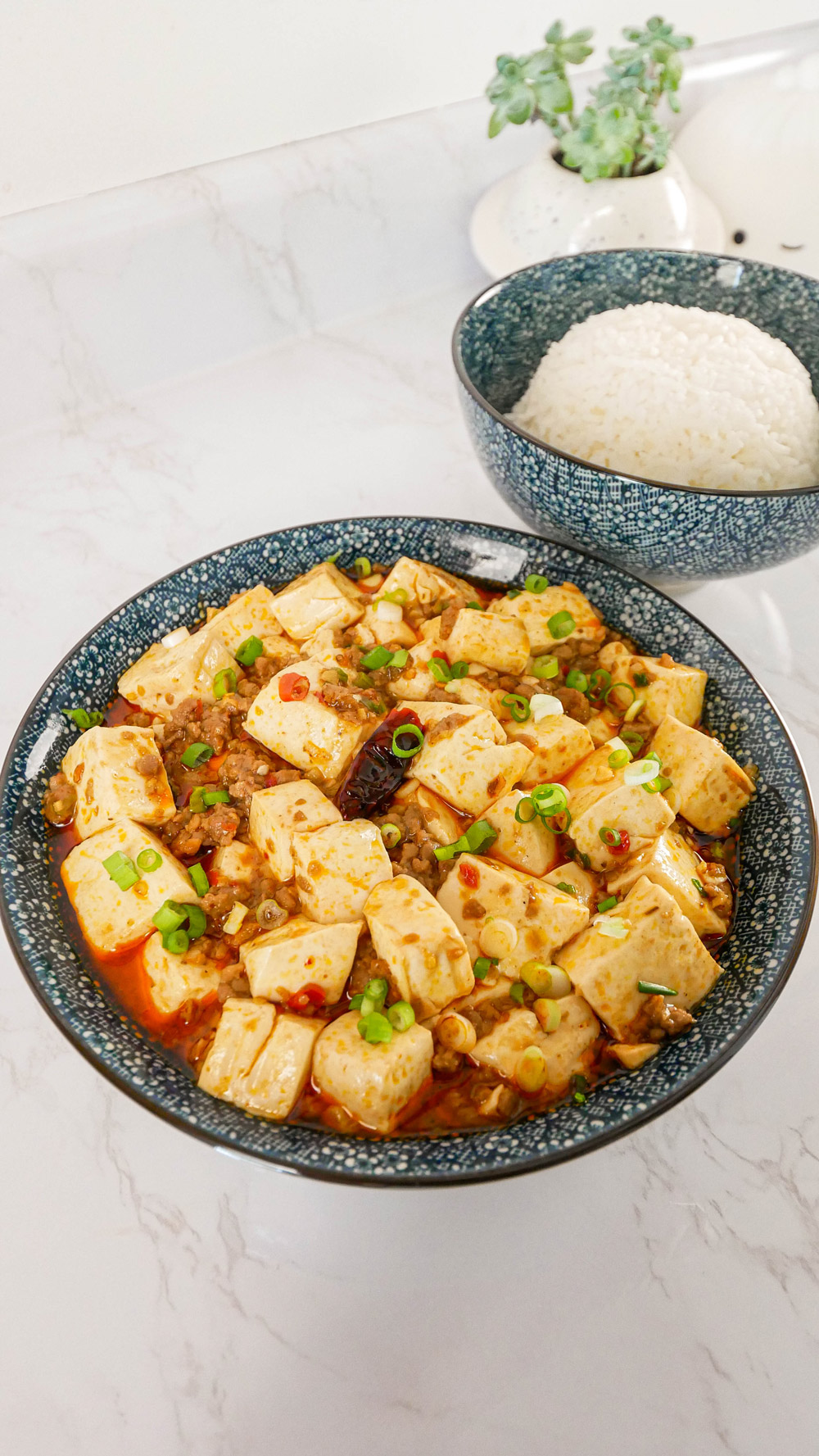 Impossible Mapo Tofu
Ingredients
1

lb

silken tofu

cut into 1-inch cubes

1

tbsp

ginger

minced

1

tbsp

garlic

minced

4

oz

Impossible Meat patty

or your choice of plant-based meat

1

Thai chili peppers

sliced

4

dried red chilies

cut in half

1 1/2

tsp

Sichuan peppercorns

toasted + ground

1

tbsp

spicy bean sauce (doubanjiang)

adjust to taste

2/3

cup

vegetable broth

water

1/2

tsp

cornstarch

1

tsp

water

1

tbsp

chili oil

1/4

tsp

sesame oil

1/4

tsp

sugar

1

scallion

chopped

2

tbsp

oil
Instructions
Heat a wok over low heat. Add the Sichuan peppercorns and toast for 2-3 minutes. Make sure to stir the peppercorns so they don't burn on one side. Remove from heat and transfer to a mortar and pestle. Grind into a fine powder and set aside.

In the same wok, heat up 2 tbsp oil over medium-low heat. Add the Thai chili peppers and dried red chilies and stir, making sure the chilies don't burn

After 2-3 minutes, add the ginger. After 1 minute, add the garlic and stir.

Once the garlic becomes fragrant, about 1 minute, add the Impossible meat and ground sichuan pepper. Use a spatula to break up into small pieces.

When the Impossible meat has browned, add the vegetable broth and spicy bean sauce. Stir to mix well. Allow this to simmer for 1 minute.

In the meantime, prepare the cornstarch slurry by combining cornstarch and water. Add the slurry to the sauce and mix well until thickened.

When the sauce has thickened to your liking, add chili oil and tofu. Cook for about 3 minutes.

After 3 minutes, add sesame oil, sugar, and scallions. Gently mix without breaking the tofu.

Serve immediately with rice.
Pin & save this recipe for later!