Sujebi is one of my favorite comfort foods. If you love noodles and never had this before, you are seriously missing out! These are hand torn noodles that are deliciously chewy and served in a flavorful soup made with anchovy broth.
I would make this with my mom all the time, especially on rainy or gloomy days. It's a fun team effort hand pulling the noodles together and it's definitely one of my favorite memories at home.
You can use any vegetables you like but potatoes are essential! It really wouldn't be sujebi without potatoes in my opinion. I like to add a little spiciness to my sujebi but it's totally optional!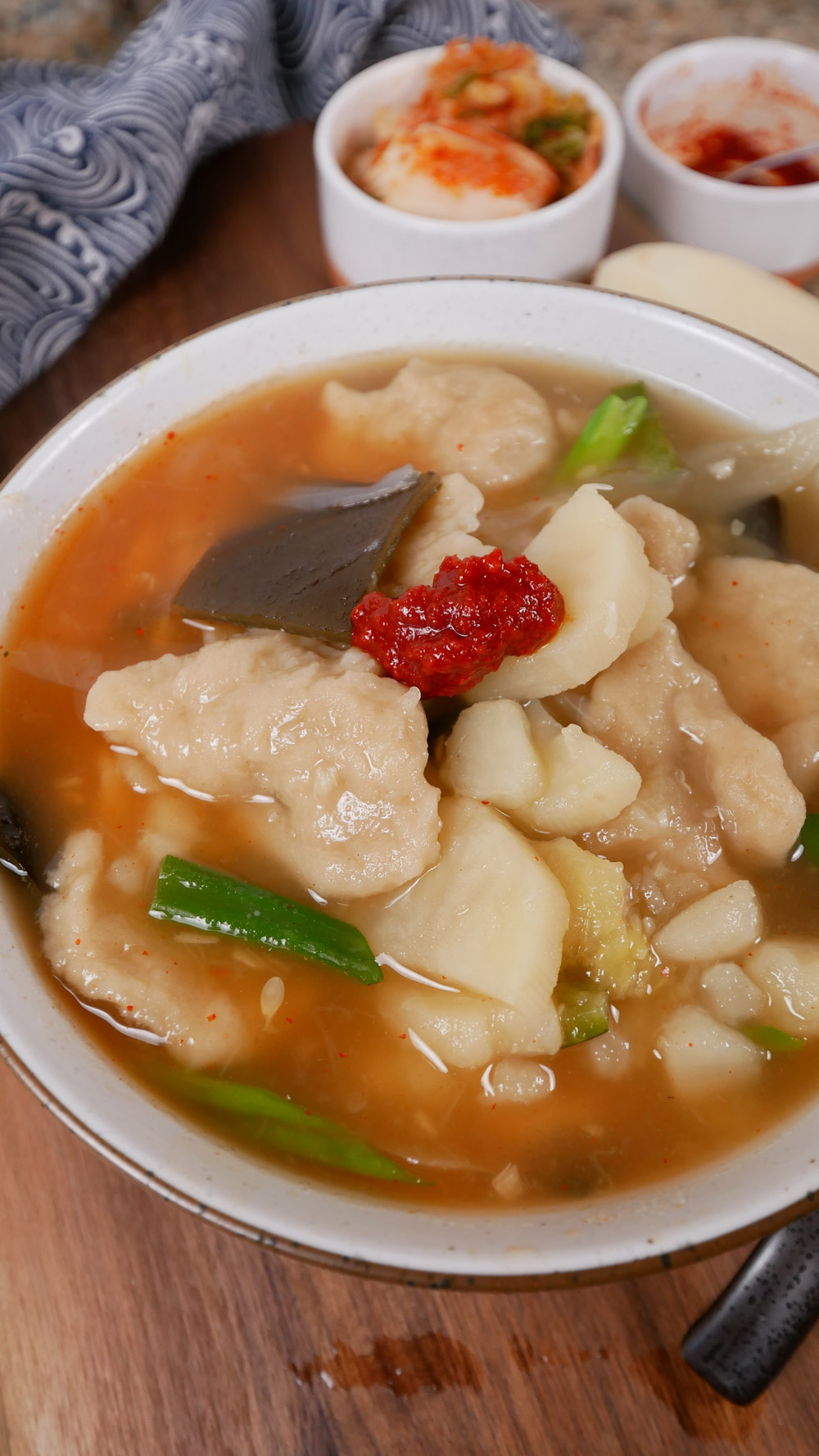 Sujebi Noodles
Ingredients
2 cups +

2 tbsp

all-purpose flour

1/2

tsp

salt

1/2

onion

medium

1

scallion

chopped, for garnish

2

potatoes

medium

1/2

zucchini

1/2

onion

sliced

1

tbsp

garlic

minced

1

tbsp

soup soy sauce

or salt to taste
Anchovy Broth
12

dried anchovies

innards removed

3/4

cup

water

1

5×5 sheet of

dried kelp

kombu

8

cups

water
Spicy Paste (optional)
1.5

tbsp

gochugaru

1.5

tbsp

fish sauce

1.5

tbsp

anchovy broth
Instructions
Toast the anchovies then add water, dried kelp, onion, and boil for 20 minutes.

In a bowl, combine flour, water, and salt and knead until it forms into a ball. Wrap and let it rest in the fridge.

Cut the potatoes and zucchini into bite size pieces. Julienne the onion, mince the garlic and chop the scallions.

Strain the broth. Add the potatoes and onions. When the potatoes are almost done, toss in the zucchini and minced garlic.

Take the dough out and wet your hands so the dough doesn't stick. Tear off a piece of the dough and stretch it out thinly then add it to the soup. Repeat until all the dough is gone.

Boil until the noodles are fully cooked, about 2-3 minutes. Garnish with scallions.
To Make It Spicy (optional)
Combine the gochugaru, fish sauce, and anchovy broth. Mix together until it forms a paste.

Place a dollop of paste in the soup and mix well!
Pin & save this recipe for later!