If you love noodles and have never had sujebi before, you're seriously missing out! They're hand-torn noodles that are deliciously chewy and served in a flavorful soup made with anchovy broth. It's one of my favorite comfort foods and one that reminds me of home. 
My mom and I would make this all the time, especially on rainy or gloomy days. Hand-pulling the noodles is a fun collaborative effort and it's one of my favorite memories of my mom.
The great thing about this recipe is that you can use any vegetables you like, but potatoes are a must!  I personally don't think sujebi is complete without potatoes so don't be afraid to add a lot of them! I also like to add a bit of spiciness to this comforting dish, so I included the recipe in the recipe below as well!
Why you'll love this recipe
Cold and gloomy days may not be everyone's favorite type of weather, but there's something about the drop in temperature that makes you want to sip on something hot. Since going out in the rain to your favorite restaurant can be a hassle, why not make a hearty soup at home instead?
Since this sujebi recipe doesn't require a lot of ingredients, you can enjoy a warm bowl of this comforting dish in just 45 minutes. If you're cooped up with a loved one at home, you can even have them help you with shaping the noodles and turn a menial process into a fun bonding activity as I did with my mom!
What does 'sujebi' mean?
Sujebi gets its name from the terms "su" and "jebi", which translates to "hands" and "to fold" in Korean. It's a comforting noodle dish that's known for its hand-pulled noodles that are accompanied by a medley of vegetables in a light umami broth.
Back in the day, sujebi was rarely prepared by commoners since it was difficult to obtain wheat flour due to its price. Sujebi was only served on special occasions, like birthdays and banquets so it wasn't a commonly eaten food. Now that flour is more affordable and accessible, sujebi is considered one of the most common soups to make in many Korean households. For this recipe, I'm making my sujebi with plenty of potatoes, but other variations also add kimchi or ground perilla seeds into the soup.
How do I prepare Sujebi Noodles?
From noodles to vegetables, this hearty dish contains all of the elements you'd need to get through a rainy or cold day. If you're ready to warm up your belly, follow the steps below:
Step 1: Prepare the broth
In a pot, toast the anchovies until they're fragrant, then add the water, dried kelp, and onion. Let the ingredients boil for 20 minutes to make the broth flavorful.
Step 2: Make the noodle dough
In a bowl, combine flour, water, and salt then knead until it forms a ball. Wrap the dough securely with cling wrap and let it rest in the fridge while you prepare the rest of the ingredients.
Step 3: Prepare the vegetables
Cut the potatoes and zucchini into bite-sized pieces. Then, julienne the onion, mince the garlic and chop the scallions.
Step 4: Cook the vegetables
Strain the broth to remove the anchovies, dried kelp, and onion. But if you like to eat the dried kelp as I do, you can also leave it in.
Next, add the potatoes, and julienned onions to the pot. When the potatoes are almost done, toss in the zucchini and minced garlic.
Step 5: Shape and cook the noodles
Take the dough out of the fridge and remove it from the cling wrap. Before you handle the dough, make sure to wet your hands with water to ensure it won't stick to your hands.
To shape the noodles, tear off a piece of dough and stretch it out thinly before adding it to the soup. You can also refer to the video below to see how thin the dough should be. Repeat the steps until all of the dough is in the soup. Let the soup boil for 2 to 3 minutes and you'll know that the noodles are ready when they float to the top. Garnish with scallions.
Step 6: Serve while hot!
This is an optional step, but if you want the soup to be spicy, combine gochugaru, fish sauce, and a splash of anchovy broth. Mix them well together until they form a paste. Add a dollop of the paste into the broth and mix.
Serve the noodles while they're hot, and enjoy!
Cooking tips for Sujebi Noodles
This one-pot meal is as comforting as it's easy to make. But to help you get the perfect dish in time to warm you up, here are a few tricks to keep in mind while you're preparing this:
Remember to remove the innards of the anchovies before toasting so your broth won't end up having a bitter taste. 
Be sure to add the noodles when the potatoes are cooked through. To test if they are done, stick a fork or chopstick through a potato. If it goes right though, you know they're ready!
Make sure to spread the noodles thinly before dropping them into the soup so they won't take too long to cook.
Ingredient substitutions
All-purpose flour: I prefer to use all-purpose flour for this recipe, but you can also substitute it with whole wheat flour for a healthier alternative!
Soup soy sauce: soup soy sauce adds a deliciously salty and umami taste to the soup, but if you can't find any you can just use salt or fish sauce instead.
Dried anchovies: dried anchovies are essential for building the flavors of this recipe, but if you can't find any you can also use chicken or beef stock instead. If you've had the chance to make my homemade anchovy powder ahead of time, you can also use that as a substitution. 
Dried kelp: dried kelp also adds the umami and salty flavors of this dish, but if it's unavailable at the store you can add more dried anchovies to the soup instead. 
Gochugaru: for a spicy kick in the noodles, a spoon of gochugaru will surely turn up the heat. Unfortunately, there is no substitution for gochugaru!
Fish sauce: fish sauce has a unique umami flavor that's difficult to replace, but if you don't have any on hand you can use salt or soup soy sauce to taste instead.
Frequently Asked Questions
Can you store leftover Sujebi Noodles?
Sujebi noodles are always best enjoyed when they're freshly cooked. But if you want to make a big batch, make sure to store the soup and noodles separately, then reheat them in batches. Since leaving the noodles in the soup will make them soggy after a few days, they won't then be as enjoyable to eat! For leftovers, you can still store them in the fridge for a few days. Just remember to fish the noodles out and keep them in a separate airtight container.
What is soup soy sauce?
Soup soy sauce or 'Guk-ganjang' is a liquid byproduct of making Korean fermented soybean paste (doenjang). A good quality soup soy sauce has an intense salty and umami taste that's why they're primarily used for flavoring soups and side dishes. You can usually find it in any Asian or Korean market, just make sure not to confuse it with regular soy sauce!
Where can I buy dried kelp?
Dried kelp is an essential ingredient in Korean cuisine because it's used for building a salty and umami flavor to soups and broths. You can usually buy them in large sheets at any Asian or Korean markets, but make sure to pick the thickest kelp you can find. Don't worry if you spot a white powder on its surface. That's all flavor and seasoning that will make the soup even tastier! To store, place the dried kelp in an airtight container in the freezer and it will stay fresh for a few months.
What other dishes will go well with Sujebi Noodles?
With its simplicity, it can be difficult not to make sujebi noodles as one of your favorite comfort foods for gloomy days. But to turn your cozy meal even more heartwarming, here are a few side dishes I recommend that go well with this recipe: 
1. Kimchi – you will never go wrong with eating any Korean meal with a side of kimchi. If you want to make a homemade batch, you can even try any of my Cabbage Kimchi and Geotjeori Kimchi (Fresh Cabbage Kimchi) recipes!
2. Savory pancakes – if you're used to sweet pancakes, you'll be surprised by the versatility of savory pancakes in Korean cuisine. For inspiration, check out my Oyster Pancake and Seafood Pancake recipes!
3. Cucumber salad – for a refreshing twist against the umami taste of the noodles, you can try my Cucumber Garlic Salad recipe. But if you want to up the ante on the spiciness, you can also make my Spicy Asian Cucumber Salad.
4. Dumplings – dumplings are always a good side dish for any meal, especially a soupy comforting one like this recipe! For some inspiration, check out my Japchae Dumplings or Crispy Tuna Rice Paper Dumplings recipes!
5. Eggs – for a creamy consistency, you can drop one egg into the soup while it's still hot. But for a tastier treat, you can also make my Korean Steamed Eggs recipe to enjoy with this noodle soup!
Looking for more comforting soup recipes? Check out my favorites below!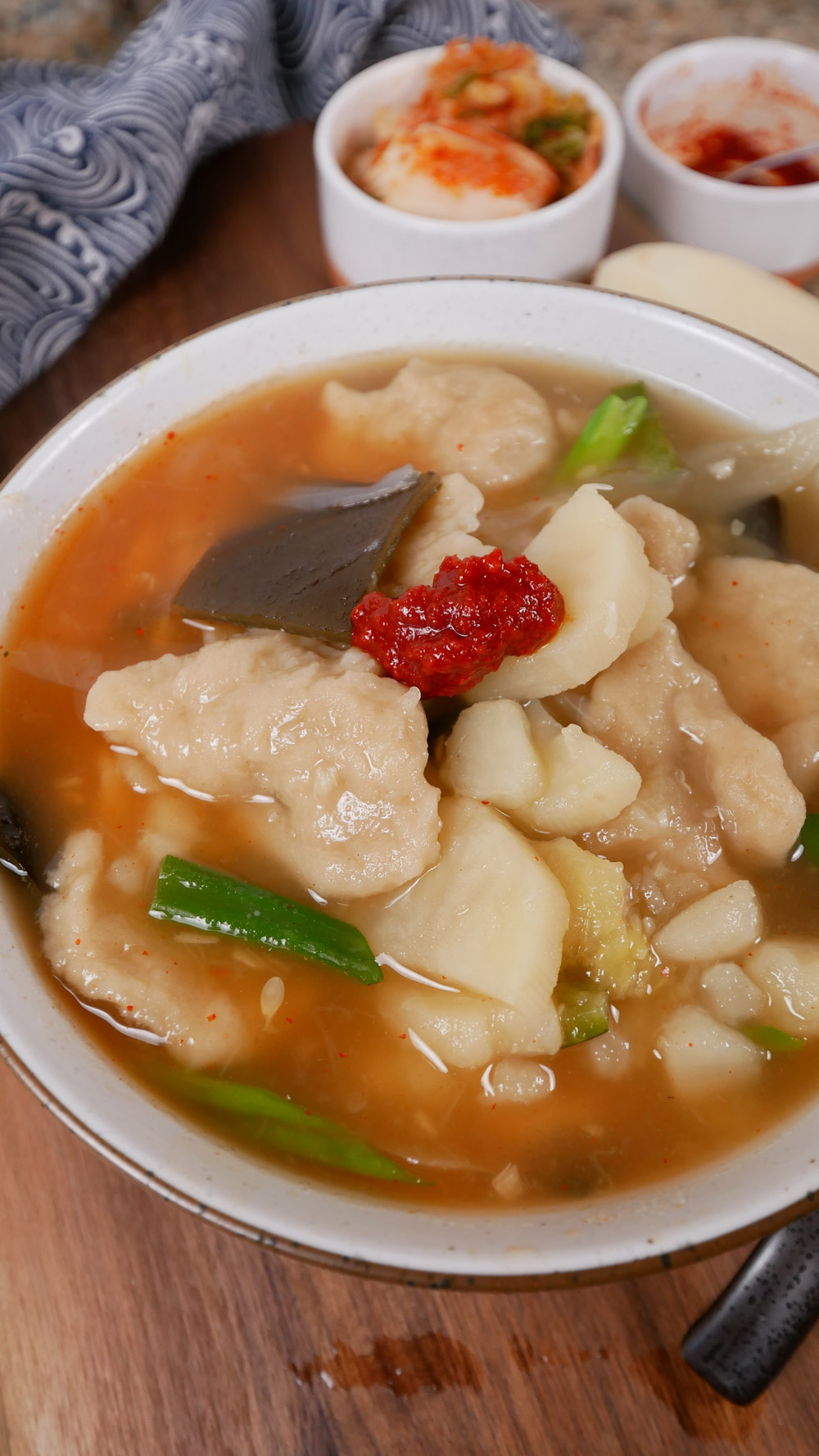 Sujebi Noodles
Ingredients
2 cups +

2 tbsp

all-purpose flour

1/2

tsp

salt

1/2

onion

medium

1

scallion

chopped, for garnish

2

potatoes

medium

1/2

zucchini

1/2

onion

sliced

1

tbsp

garlic

minced

1

tbsp

soup soy sauce

or salt to taste
Anchovy Broth
12

dried anchovies

innards removed

3/4

cup

water

1

5×5 sheet of

dried kelp

kombu

8

cups

water
Spicy Paste (optional)
1.5

tbsp

gochugaru

1.5

tbsp

fish sauce

1.5

tbsp

anchovy broth
Instructions
Toast the anchovies then add water, dried kelp, onion, and boil for 20 minutes.

In a bowl, combine flour, water, and salt and knead until it forms into a ball. Wrap and let it rest in the fridge.

Cut the potatoes and zucchini into bite size pieces. Julienne the onion, mince the garlic and chop the scallions.

Strain the broth. Add the potatoes and onions. When the potatoes are almost done, toss in the zucchini and minced garlic.

Take the dough out and wet your hands so the dough doesn't stick. Tear off a piece of the dough and stretch it out thinly then add it to the soup. Repeat until all the dough is gone.

Boil until the noodles are fully cooked, about 2-3 minutes. Garnish with scallions.
To Make It Spicy (optional)
Combine the gochugaru, fish sauce, and anchovy broth. Mix together until it forms a paste.

Place a dollop of paste in the soup and mix well!
Pin & save this recipe for later!