Every New Year's Day, my mom makes dduk guk (tteok-guk), or Korean rice cake soup to welcome good luck and prosperity in the New Year.
Although I come from a multicultural household, she never failed to make this for me every year. To keep the tradition alive, I started making my own by simplifying her recipe and making it more approachable!
If you're searching for a quick and easy Korean rice cake soup recipe for New Year's Day, give my recipe a try!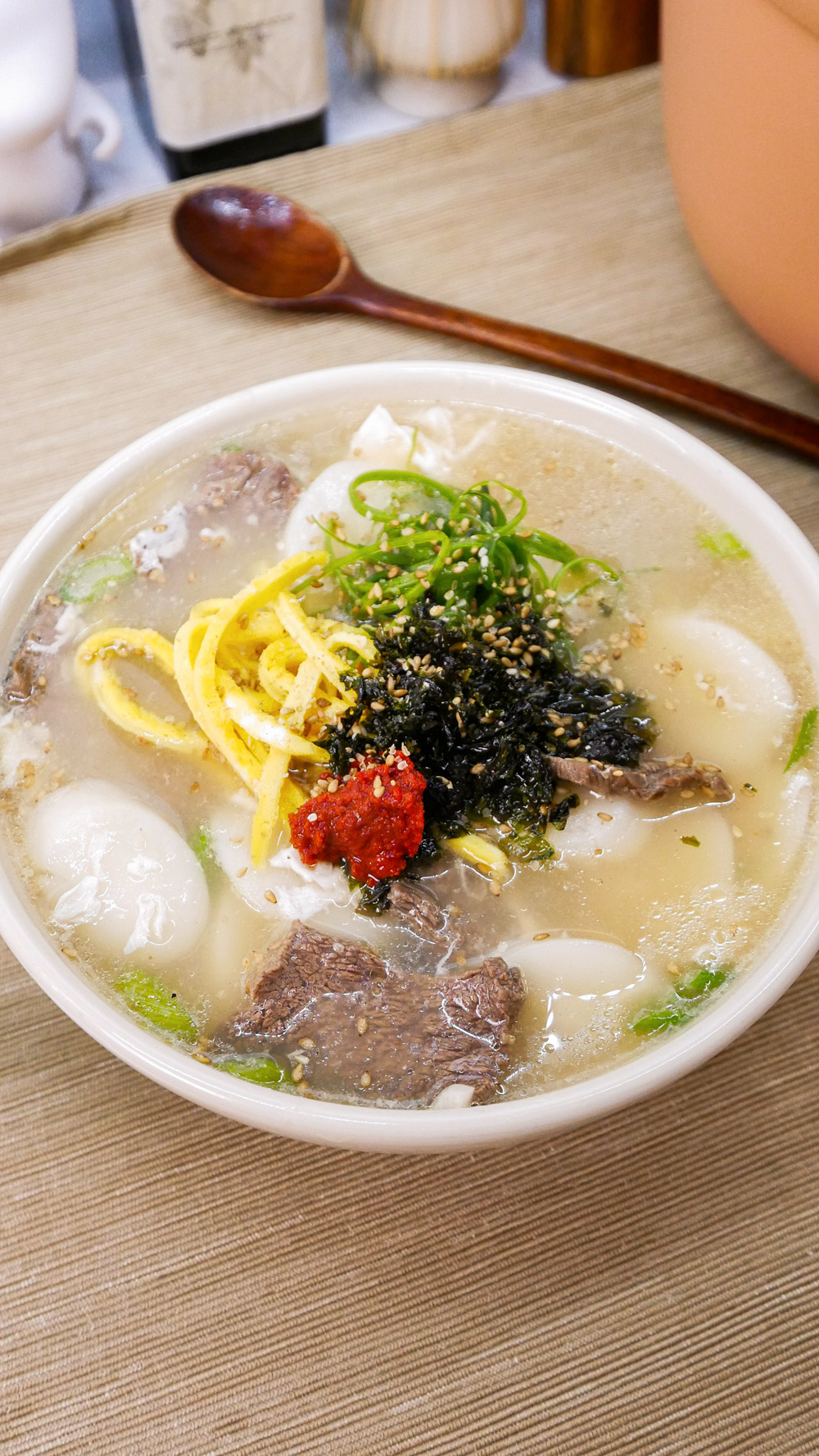 Dduk Guk – Korean Rice Cake Soup
Ingredients
12-14

oz

brisket

thinly sliced

1/2

medium onion

1/2

cup

Korean radish

roughly chopped

3

scallions

white and green parts separated

6

cups

water

10

oz

rice cakes
Broth Seasoning
1/2

tbsp

fish sauce

1/2

tbsp

soup soy sauce

1/2

tsp

dashida

or beef bouillon

3

garlic cloves

minced

2

egg whites

salt

to taste

black pepper

to taste
Garnish
2

egg yolks

(optional)

seaweed strips

(optional)

scallions

chopped (optional)

sesame seeds

(optional)
Chili Paste
1

tbsp

gochugaru

Korean red pepper flakes

1

tbsp

fish sauce

1-2

tbsp

broth
Instructions
Bring a pot of water to boil over medium-high heat. Add brisket and boil for 5 minutes. Skim off the scum as it boils.

After 5 minutes, remove the brisket and set aside. Clean and rinse the pot thoroughly and return to the stove.

To the clean pot, add 6 cups water, parboiled brisket, onion, Korean radish, and white part of scallions. Bring to a boil then reduce to a simmer for 20 minutes until the beef is tender.

Toss in the garlic and rice cakes. Then season the soup with fish sauce, soup soy sauce, and dashida.

Gently whisk the egg whites before slowly pouring it into the soup. Add the green part of scallions and season with salt and pepper to taste.

Garnish with thinly sliced egg yolks, seaweed strips, scallions and sesame seeds.

If you want it spicy, add a dollop of the chili paste. Serve and enjoy!
Garnish
To prepare the egg yolks, heat a pan with 1/2 tsp of oil over medium heat. Gently whisk the egg yolks and pour it into a pan. Tilt the pan to spread the egg yolk as thinly as possible. After 1 minute, flip then cook for an additional minute. Remove and set aside to cool. Once cool, slice into thin strips.
Chili Paste
Combine gochugaru, fish sauce and broth. Mix together until well combined.
Pin & save this recipe for later!