Treat yourself to these extra indulgent *extra crispy* shrimp toast. With just a few simple everyday ingredients, you can create the crunchiest, most delicious snack at home.
This recipe is originally called 'menbosha' and it is a popular Chinese crunchy appetizer. Many Chinese restaurants used to serve this however, over the past few years they've slowly disappeared from the menu.
A good sauce is essential to anything crispy and this is no exception! This ketchup-based sauce is acidic, a little spicy, and complements these shrimp toasts incredibly well. It's almost like an elevated shrimp cocktail sauce!
Crack open a beer or soda and munch on these mini sandos because you deserve it (and they're really freaking good)!
What is Menbosha?
Mian bao xia or simply menbosha is a Chinese dish that mainly consists of marinated shrimp balls that are sandwiched between slices of milk bread. The word "mian bao" means bread, while the word xia means prawn in Chinese. You can eat this as an appetizer or as a party snack. 
This savory dish is crispy on the outside, but soft and juicy on the inside. Although you can eat the sandwich on its own, it is best enjoyed with a sauce. There are many variations of the sauce that goes with menbosha, but the combined taste of sweet and tangy ketchup plus some garlic perfectly complements this dish.
This classic Chinese snack became even more popular after being featured by Korean-Taiwanese celebrity chef Lee Yeon-bok. He has a restaurant serving Korean-Chinese cuisine, and menbosha is a big hit. 
How to Make Crispy Shrimp Toast
If you've only had crispy shrimp toast in restaurants or haven't tried them yet, you'll be surprised by how easy you can make this delicious snack. Simply follow the detailed instructions below.
Step 1: Prepare the bread.
The first step is pretty basic. You can prepare your bread by slicing off the crusts from each slice and then cutting the bread into quarters.
If you can't find milk bread, you can substitute it with regular white bread. 
Step 2: Prepare the shrimp filling.
Once you're done cutting off the crusts from the bread, set them aside and move on to preparing the shrimp filling.
To do this, first peel your shrimp and devein. Next, wash the shrimp and pat them dry.
On a chopping board, smack each piece of shrimp with the flat side of your knife. Flatten them and then mince finely.
Now take a bowl and put in your minced shrimp. Pour in your egg white, starch, salt, white pepper, and sesame oil. Mix everything thoroughly until well-combined. It's important that everything's well incorporated so each crispy shrimp toast will taste identical.
The end result should look like some sort of chunky shrimp paste.
Step 3: Form the sandwich.
When the shrimp filling and bread are ready, it's time to form the sandwiches.
Begin by taking some of the shrimp paste and forming a ball about the size of your sliced bread. When you're done shaping them up, place one on top of each bread and top with another piece of bread, creating a mini sandwich.
Repeat this until you've used up all your shrimp filling.
Step 4: Fry up your menbosha.
Once your mini sandwiches are ready, it's time to fry them up! 
Take a deep pot and pour in the oil. I recommend using a neutral oil such as vegetable, canola, avocado or grapeseed so it doesn't affect the taste of the sandwich.
Once the oil is hot enough at 325°F/162°C, add your menbosha and fry each side for about two minutes or until you see them turn golden brown. Make sure that you add your toasts in small batches. Don't overcrowd them because they will lower the oil temperature and soak up all the greasy oil.
If you're conscious of the amount of oil being used, you can also choose to bake your crispy shrimp toast in an oven or air fry at 365°F/180°C for 8 to 10 minutes until perfectly crisp.
Step 5: Let them cool and prepare the dipping sauce.
Once your crispy shrimp toasts are cooked, transfer them to a wire rack to let them cool and drain the excess oil.

While waiting, you can prepare the delicious dipping sauce to go along with the sandwiches. Simply combine ketchup, minced garlic, chili oil, sugar, and vinegar. Mix all ingredients well until well combined. Adjust the seasoning according to your taste and preferences. 
Finally, serve your crispy shrimp toast with the dipping sauce and enjoy while still warm!
This crispy shrimp toast recipe is very easy to make. In fact, you can make these in about half an hour. So if you want a quick snack or appetizer, menbosha can easily be your go-to dish!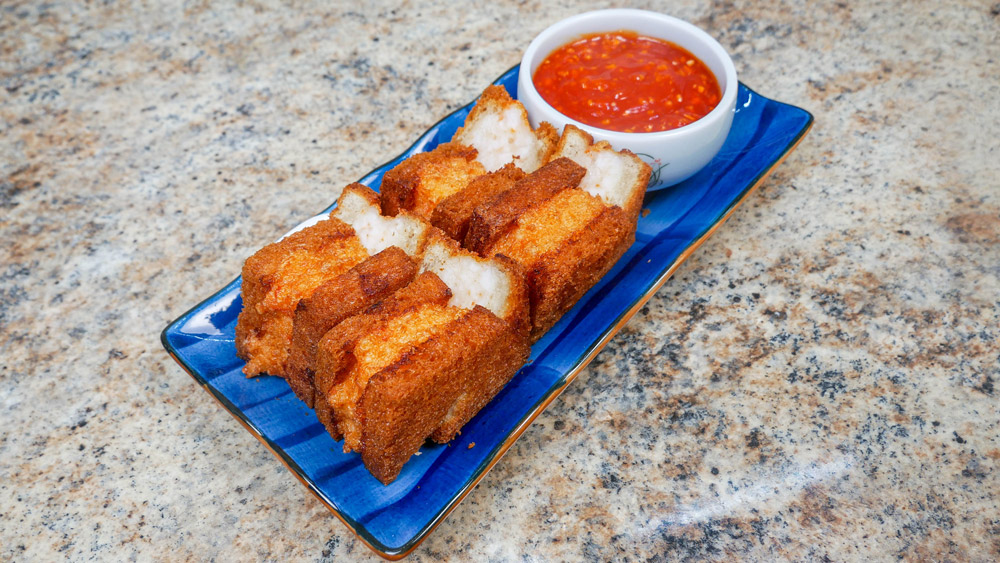 Crispy Shrimp Toast (Menbosha)
This crispy crunchy shrimp toast will have you coming back for more!
Ingredients
1

lb

shrimp

1

egg

white

2

tbsp

potato or corn starch

1/2

tsp

salt

1/4

tsp

white pepper

1/2

tsp

sesame oil

4

slices of

milk bread

Neutral oil for frying

vegetable or canola
Dipping Sauce
4

garlic

minced

1/4

cup

ketchup

1

tbsp

chili oil

1

tbsp

sugar

1

tbsp

vinegar
Instructions
Cut off the crust from the bread and cut the slices into quarters.

Peel and de-vein shrimp. Wash well and pat dry.

Smack each shrimp with the side of the knife to flatten the shrimp. Once flattened, mince it up.

In a bowl, mix the shrimp, egg white, starch, salt, white pepper, and sesame oil together.

Form a ball about the size of a handball (or the size of the bread) and place on one piece of the toast. Top with another piece to create a mini sandwich.

In a deep pot, heat up your frying oil. Add the toasts in batches to avoid overcrowding your pan.

Fry on 325°F/162°C for 2 minutes on each side or until golden brown. To air fry or bake in the oven, set the temperature to 365°F/180°C and cook for 8-10 minutes.

Remove on a wire rack to cool.

Enjoy with Dipping sauce!
Dipping Sauce
In a bowl, add ketchup, garlic, chili oil, sugar, and vinegar. Mix until fully combined.
Notes
Adjust the recipe of the dipping sauce according to your preference. If you want it to become more appealing to your kids, you can add more sugar for that extra sweetness. If you're a spicy food lover, simply add more chili oil. 

If you're health-conscious, baking in an oven or air frying your crispy shrimp toast is the way to go. This ensures your toast will remain crispy with less oil being used. Simply brush a bit of oil onto your toast and bake or air fry at 365°F/180°C for about 10 minutes.

You can prepare menbosha and then save them for later by freezing them and frying them whenever you're craving some! When storing, make sure that you don't squish them by overstuffing them in a single container. With proper storage, frozen menbosha can last for up to 3 weeks.
Final Thoughts
If you're a sandwich and seafood lover, you should definitely try out this crispy shrimp toast recipe! This might be the next best thing you've ever tasted.
For those who've tried it out, how did your menbosha turn out? I would love to see some photos of your lovely homemade snack!
Pin & save this recipe for later!