If you're feeling lazy but want a tasty and nourishing meal, this spicy salmon poke is the perfect recipe to make! If you have rice already cooked, you can easily whip this up as a quick and easy lunch or dinner in just 10 minutes! Whether this is your first time trying poke or you're a seasoned poke lover, this recipe will elevate your poke bowl game. 
The days of spending an exorbitant amount of money for poke is now over! Why spend extra money when you can make it at home – and even better? 
Why you'll love this recipe
This recipe is my spin on the traditional poke bowl, and it's outrageously delicious. The melt-in-your-mouth salmon is spiced up with a blend of spicy Sriracha and mayo for a subtle kick. It's a blend of textures and flavors from the rich and buttery salmon to the crunchy fish roe and the creamy avocado. Best of all, it's served on top of a bed of rice, which soaks up all the delicious flavors. 
Not only is this recipe dangerously delicious, but it's also easily customizable based on what you like! The salmon can be substituted with your favorite seafood including tuna, yellowtail, shrimp, scallops, and more! Additionally, you can add vegetables like cucumbers, edamame, and radish to add freshness to the poke bowl. 
By the way, did I mention how easy it is to prepare this? No cooking is required – just a little bit of chopping and mixing, and you're all set!
How do I prepare Spicy Salmon Poke Bowl?
Once you have the ingredients ready, assembling the poke bowl will be a breeze. To start, just follow my recipe below:
Step 1: Prepare the salmon
Start by dicing the sashimi-grade salmon into ½ inch pieces. 
Step 2: Season the salmon
Transfer the salmon to a bowl and add mayo, sriracha, soy sauce, rice wine vinegar, sesame oil, grated garlic, chopped scallion, sesame seeds, and tobiko/masago. Cover and place in the refrigerator until it's ready to serve. This can also be made a day in advance, which will result in an even tastier poke since the ingredients have had a chance to develop. 
Step 3: Prepare the rice
Scoop one cup of rice and transfer it into a bowl. Allow the rice to cool slightly and come to room temperature.
Step 4: Assemble the poke bowl
Once the rice has cooled, top it with the spicy salmon poke mixture, sliced avocado, and microgreens for garnish.
Step 5: Serve!
If you like, you can also garnish with sesame seeds on top and serve. Enjoy!
Preparation Tips for Spicy Salmon Poke Bowl
To be honest, the most challenging part about this recipe waiting for the rice to cool down. However, here are a few tips you can keep in mind to make the best spicy salmon poke bowl every time!
Be sure to use sashimi-grade salmon for this recipe. Since the salmon is the star of the dish, it's important to use the highest quality salmon you can find from a reliable source. 
The spicy salmon poke can be made 24 hours in advance and stored in the fridge. If possible, allow the poke to marinate for a few hours – this will make the poke even more delicious! When you're ready to serve, just top the poke on top of the cooled rice!
Feel free to adjust the amount of Sriracha you want to add depending on your spice tolerance and preference. 
Ingredients & Substitutions
Cooked rice: cooked rice is what makes this dish filling. Short-grain or medium-grain rice is ideal for this recipe. Long-grain rice is not recommended because it's not as starchy or sticky. 
Sashimi-grade salmon: sashimi-grade salmon is the main star of this dish, so make sure it's high-quality and fresh! You can also use sashimi-grade tuna, shrimp, or scallops as a substitute.
Garlic: the garlic is grated into the poke so that it is not chunky. It adds a beautiful garlicky flavor that enhances the poke. 
Scallion: scallions add a burst of oniony flavor and color to the dish. Feel free to skip it if you'd prefer. 
Sesame seeds: adding sesame seeds are optional, but they complement and amplify the nutty flavors of the sesame oil.
Tobiko or Masago: tobiko (flying fish roe) and masago (smelt roe) add a salty and smoky flavor that levels up your dish. They're a little crunchy which so texturally, they complement the soft and buttery salmon. They can be substituted with ikura (salmon roe), however, it is significantly more expensive than tobiko and masago. 
Kewpie Mayo: mayo binds the ingredients together and adds a creamy consistency to the sauce. I highly recommend using Japanese mayo like Kewpie mayo for this recipe however, you can also use American mayo. 
Sriracha: the Sriracha is what makes the sauce spicy. It's smoky, tangy and moderately spicy which is mellowed out by the mayo. 
Soy sauce: soy sauce adds a salty and umami flavor to the sauce. While this recipe is very balanced, feel free to adjust the soy sauce based on your preference.
Rice wine vinegar: rice wine vinegar adds a sharp acidity to the sauce, balancing out the flavors. You can also substitute it with apple cider vinegar or white wine vinegar.
Sesame oil: sesame oil adds a nutty and smoky flavor to the dish. It's an essential ingredient and cannot be substituted. 
Avocado: the avocado adds a rich and creamy texture that pairs deliciously with the salmon and rice. But you can also swap it with pickled vegetables or sliced cucumbers.
Microgreens: while this is optional, microgreens add freshness to the rich and savory poke.
Ingredient Additions/Variations
If you want to level up your pole bowl one step further, here are a few ingredient additions or substitutions you can make:
1. Mango – for a hint of sweetness, you can add ripe mangoes into the mix. Cut them into small cubes so they're easy to eat!
2. Edamame – edamame's buttery and nutty flavors are a delicious way of sneaking in your veggies. Make sure to boil them for 3 to 5 minutes first before adding them to your poke bowl. 
3. Radish – if you're a spice fiend, pair the salmon with some spicy and zesty radish. You can cut them into thin slices or serve them pickled for more flavor.
4. Nori strips – any rice bowl is always better with a few pieces of nori strips. You can cut them into thin strips and garnish them on top of your salmon poke.
Frequently Asked Questions
Can you use day-old rice for poke bowl?
Spicy salmon poke bowl will taste the best when it's made with fresh rice. But day-old rice will also do fine! Just make sure it's short-grain or medium-grain rice and thoroughly reheated, of course. 
How do you know if salmon is sashimi-grade?
Sashimi-grade salmon is made with fish that's cut and freeze-dried the same day it was caught. The process kills parasites and prevents bacteria from growing on the fish, making it safe to eat uncooked. Make sure to buy your fish from a reputable shop or seller so you're sure it's processed safely and hygienically. 
Good-quality sashimi-grade salmon should have a vibrant orange or coral color and a fresh smell. Stay away from salmon with a dull or gray hue, fishy off-smell, and a slimy residue since these are signs that the fish has gone bad.
When purchasing the salmon, always look for labels that indicate it is sashimi-grade (or sushi-grade). 
Can you replace salmon with another fish?
Yes, of course! Salmon can be substituted with sashimi-grade tuna, yellow tail, shrimp, scallops, and more! The most important thing is that the seafood is fresh and safe for raw consumption. 
What is tobiko and masago?
Tobiko is flying fish roe, while masago is smelt roe. They're common ingredients in Japanese cuisine because of their crunchy texture and flavor. Although they're interchangeable in recipes, you can spot their differences if you look at them closely. Tobiko has a vibrant golden color and is slightly larger in size. Masago has a pale yellow hue and is more affordable than the other.
How long can you store Spicy Salmon Poke Bowl?
You can store leftover salmon poke in an airtight container in the fridge for up to 48 hours. Just be sure to keep the poke and rice separate (if any is left). The poke should be consumed within 48 hours to prevent spoilage and potential food poisoning. 
Looking for more easy and delicious Japanese-inspired dishes?
Here are some of my most popular recipes!
1. Coco Ichibanya Curry – this recipe is my nod to CoCo Ichibanya's katsu curry. It's a perfect harmony of sweet and savory, making it the ultimate curry you'll ever have! 
2. Curry Udon Noodles with Egg – if you're looking for a comforting noodle dish that requires no frills to make, check out this recipe! The udon noodles are smothered with a thick and velvety curry for a soul-soothing meal. 
3. Mushroom Onigiri – for a quick and filling meal that you can bring on the go, this mushroom onigiri is the one. It's vegetarian-friendly and versatile, so you can eat it for breakfast, lunch, or dinner. 
4. Uni Pasta – if you're looking for a dish to impress a special someone, I guarantee this recipe will make them swoon! It's super rich and creamy, it gives restaurant quality without the price!
5. Pan Seared Miso Salmon – to elevate your weeknight meal, you can't go wrong with this pan-seared salmon dish. Preparing it may be simple, but its flavors are complex from the combination of miso, sake, and mirin!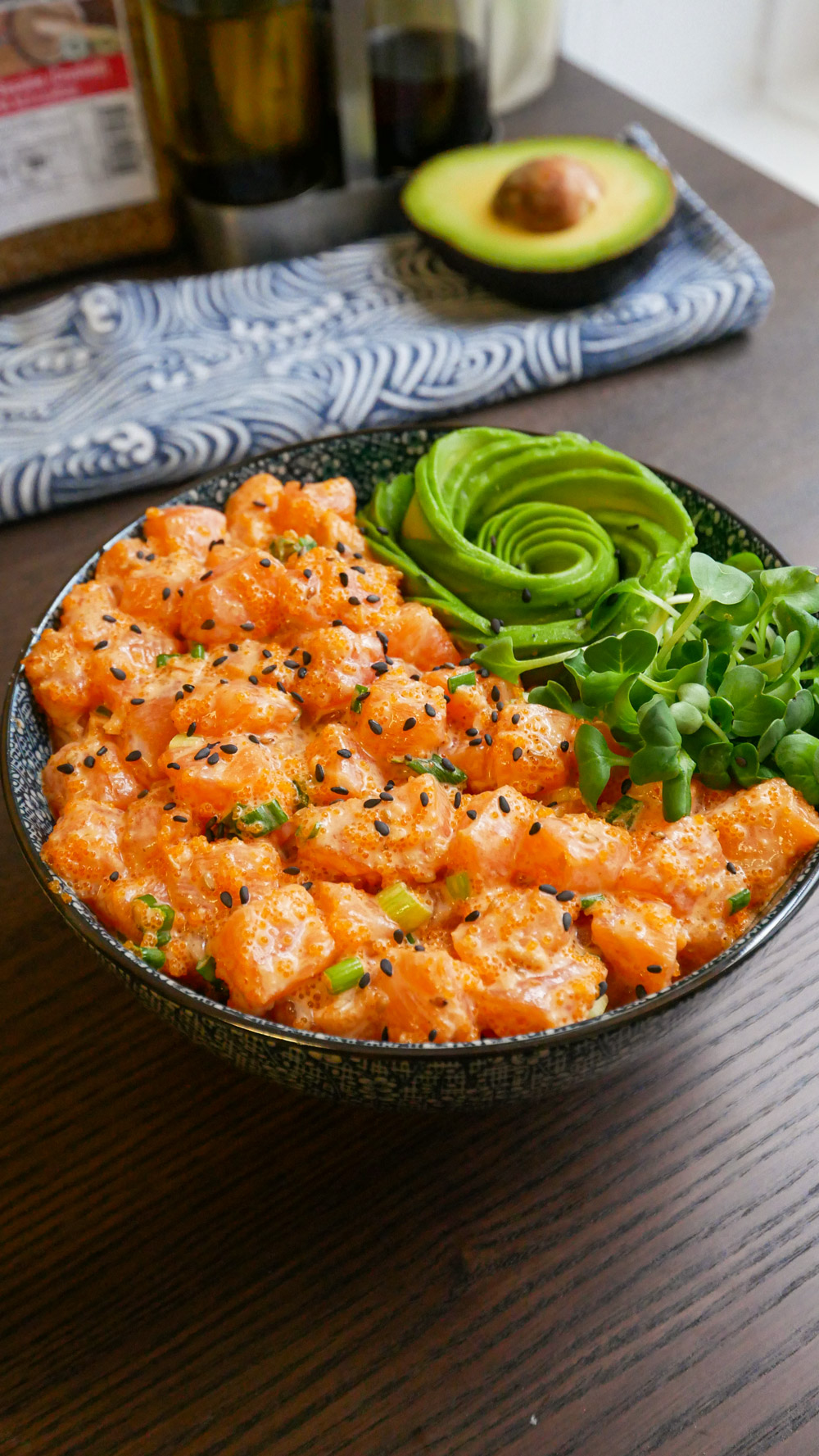 Spicy Salmon Poke Bowl
Ingredients
2

cups

cooked rice

short-grain or medium-grain

1/2

lb

sashimi grade salmon

1

garlic clove

grated

1

scallion

chopped

1/2

tsp

sesame seeds

2

tbsp

tobiko or masago

fish roe, optional
Sauce
2

tbsp

mayo

adjust to taste

1

tbsp

sriracha

adjust to taste

1

tsp

soy sauce

adjust to taste

1

tsp

rice wine vinegar

adjust to taste

1/2

tsp

sesame oil
Garnish
1/2

sliced

avocado

sliced

microgreen

optional
Instructions
Start by dicing the sashimi grade salmon into small bite-sized pieces.

Transfer to a bowl and add mayo, sriracha, soy sauce, rice wine vinegar, sesame oil, grated garlic, chopped scallion, sesame seeds, and tobiko/masago. Cover and place in the refrigerator until it's ready to serve. *Salmon poke can be made up to 24 hours in advance!

Scoop one cup of rice and transfer it into a bowl. Allow the rice to slightly cool and come to room temperature.

Once the rice has cooled, top it with the spicy salmon poke mixture, sliced avocado, and microgreens for garnish.
Pin & save this recipe for later!