Gilgeori Toast or Korean Street Toast is a popular Korean street food that's sweet, savory, and hits all the right notes! It's an egg sandwich that's jam-packed with vegetables and a secret ingredient that really makes this a unique treat.
The secret ingredient is… sugar! Yes, a sprinkle of sugar is layered into the sandwich to give you this sweet and savory combo. It's so simple, easy, and tasty – I guarantee you will love this!
Like most Korean recipes, you can use any combination of vegetables that you prefer. Since I had some extra perilla leaves in my fridge, I added them to the recipe. It may not be a traditional ingredient, but I think it actually makes it better!
Why you'll love this recipe
Let's be honest, who doesn't love a good sandwich? This gilgeori toast is loaded with eggs, veggies, and sausage, so it's just as filling as it is comforting. The combination of cabbage and egg may be an uncommon combination in the Western world, but it's surprising how much flavor it can add.
Although the toast already uses simple and pantry-friendly ingredients, you're also free to customize and experiment with different types of condiments and cheese. 
This recipe is enough to make one sandwich, but you can easily double or triple the proportions so it's enough for more servings. If you like, you can even refrigerate a mixture of the vegetables in advance, so you can readily make this whenever you like!
Whether you're a busy pro or just looking for a quick weekend brunch recipe, this gilgeori toast is a game-changer. It's incredibly simple and quick to make, plus you can easily customize the ingredients according to your preferences. 
How do I prepare Gilgeori Toast?
This recipe is often made in the streets of Korea, but it's actually a breeze to replicate at home. To get started, just follow the steps below:
Step 1: Toast the bread
In a pan over medium heat, add 1 tablespoon of butter. Once the butter is melted, toast the bread on both sides until golden brown. Then, set aside to prepare the rest of the ingredients.
Step 2: Prepare the egg mixture
In a bowl, beat 2 eggs and season with salt and pepper. Add the cabbage, onions, carrots, scallions, perilla leaves, sausage, and mix.
Step 3: Cook the egg mixture
In a pan, add the remaining tablespoon of butter over medium heat. Once the butter is melted nicely, pour the egg mixture. Shape the egg mixture into a rectangle that's the approximate size of two slices of bread.
Let it cook for 2 to 3 minutes, then flip it on the other side so it cooks evenly. Leave for 2 to 3 minutes or until it's golden brown.
Step 4: Add cheese
Once the egg has set and is cooked all the way, cut it in half. Then, add a slice of cheese to one half and stack the one without cheese on top. (If I've lost you with the instructions, you can also watch the video below to see how I do it 😅).
Step 5: Assemble the toast
When the egg and cheese are ready, take them out of the heat and place them on top of one slice of toast. Layer on the sugar, ketchup, mayo, and chili oil before topping it off with the other slice of bread.
Step 6: Cut and serve
To keep everything in place, wrap the sandwich in plastic wrap. Carefully cut the toast in half, and serve immediately. Enjoy!
Cooking Tips for Gilgeori Toast
If you're making gilgeori toast for the first time, here are a few tips and tricks to keep in mind for a delicious and tasty toast every time.
If you want your gilgeori toast to be extra rich and indulgent, don't be afraid to use more butter when toasting the bread. Make sure each slice is completely covered so you get the maximum flavor!
Keep an eye on the bread while toasting to prevent them from burning. Once they turn golden brown and crispy on both sides, remove them from the heat immediately.
If you have, you can also use a tamagoyaki pan for cooking the egg mixture since it will automatically do the work of shaping it.
Sugar is the secret and key ingredient to making this extra delicious so don't skip it! 
Feel free to get creative with this recipe! Experiment with different vegetables and condiments to personalize your style of gilgeori toast. 
Ingredients & Substitutions
Cabbage: the cabbage when cooked adds a natural sweetness to the egg. It is a classic ingredient in gilgeorgi toast so I don't recommend substituting cabbage in this recipe.
Onion: onions add an oniony flavor and like the cabbage, it adds a natural sweetness.
Carrots: carrots add a hint of sweetness and color to the sandwich, but you can also omit them if you don't have them. If you want to sneak in more veggies, you can also add jicama, daikon radish, or zucchini.
Scallions: scallions add an aromatic flavor to the eggs, but you can also substitute it with spring onions, chives, or more onion. 
Perilla leaves: perilla leaves are completely optional, but highly recommended! They add an earthy and herbaceous flavor which I absolutely love! 
Sausage links: any high-quality sausage links will taste great with this recipe. I like to use pre-cooked Korean mini sausages but you can use anything that you have available. Hot dogs, bacon, or ham also works too!
Milk bread: milk bread is light, creamy, and fluffy which is my preference for this recipe. But you can also use brioche or regular white bread for the toast.
Unsalted butter: make sure to use good quality unsalted butter for this recipe! But you can also use salted butter, just remember to reduce the amount of salt added to the eggs so it doesn't turn out too salty.
Cheese: I used a slice of American cheese for this recipe, but feel free to use any type you like!
Sugar: sugar is the secret key ingredient in this recipe. Gilgeori toast in Korea is all made with a sprinkle of sugar so if you want the most authentic experience, I highly recommend that you don't skip it. 
Ketchup: an egg sandwich isn't complete without a little bit of ketchup! 
Mayo: any type of mayo will be great for this recipe but I prefer using Japanese Kewpie Mayo. If you want a healthier option, you can also try making my Vegan Mayo recipe.
Chili oil: you can use your favorite chili oil for this recipe. If you like, you can also try my Korean Chili Oil recipe. It only takes 10 minutes to make!
Frequently Asked Questions
Can I make Gilgeori Toast in advance?
While gilgeeori toast is usually best enjoyed hot and fresh, you can definitely prepare the different components of the dish in advance. For example, you can chop up all the vegetables and mix them into the egg the day before and store them in the refrigerator until they're ready to use the next day. I highly recommend cooking the eggs and assembling the sandwich right before serving but if you really wanted to, you can make this ahead of time and reheat the sandwich in the microwave. Just keep in mind that the bread will get soggy but the flavors will still come through
Can I make Gilgeoti Toast vegetarian?
Yes, absolutely! You can adapt this recipe to suit a vegetarian diet by substituting regular eggs with an egg substitute like Just Egg and substituting the sausage with a plant-based sausage or omitting it completely. For the butter, you can use vegan butter or skip it and use olive oil instead. 
What are perilla leaves?
Perilla leaves are commonly used in Korean cuisine for adding a touch of earthy and herbaceous flavors. It's a cross between mint and basil leaves, and they are incredibly fragrant. Perilla leaves are not a traditional ingredient in gilgeori toast so you can omit it if you desire but I personally think it adds a unique twist to this popular street food. If you do decide to use perilla leaves, you can find them at Korean markets like H Mart. When picking them out, be sure to go for ones that have bright green leaves and stems that are free from blemishes and brown spots.
What is milk bread made of?
Milk bread consists of standard ingredients of milk, flour, sugar, yeast, and water, but the way it's prepared is what makes it softer and fluffier than other bread. Although there are variations, it's believed that the secret to making bouncy milk bread is to start with a flour and water paste called 'tangzhong' before adding in the rest of the ingredients. This process gelatinizes the flour starches, allowing it to absorb more water.
I like to use this bread for this recipe because it's often cut into thick slices so it's able to hold the overloaded filling of the toast. It's also soft, fluffy, and slightly creamy due to the addition of milk!
Can you pack Gilgeori Toast?
Gilgeori toast is a popular street food in Korea, so you usually eat it while you're on the go. If you want to pack your gilgeori toast for lunch or for a picnic, you can wrap it in plastic wrap, wax paper, or aluminum foil. This will prevent the bread from going stale and spilling out into your bag. As mentioned above, I highly recommend eating the toast on the same day you make it while the ingredients are still fresh. 
Looking for more easy and delicious bread recipes?
If you're looking for more bread and sandwich recipes that are equally as delicious, here are some of my favorites!
1. Fried Chicken Bao with Thai Basil Aioli – if you think you can't level up a crispy fried chicken anymore, I suggest that you try putting them into a steamed bao bun. Topped with rich and flavorful Thai basil aioli, this is one bao that you won't forget. Also, check out my Pork Belly Bao recipe – it's just as delicious!
2. Healthy Tuna Sandwich – this tuna sandwich is a great choice for a healthy and light meal. It's loaded with fresh veggies that you can switch out for seasonal ingredients or what you have in your pantry. 
3. Hong Kong French Toast – if you're feeling indulgent, this sweet and savory toast is the perfect treat for you. It's my take on the Hong Kong classic, added with a few additional ingredients that make it even more delectable.
4. Brown Sugar Butter Toast – if you like to enjoy something sweet alongside your morning coffee, I'd bet you'd enjoy this recipe. It only needs 4 ingredients to make, but it's unbelievably delicious and comforting.
5. Mushroom Steak Burger – this mushroom burger is a vegetarian twist on a classic. It hits all the elements you'd want from a traditional burger, from the juicy portobello mushroom steak to the spicy and salty mushroom glaze.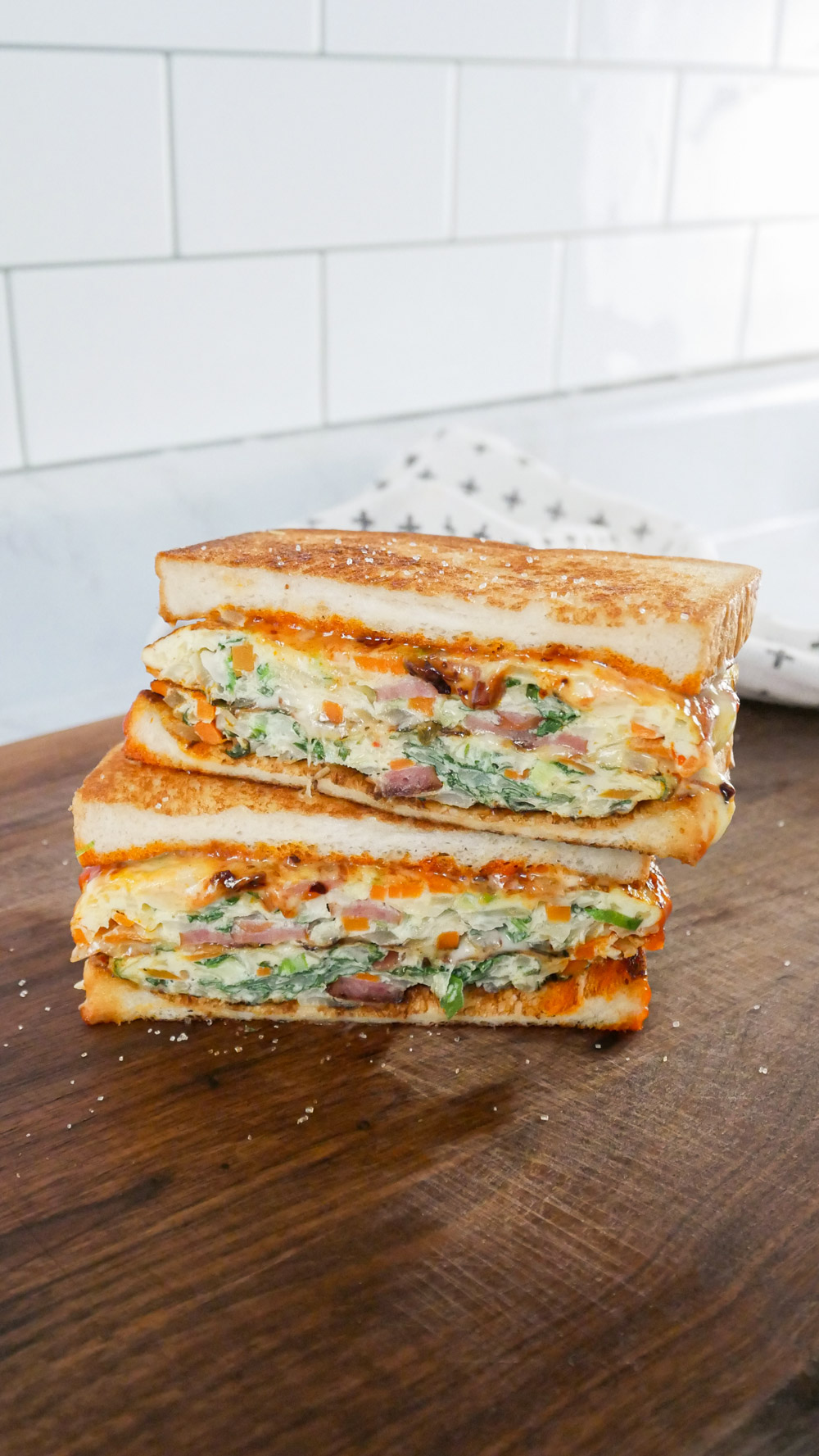 Gilgeori Toast – 길거리 토스트 (Korean Street Toast)
Ingredients
4

oz

cabbage

shredded or thinly sliced

2

oz

onion

thinly sliced

2

oz

carrots

cut into matchsticks

2

scallions

chopped

2

perilla leaves

thinly sliced (optional)

2

mini

sausage links

thinly sliced (substitute with bacon or ham)

1/2

tsp

salt

1/8

tsp

ground black pepper

2

eggs

beaten

2

slices of

milk bread

or bread of your choice

2

tbsp

unsalted butter

1

slice of

cheese

2

tsp

sugar

1

tbsp

ketchup

1

tbsp

mayo

1

tbsp

chili oil

optional
Instructions
In a pan over medium heat, add 1 tbsp butter. Toast the bread with butter on both sides until golden brown. Set aside.

In a bowl, beat 2 eggs and season with salt and pepper. Add the cabbage, onions, carrots, scallions, perilla leaves, sausage, and mix.

In a pan, add the remaining tbsp of butter and the egg mixture over medium heat. Shape the egg mixture into a rectangle that is the approximate size of two slices of bread.

Cook for 2-3 minutes, then flip and cook for another 2-3 minutes or until golden brown.

Cut the egg mixture in half. Add a slice of cheese on one half and top it with the other half.

Place the eggs on top of one slice of toast. Layer on the sugar, ketchup, mayo, chili oil then top it off with the other slice of bread.

Cut in half and serve. Enjoy!
Pin & save this recipe for later!