Gilgeori Toast or Korean Street Toast is a popular Korean street food that's sweet, savory, and really delicious!! It's an egg sandwich that's jam packed with vegetables and a secret ingredient that really makes this a unique meal.
The secret ingredient is… sugar! Yes, a sprinkle of sugar is layered into the sandwich to give you this sweet and savory combo. It's so simple, easy, and tasty – I guarantee your whole family will love this!
Like most Korean recipes, you can use any combination of vegetables you prefer. I had some extra perilla leaves in my fridge so I added them in. It's not a traditional ingredient but I think it actually makes it better!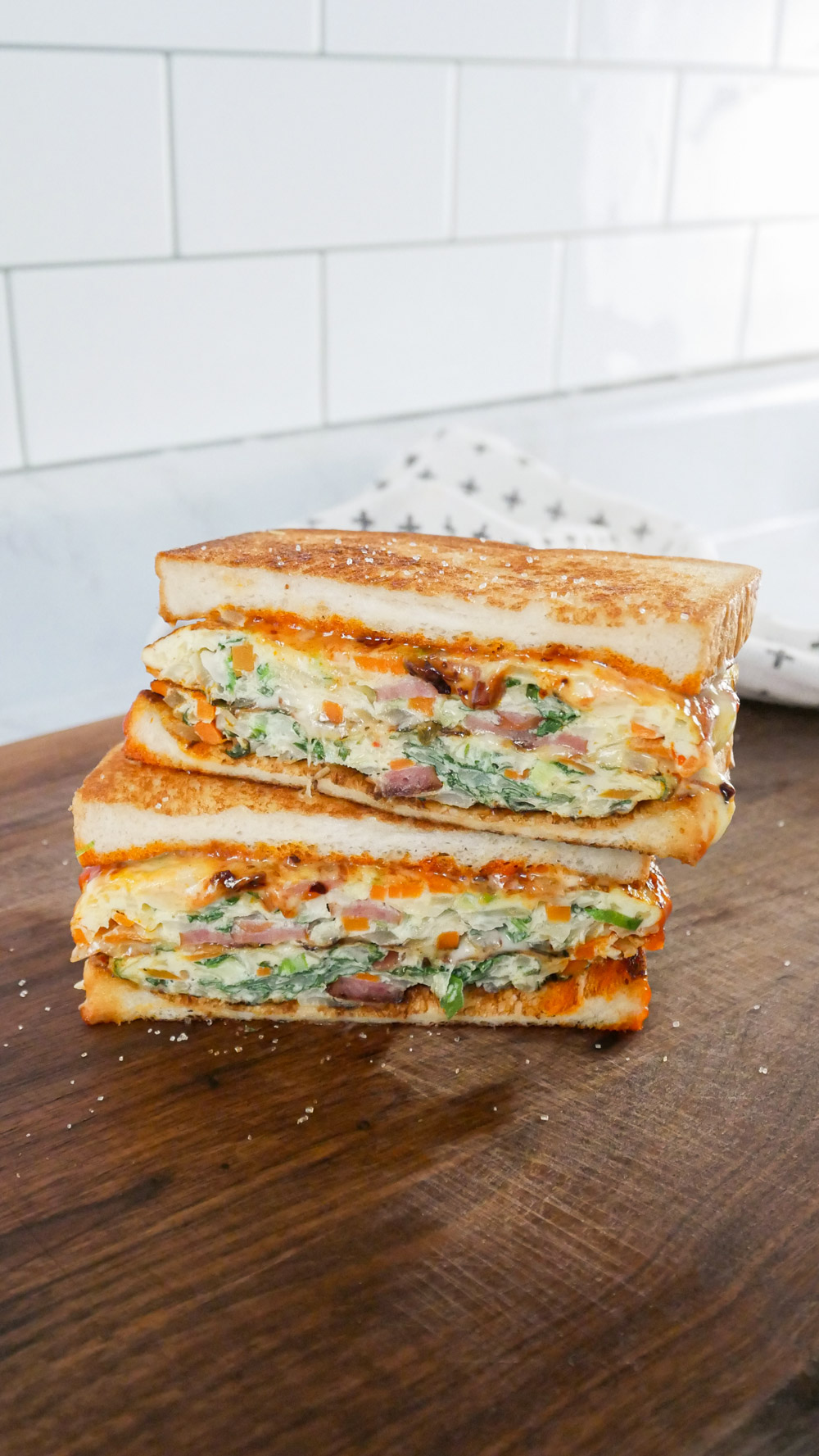 Gilgeori Toast – 길거리 토스트 (Korean Street Toast)
Ingredients
4

oz

cabbage

shredded or thinly sliced

2

oz

onion

thinly sliced

2

oz

carrots

cut into matchsticks

2

scallions

chopped

2

perilla leaves

thinly sliced (optional)

2

mini

sausage links

thinly sliced (substitute with bacon or ham)

1/2

tsp

salt

1/8

tsp

ground black pepper

2

eggs

beaten

2

slices of

milk bread

or bread of your choice

2

tbsp

unsalted butter

1

slice of

cheese

2

tsp

sugar

1

tbsp

ketchup

1

tbsp

mayo

1

tbsp

chili oil

optional
Instructions
In a pan over medium heat, add 1 tbsp butter. Toast the bread with butter on both sides until golden brown. Set aside.

In a bowl, beat 2 eggs and season with salt and pepper. Add the cabbage, onions, carrots, scallions, perilla leaves, sausage, and mix.

In a pan, add the remaining tbsp of butter and the egg mixture over medium heat. Shape the egg mixture into a rectangle that is the approximate size of two slices of bread.

Cook for 2-3 minutes, then flip and cook for another 2-3 minutes or until golden brown.

Cut the egg mixture in half. Add a slice of cheese on one half and top it with the other half.

Place the eggs on top of one slice of toast. Layer on the sugar, ketchup, mayo, chili oil then top it off with the other slice of bread.

Cut in half and serve. Enjoy!
Pin & save this recipe for later!