The other day I made a huge batch of air fryer char siu and ended up with tons of leftovers. I knew I couldn't put it to waste so I decided to make char siu (pork) fried rice and let me tell you… it was so good!
I used to eat char siu fried rice every week when I was younger. My relatives (about 15 of us!) would get together at my Aunt's house and we would order Chinese takeout from a local restaurant. My go-to order was fried chicken wings and pork fried rice without fail. Let's just say I was a chubby kid lol.
This recipe reminded me so much of the fried rice I used to eat so it's a very nostalgic dish. I hope you enjoy it as much as I do! 🙂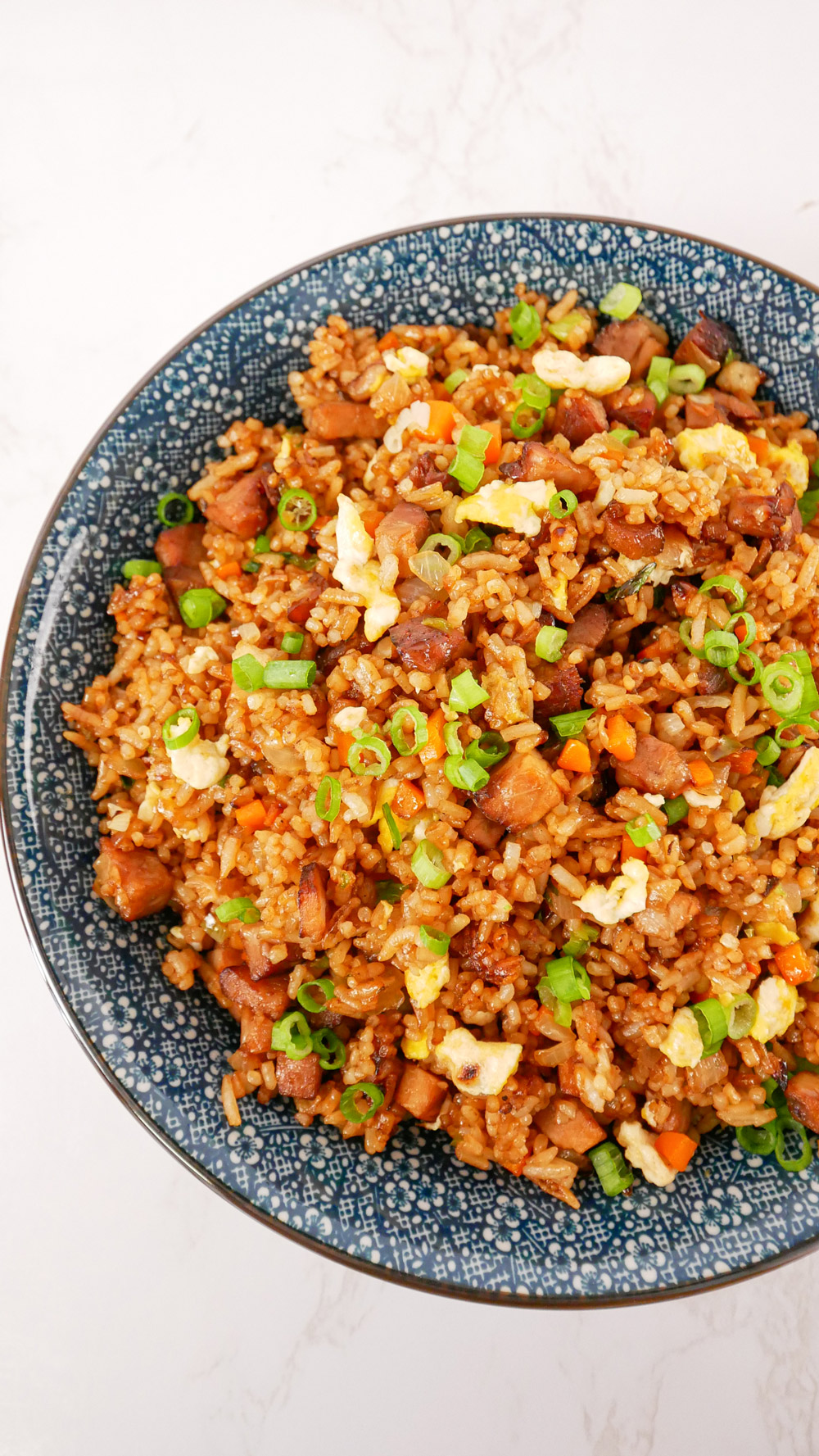 Char Siu Fried Rice
Ingredients
2 1/2

cups

cooked rice,

preferably cold and day old

1/2

cup

char siu (Chinese BBQ pork)

cut into chunks

1/2

cup

onion,

diced

3

garlic cloves,

minced

1

long

green pepper or jalapeno,

finely chopped

1/4

cup

carrot,

diced

1

egg,

scrambled

1

scallion,

chopped

3

tbsp

neutral oil,

divided

salt,

to taste
Sauce
1

tbsp

soy sauce

1

tsp

dark soy sauce

1

tsp

sesame oil

1

tsp

Shaoxing wine

1

tsp

sugar

1/8

tsp

ground black pepper
Instructions
Let's prepare the sauce! In a bowl, combine soy sauce, dark soy sauce, sesame oil, Shaoxing wine, sugar, and black pepper powder. Mix together well and set aside.

In a deep pan or wok, heat up 2 tbsp oil over medium-high heat. Toss in the onion and cook for 1 minute.

Next, add garlic, long green pepper, and carrot. Cook for 1-2 minutes until fragrant. Add the char siu and stir fry everything together.

Toss in the rice and break the rice apart using a spatula or spoon.

Pour the sauce and mix together until the the rice is evenly coated.

Push the rice to one side of the wok and add the remaining tbsp of oil on the side without the rice.

Crack an egg and gently scramble. Then, mix the egg in with the rice. Taste for seasoning and adjust with salt if needed.

Garnish with scallions and enjoy!