Hong Kong style French toast is a rich and delectable treat that originated from the streets of Hong Kong! It is traditionally filled with peanut butter then deep fried and topped with condensed milk however, these days you'll find various types of filling including ovaltine, nutella, jam and more!
This recipe is my take on the traditional and original way to make this Hong Kong French toast. I really enjoy the combination of sweet and savory elements in my desserts so I added flakey salt on top of the peanut butter in one layer and a drizzled condensed milk over the peanut butter in another layer. While this recipe calls for three slices of bread to make one french toast, you can certainly use two if you prefer!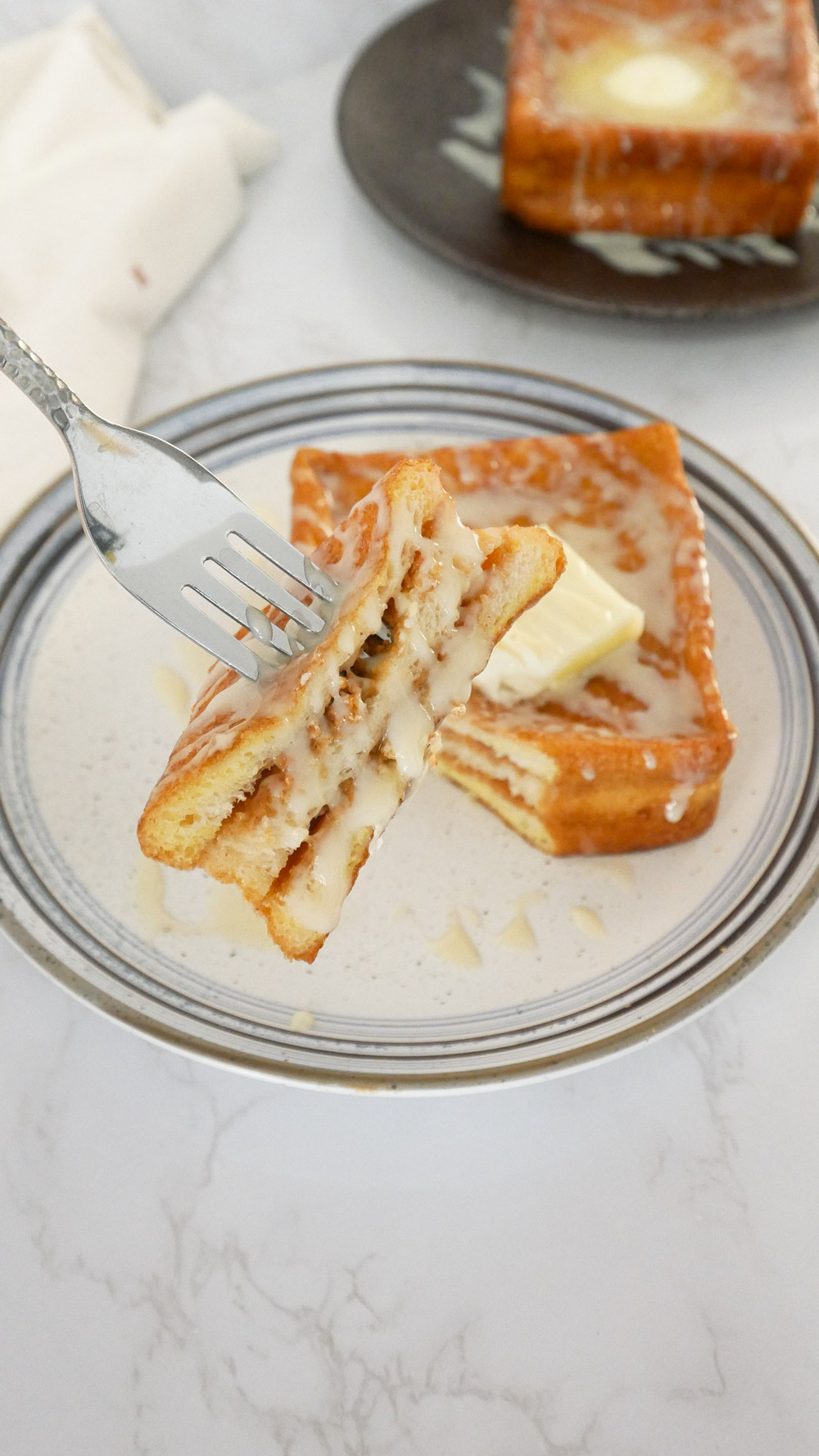 Hong Kong French Toast
Ingredients
3

slices of

bread

preferably white, milk, or challah

2-3

tbsp

peanut butter

1

egg

1

tbsp

milk

1/8

tsp

salt

1-2

tbsp

condensed milk

neutral oil for frying

knob of butter

for garnish

flakey salt

optional
Instructions
Evenly spread the peanut butter on two slices of bread. Drizzle some condensed milk on top of one slice of bread. Add a pinch of flakey salt on top of the other.

Stack the two peanut buttered slices of bread on top of each other. Then top with the last slice of bread.

Using a serrated knife, cut off the crust then set the toast aside.

In a deep pan, add about 1 inch of neutral oil. Heat the oil until it reaches 275F/135C.

While the oil is heating up, combine the egg, milk and salt into a shallow plate. Whisk until fully combined.

Dip each side of the toast into the egg mixture until all sides are coated and have absorbed all the egg mixture.

Place the toast into the hot oil and dip each side for about 10-15 seconds to seal the toast. Once all sides have been sealed, lay the toast flat and fry on each side for 1-2 minutes or until golden brown.

To get the toast evenly golden brown, spoon the oil over the toast while it's frying until it reaches your desired color.- Remove and allow it to slightly cool on a wire rack.

Serve with a knob of butter and a drizzle of condensed milk.
Pin & save this recipe for later!