Treat yourself to this delicious brown sugar butter toast recipe! I like to make this in the morning to enjoy with my coffee, and you have to believe me when I say it's addicting!
I recommend that you make this toast with milk bread, but if you can't find any, it will also taste great with any bread you have on hand. Once the toast hits the pan, you'll be greeted with a comforting buttery aroma to start your morning. The sweet and caramelized flavor of brown sugar will satisfy the cravings of any sweet tooth. 
With that being said, you only need 4 ingredients so you have no excuse but to treat yourself! 🙂 Don't worry, this is a no-judge zone so indulge as much as your heart and stomach desire! It's just that good!
What is toast?
Toast is a common breakfast food that we don't normally think about when we make it. But the great thing about toast is its versatility. Whether it's sweet or savory, toast is can complete any snack or breakfast.
It's believed that toasting was invented as a method for preserving bread. It was popular during the Roman Empire, where the pieces of bread were toasted by placing them in front of a fire on hot stones. In fact, the word "toast" came from the Latin term "tostum", which translates into "to burn or to scorch". 
There are now many variations on what toppings or spreads you can add to toast to make it as delicious as possible. But for this recipe, we'll focus on making a sweet and crunchy brown sugar butter toast for a quick breakfast!
Butter vs Margarine
Butter and margarine are often mistaken for each other because of their similarities. But in reality, they're both different ingredients that have their own uses. Butter comes from churning cream or milk, and it has a rich and creamy flavor that most of us love. On the other hand, margarine comes from hydrogenated vegetable oil and is often added with color and flavor to look and taste similar to butter. But because it has a lower fat content, it can't achieve the same flavor profile.
That's why I prefer to use butter for this recipe because it has an incomparable taste that margarine doesn't have. But if you have any lactose allergies or intolerance, you can substitute it with margarine for this recipe.
Sweet and Crunchy Brown Sugar Butter Toast
If you're not a morning person, making breakfast can be a drag but that doesn't mean you can't make it fun by indulging yourself in a sweet and buttery toast once in a while. This recipe will taste best on soft and fluffy milk bread but it can also work on almost any type of loaf. The rest of the ingredients will already be available at home or at your local market so you can have this treat ready in under 15 minutes!
To finish it off, I recommend adding a pinch of flakey salt at the end because it will enhance the caramel flavor and balance out the sweetness. Pair it with a hot cup of coffee or tea, and you've got yourself a delectable treat!
How Do I Prepare Brown Sugar Butter Toast?
You'll only need 4 easy steps to make this tasty treat:
Step 1: Prepare the butter mixture
Microwave 4 tablespoons of butter until partially melted. It should be soft enough to spread easily on the toast. Then, add the brown sugar and mix well.
Step 2: Prepare the bread
With a pastry brush or butter knife, slather a generous amount of the butter mixture on each side of the bread. Don't be afraid to get it on to the corners so you can get a taste of the caramelized sugar in every bite.
Step 3: Toasting
Preheat a pan on low-medium heat. Once it's hot, toast each piece of bread until it becomes a golden brown color. You'll know it's ready once you can smell that wonderful caramel aroma. Periodically check the toast to make sure it's not burning. Then flip and toast the other side. 
Step 4: Plate and serve!
Remove the bread from the heat and sprinkle a dash of flakey salt on top to balance out its sweetness. You can serve the toast as is, or top them with whipped cream or fruit. Enjoy!
Preparation Tips for Brown Sugar Butter Toast
Making brown sugar butter toast doesn't require any advanced cooking skills, but here are a few tips you can follow for a seamless process:
If you don't have a microwave, you can still soften the butter by leaving it on the counter for 115 minutes.
To make the butter mixture spread easier, you can also use frozen bread. You just need to put your bread in the freezer ahead of time to make sure it's solid when you take it out.
Since the butter mixture contains sugar, keep a close eye on the bread while toasting, and keep the heat low to prevent your toast from burning!
You can also adjust the amount of brown sugar you want to add depending on your preferences.
Ingredient Substitutions
Milk bread: Milk bread has a lighter and fluffier consistency, but this recipe will also taste great with brioche, challah, or regular white bread.
Butter: Although it won't have the same rich and buttery taste, the closest ingredient you can substitute for butter is margarine. You can also opt for a plant-based butter if you prefer.
Brown sugar: If brown sugar isn't available, you can replace it with muscovado sugar. You can also use white sugar, but it won't have the same deep caramelized flavor. 
Frequently Asked Questions
What is milk bread?
Milk bread (Shokupan in Japanese and Uyu Sikppang in Korean) is a soft and fluffy loaf that's popular in many Asian countries. Although it's often identified as Japanese bread, the baking method of milk bread originally came from China.
Milk bread is commonly served in thick slices, and it doesn't crumble like typical American loaf bread. If you're not a fan of the crust, you'll be delighted to know that this bread contains the thinnest layer compared to most bread – which is perfect for this buttery toast recipe.
Where can I buy milk bread?
The best place to find milk bread is your local Asian bakery however, your local Asian supermarket may also carry it as well. Although a bit pricier, you can also find a loaf at the farmer's market or at a specialty bread store.
Milk bread can last for up to a week at room temperature as long as you keep it in an airtight container. It's best to place it on the counter rather than in the fridge since the cold air will affect its starch molecules and make it stale faster. But if you want it to last longer, you can also place the bread in the freezer and it will stay good for up to 3 months.
Can you refrigerate the brown sugar butter mixture?
If you can't get enough of this addicting butter mixture, you can store any leftovers in the fridge for up to five days. Just make sure to keep it in an airtight container. Alternatively, you can make a big batch in advance, and store it in the freezer for up to six months.
Can you store leftover toast?
I don't recommend storing leftover toast because it will lose its crunch and become stale over time. But if find yourself with extras, place them in an airtight container in the refrigerator for a couple more days. Just make sure to reheat them in the oven or stovetop before eating to revive their crunch and flavor.
What goes well with Brown Sugar Butter Toast?
If you're up for a fancy breakfast spread, here are a few side dishes I recommend that will complement this recipe:
1. Eggs – eggs and toast are a classic breakfast combo, so it will taste great whether it's sunny side up or scrambled. You can even try my Chinese Scrambled Eggs with Shrimp recipe to give it a unique spin!
2. Bacon – if you want to add some protein to your breakfast, a side of bacon is always welcome!  
3. Greek yogurt – to break the sweet and buttery flavor profile of the toast, you can eat a few spoons of Greek yogurt or even add it on top!
4. Fresh fruits – add a refreshing twist to your breakfast through a side of your favorite fruits.
5. Oatmeal – pairing your toast with a cup of oats will keep you full until lunch. You can even make them the night before so you can have breakfast on the go.
6. Dumplings – dumplings aren't really your standard breakfast food, but once you try my Cheesy Breakfast Dumplings recipe it will become part of your routine! 
With only 4 ingredients needed, this toast recipe is simple yet so satisfying. I hope you give this a try and add it to your morning routine. Be careful – these are super addicting!!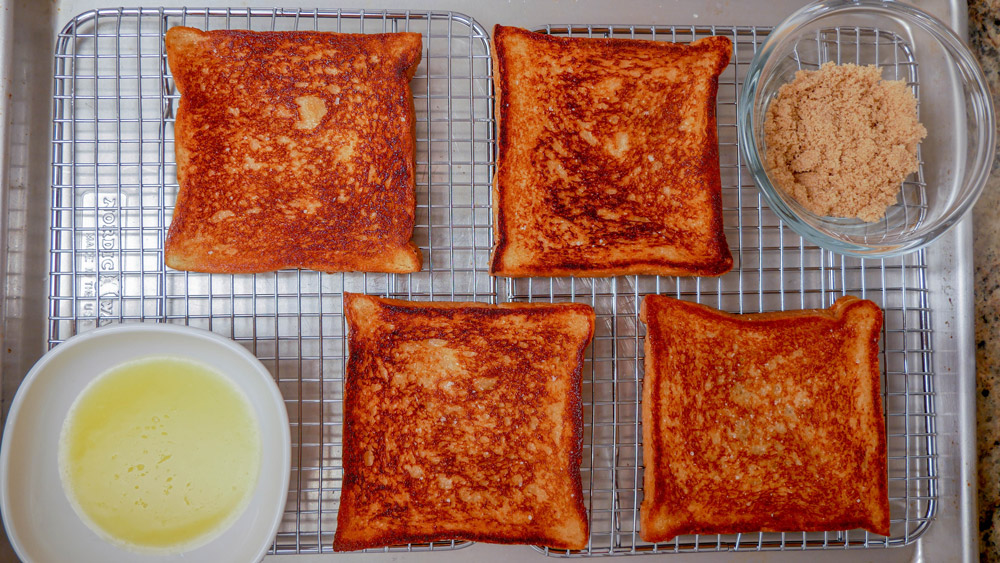 Brown Sugar Butter Toast
Ingredients
4

slices of milk bread

or bread of your choice

4

tbsp

butter

partially melted

4

tbsp

brown sugar

pinch of flakey salt

or sea salt
Instructions
Microwave the butter until partially melted. Add the brown sugar to the butter and mix well.

Slather a generous amount of butter sugar mixture on both sides of the bread.

In a pan, toast the bread until golden brown on each side.

Remove from the heat and immediately sprinkle flakey salt on top.
Pin & save this recipe for later