The crispiest juiciest Taiwanese-style fried chicken! I love a good fried chicken and this one never fails to hit the spot. Taiwanese fried chicken is a popular street food that originates from Taiwan. It's also commonly found in many bubble tea shops as a snack to enjoy with your favorite drink.
While there are many variations of Taiwanese fried chicken, this recipe offers a combination of salty, sweet, and spicy flavors that will have you coming back for more. The chicken is first marinated in soy sauce, cooking wine, various spices, and a secret ingredient – freshly squeezed orange juice. After marinating for at least one hour or overnight, it is ready to be cooked! The sweet and spicy elements are found in the Sichuan-white peppercorn seasoning that is used to season the chicken as it comes out of the fryer.
I'm convinced that anything deep-fried is good but with a few tricks, you can make it even better.
Double frying is key to the crispiest and crunchiest fried chicken so it's highly recommended.
A squeeze of fresh orange juice will help tenderize the meat and add a nice citrusy flavor.
When tossing in the tapioca starch (or potato starch), you want to see small little clusters of starch coat the chicken to make it extra crunchy. You can add a few drops of water at a time to help form the clusters.
This recipe is relatively straightforward and easy to make. Next time you're craving a delicious fried chicken, give this recipe a try!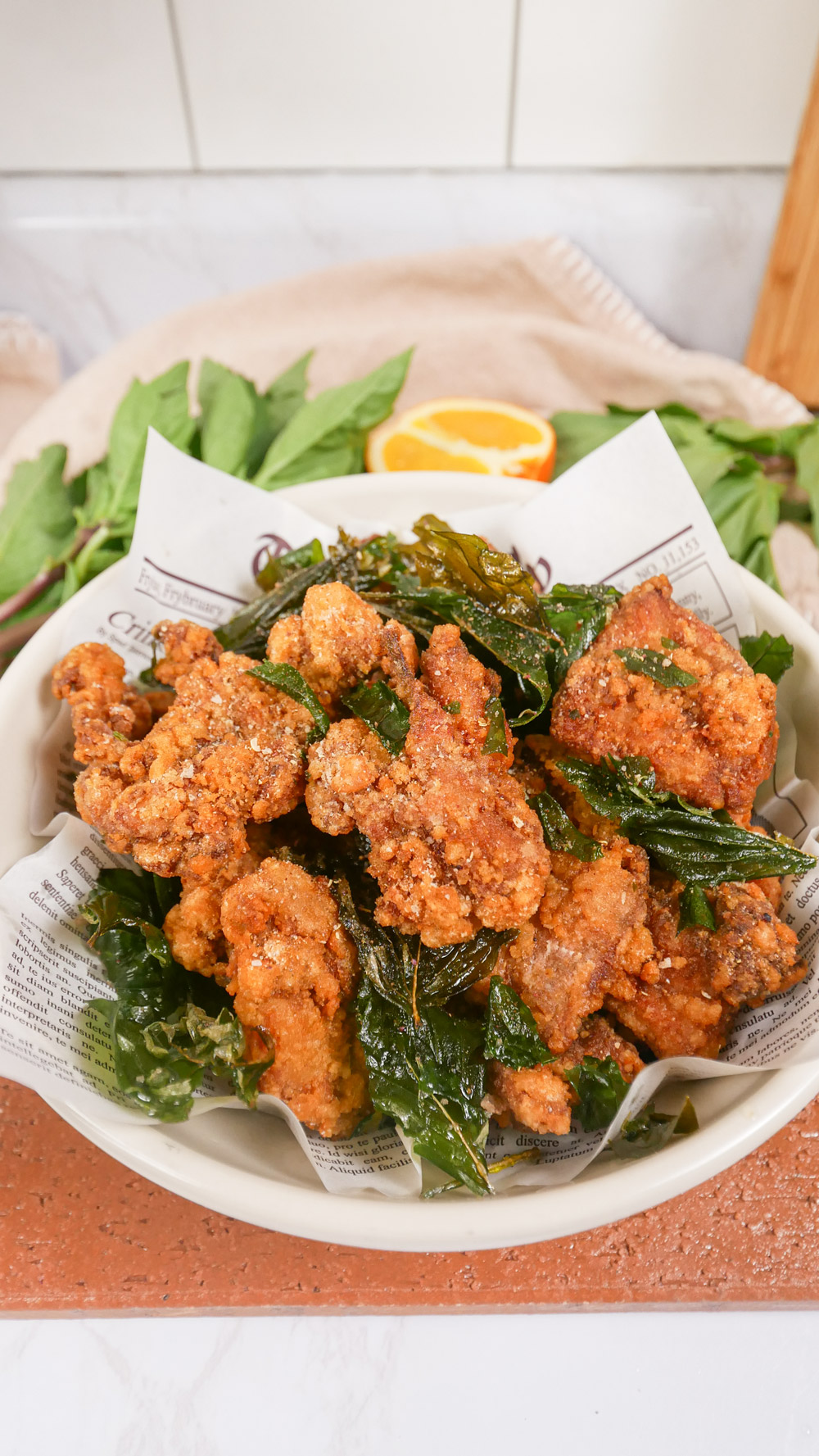 Taiwanese Style Fried Chicken
Ingredients
1

lb

boneless & skinless chicken thighs

(3 to 4 thighs)

4

garlic cloves

grated

1

tbsp

soy sauce

1

tbsp

Shaoxing cooking wine

1

tbsp

fresh orange juice

1

tsp

salt

1

tsp

sugar

1

tsp

Chinese five-spice powder

1

tsp

white pepper

ground

1

cup

tapioca flour

or potato starch

1

cup

Thai basil leaves

washed and pat dry

6

cups

neutral oil

for frying
Sichuan-White Peppercorn Seasoning
1

tsp

Sichuan peppercorn

ground

1

tsp

white pepper

ground

1

tsp

salt

1

tsp

sugar
Instructions
Cut the chicken thighs into 1 1/2 inch thick pieces.

In a bowl, combine the chicken thighs, grated garlic, soy sauce, Shaoxing cooking wine, orange juice, sugar, Chinese five spice powder, white pepper, and 1 teaspoon of salt. Mix well and marinate for at least 1 hour or overnight.

Heat a small skillet over medium heat and combine Sichuan peppercorns and white peppercorns (if using whole). Toast for 2 to 3 minutes, making sure to constantly stir to prevent the spices from burning. Remove and transfer to a spice grinder or mortar and pestle. Grind into a powder or your desired coarseness. Transfer to a bowl with 1 teaspoon of salt and 1 teaspoon sugar. Mix then set aside for later.

Fill a pot with neutral oil about half way up. Heat over medium heat to 350F or 175C.

Toss the chicken along with any juices in the bowl with tapioca flour. Add about 1 teaspoon of water to form small beads around the chicken.

For the first fry, carefully place the battered chicken into the hot oil and fry for about 2 minutes, or until golden brown. Be sure to work in batches to avoid overcrowding the pot. Transfer the fried chicken to a wire rack or plate lined with paper towel. Repeat until all chicken is fried.

For the second fry, raise the oil temperature to 400F or 205C. Working in batches again, carefully place the fried chicken into the oil and fry for 1 minute until golden brown and crispy. Remove immediately then sprinkle the Sichuan-white peppercorn seasoning over the chicken. Repeat for remaining chicken.

Pat the Thai basil leaves completely dry before adding into the hot oil. Carefully add the Thai basil and fry for 1 to 2 minutes or until they're crispy. Be sure to have a lid or splatter screen ready because the Thai basil will cause the oil the splatter vigorously! Remove then serve with the fried chicken. Sprinkle a little more Sichuan-white peppercorn seasoning on top and enjoy!