Chili oil is something I don't think I can live without and at this point, I'm convinced anything that has chili oil on it will turn out amazing. From ramen to tacos to ice cream, and apparently even watermelon! (Don't quote me on this lol).
This chili oil ramen is a leveled-up version of a broke college kid's lunch that everyone seems to love – and for a damn good reason. By combining the ramen powder with a few everyday ingredients, you can create something magical and glorious. I mean, the aroma of the hot sizzling oil hitting the spice mixture is just insane! In my opinion, an egg with a runny yolk is essential for ramen – whether it's soupy or soupless like this.
So if you're looking for a quick, easy, and delicious meal, this chili oil ramen will get the job done!
Why you'll love this recipe
Instant ramen holds a dear place in my heart – it's gotten me through late-night study sessions, the morning after a night out, and days when cooking elaborate meals just isn't on the agenda. But lately, I've been craving something a little more, and a little more I can do. By making a quick chili oil with pantry staple ingredients and the instant ramen seasoning powder, it transforms this humble dish into something insta-worthy. 
The chili oil is a delightful blend of spicy and salty flavors that's balanced with a splash of Chinese black vinegar to cut through the oil. It's comforting, delicious and indulgent. And the best part? It's just as easy and simple to prepare! If you're ready to elevate your instant ramen game, you have to give this a try. 
How do I prepare Chili Oil Ramen?
Whether you're a novice cook or a professional chef, anyone can make this fuss-free chili oil ramen dish! Just follow this easy step-by-step guide below:
Step 1: Combine the spices
In a heatproof bowl, combine 3/4 of the ramen packet powder, gochugaru, sugar, sesame seeds, vinegar, the white part of the scallion, garlic, and black pepper.
Step 2: Heat the oil
In a pan, heat the oil until it's nice and hot. Then carefully pour it over the spice mixture while vigorously mixing. Once everything has been thoroughly mixed, you have your chili oil!
Step 3: Cook the ramen
Cook the instant ramen according to the package instructions or your preferred doneness. Then, strain and toss it into the chili oil. Mix together until the noodles are well coated.
Step 4: Garnish and serve!
Garnish the ramen with the green part of the scallions, sesame seeds, and a fried egg. Serve and enjoy!
Cooking Tips for Chili Oil Ramen
Making chili oil ramen requires no particular skill, but here are a few tips you can keep in mind to make the most delicious chili oil ramen every time:
Make sure the oil is sizzling hot but not smoking before adding it to the seasonings. If the oil isn't hot enough, it won't give you that beautiful glistening chili oil. If the oil is too hot, it'll burn the ingredients.
Keep an eye on the noodles when cooking to prevent them from overcooking and turning mushy. About 2 minutes should be enough for an al dente consistency unless you prefer soggier noodles.
I'm using Shin Ramen for this recipe because it is my favorite instant ramen brand, however, feel free to use any ramen brand you prefer as long as it's spicy. 
Since most of the flavor comes from the ramen packet powder, feel free to adjust the amount added based on your preferences. For example, if you want it to be less salty, just reduce the amount of powder added. 
Feel free to also adjust the amount of gochugaru added depending on your spice level tolerance. Keep in mind that the ramen packet powder is also spicy so you can skip the gochugaru if you prefer a very mild dish. 
To make it even spicier, you can also add chili oil if you have! Check out my easy Korean Chili Oil recipe.
Ingredients & Substitutions
Instant ramen: you can use any brand or flavor of instant ramen that you prefer. I used Shin Ramen for this recipe.
Gochugaru: gochugaru adds a smoky and spicy kick to the ramen. If you prefer a milder dish, you can skip this. 
Sugar: the sugar helps to balance out the spiciness and savoriness in the dish. 
Sesame seeds: sesame seeds provide a subtle nutty flavor and textural crunch. If you wanted to, you could also add a splash of sesame oil.
Chinese black vinegar: Chinese black vinegar provides a tangy taste with a hint of sweetness to balance out the flavors of the ramen. While you can substitute it with white vinegar, the flavors won't be the same. You can find Chinese black vinegar at your local Asian market or on Amazon. 
Scallion: scallions add a peppery and fresh flavor and also add a pop of color as a garnish
Garlic: garlic has a delicious taste and aroma that infuses deliciously into the chili oil. 
Ground black pepper: this adds a subtle peppery taste. All you need is a pinch!
Oil: you can use any neutral-tasting oil, including vegetable, canola, avocado, rapeseed oil, and more! I don't recommend using olive oil because it has a strong olive flavor. 
Egg: adding the egg on top is entirely optional, but I highly recommend it. Frying it in oil is the way to go, but feel free to cook it in any way you like!
Ingredient additions
For a more filling dish, here are a few ingredients that will go well with the flavors of chili oil ramen: 
1. Carrots – carrots give the dish a nutritious boost and provide a burst of color. You can slice them into thin strips and cook them with the noodles, so they're soft and sweet!
2. Broccoli – if you like broccoli, adding a few stalks is a convenient way of sneaking in your veggies. Boil them with the noodles for a few seconds so they're soft to eat.
3. Tofu – tofu is a quick and easy way to add a bit of protein. You can cut them into small cubes and fry them in oil until they're golden brown and crispy before tossing them in with the ramen.
4. Shrimp – if you're craving some seafood, shrimp is a good one to pair with ramen. Remove their shells and devein, then saute them in butter to level up the flavors of your chili oil ramen.
5. Cabbage – if you want some leafy greens, thin strips of cabbage will work well. Boil them with the noodles for a few seconds, then drain and add them to the dish.
Frequently Asked Questions
What is Chinese black vinegar?
Chinese black vinegar is made from glutinous rice or sticky rice that's fermented for six months up to several years to get its black hue and complex flavor. Depending on the brand, it can also contain wheat, sorghum, and barley. It tastes less acidic than distilled white vinegar, and it has a hint of sweetness. I use this to flavor the ramen because it gives it a full-bodied flavor, but you can also use any type of vinegar you have available! Just keep in mind that if you substitute the Chinese black vinegar, the dish will taste slightly different. 
What type of instant ramen should I use?
While I prefer using Shin Ramen because that's my all-time favorite instant ramen brand, you can use any instant ramen as long as it's spicy. 
What are ramen packets made of?
The contents of ramen packet seasonings vary depending on the brand you're using. But most will contain salt, chicken bouillon, garlic powder, onion powder, black pepper, monosodium glutamate (MSG), and dehydrated vegetables. Depending on the flavor, brands can also add ginger powder, chili powder, soybean paste powder, and sugar.
Can you store Chili Oil Ramen?
Yes, you can! Although chili oil ramen is best consumed when it's freshly cooked, you can store leftovers in the fridge. Just make sure to keep it in an airtight container so it stays fresh for up to 2 days. You can then reheat it on the stovetop or microwave for 1 to 2 minutes or until it's hot. Just a fair warning – the ramen will be soggy!
What if you don't have ramen noodles?
If you've realized that you don't have ramen noodles, you can still enjoy a chili oil noodle dish. Check out my easy 10-minute Chili Oil Noodles recipe!
Looking for more easy and delicious noodle recipes?
Check out these recipes below for more scrumptious noodle dishes that are just as easy to make!
1. Ginger Scallion Noodles – if you enjoy this oil-based ramen dish, I'm confident you'll also love these ginger scallion noodles. It packs a flavorful punch from the combination of dark soy sauce, black vinegar, Shaoxing wine, and cilantro, you'll want to make it repeatedly throughout the week! 
2. Shrimp Pan Fried Noodle – if you grew up eating dim sum, you know how good these noodles are! The crunchy exterior and soft interior smothered in the thick seafood gravy is hard not to love. 
3. Spicy Whelk Noodles (Golbaengi Muchim) – this recipe is made especially for seafood lovers. It's a cold noodle dish that's sweet, spicy, salty, and super refreshing served with whelks. It's a refreshing dish that's perfect for spring and summer.
4. Jjajangmyeon Black Bean Noodles – this is the iconic K-drama noodle dish that is everyone's favorite! The rich and hearty black bean sauce with the chewy and bouncy noodles is such a great combo and will satisfy your noodle craving. 
5. Taiwanese Sesame Noodles (Ma Jiang Mian) – if you're looking for an easy 10-minute noodle dish, this recipe is the one for you. Peanut butter is the secret ingredient to make the sauce thick and creamy, and the chili oil adds a welcoming kick!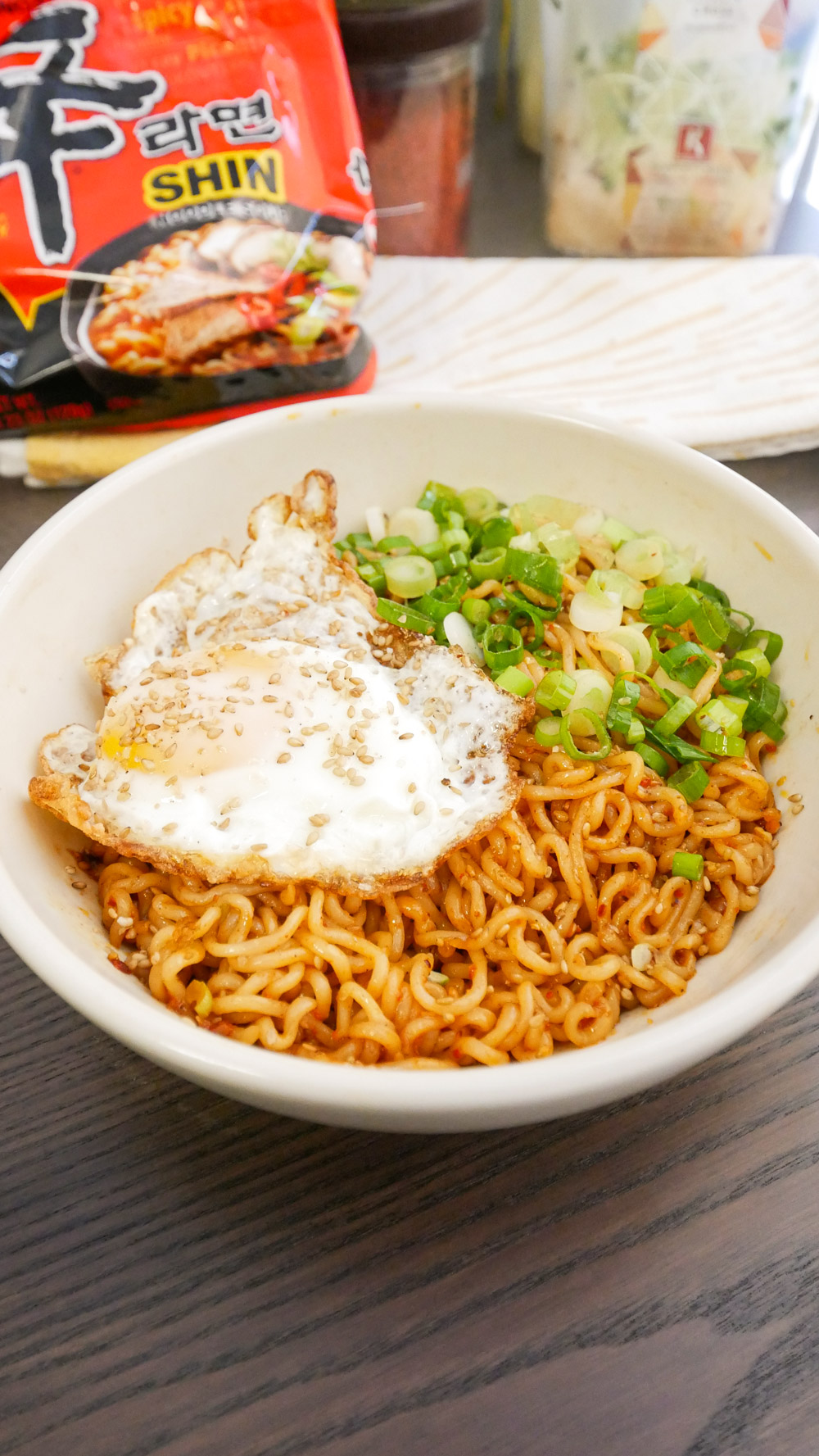 Chili Oil Ramen
Ingredients
1

package

instant ramen

I like Shin Ramen

1

tsp

gochugaru

Korean red pepper flakes

1/2

tsp

sugar

1

tsp

sesame seeds

plus more for garnish

1

tsp

Chinese black vinegar

substitute with white vinegar

1

scallion chopped

white and greens separated

1

garlic clove

grated

1/8

tsp

ground black pepper

2-3

tbsp

oil

1

egg

fried
Instructions
In a heatproof bowl, combine 3/4 of the ramen packet powder, gochugaru, sugar, sesame seeds, vinegar, white part of the scallion, garlic and black pepper.

Heat up the oil until it's nice and hot. Then carefully pour the hot oil over the spice mixture. Mix everything together and you have chili oil!

Cook the instant ramen according to the package instructions or your preferred doneness. Strain and toss it into the chili oil. Mix together until the noodles are fully coated.

Garnish with the green part of the scallions, sesame seeds and a fried egg
Pin & save this recipe for later!