Korean hot dogs or Korean corn dogs are a popular Korean street food that has swept major U.S. cities like a storm. And there's a good reason why! I mean, who doesn't love a crispy, crunchy, deep-fried battered cheesy hot dog?
I've had my fair share of Korean-style corn dogs in New York City and I've come to realize that I like Korean hot dogs with a light and chewy batter. After several rounds of recipe testing, I finally got it down! The batter in this recipe has mochi-like qualities and it's chewier, crispier and lighter than the typical Korean corn dog. I personally think this is way better!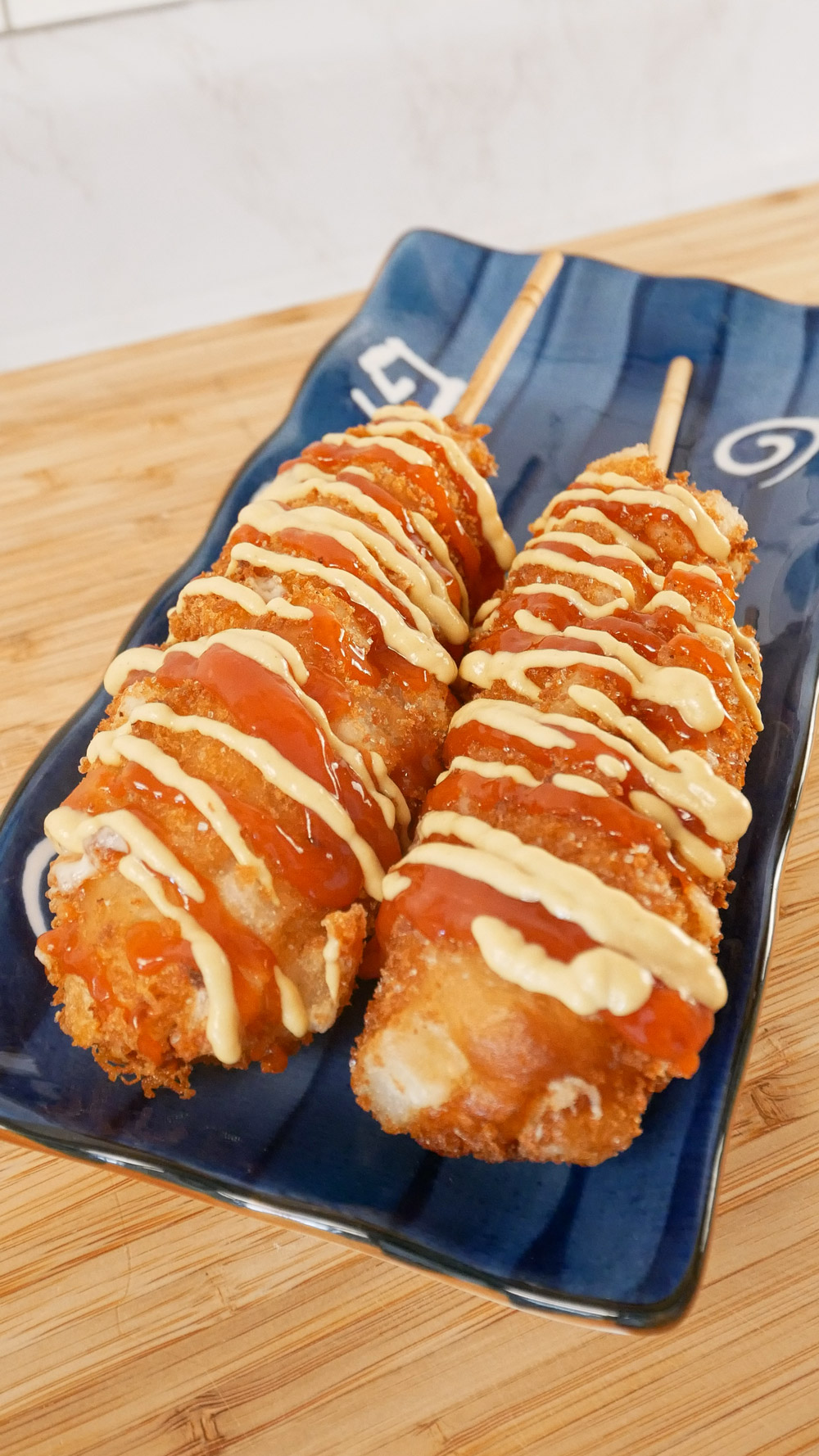 Korean Hot Dog – 감자핫도그 (Gamja Hotdog)
Ingredients
1

hot dog

cut into quarters

3

oz

block of cheese

cut into 4 pieces

1/2

cup

panko bread crumbs

more if needed

1/2

cup

potatoes

peeled and diced

2

tbsp

cornstarch

1

tsp

salt

divided

pinch of chili powder

optional

neutral oil for frying

2

tsp

sugar for sprinkling

more if needed
Batter
1 1/4

cup

warm water

roughly 110F-120F

3

tbsp

sugar

1

packet

active dry yeast

1 1/2

cup

all-purpose flour

1/2 cup

+ 2 tbsp

glutinous rice flour

1

tsp

salt
Instructions
In a bowl, whisk active dry yeast, sugar and luke warm water together. Let this rest for 5-15 minutes to bloom. When the yeast starts to foam at the top, the yeast is active and ready to use. Add all-purpose flour, glutinous rice flour and salt to the yeast mixture and stir until well combined. Cover and allow this to proof for 1 hour.

After 1 hour or until the batter has doubled in size, place it in the fridge for 10-15 minutes so the batter is easier to work with.

While the dough is proofing, peel and dice the potatoes. Soak the potatoes in water and set aside.

Using skewers or wooden chopsticks, skewer on the hot dog and cheese, alternating between one another. There should be four pieces of hot dog and cheese in total per skewer.

Drain the potatoes and pat them dry with a paper towel or kitchen towel. Lay the potatoes out on a sheet tray or plate and coat it with cornstarch and salt.

In another plate, add the panko bread crumbs, salt and chili powder (optional). Mix until thoroughly combined.

Using a wide and deep pan, add about 2 to 3 inches of frying oil and heat to 325F / 160C.

Dip the skewers into the batter and evenly coat it. You may have to use your fingers to spread the batter. Immediately coat it with potatoes then panko bread crumbs.

Fry the hot dog for 4-5 minutes or until golden brown and crisp on the outside. Transfer to a wire rack and spinkle sugar all around the hot dog.

Top with your favorite condiments like ketchup, mustard, or mayo and enjoy!
Notes
Chilling the batter after it has proofed will make it easier to work with. 
Feel free to use any kind of protein or cheese you like!
Pin & save this recipe for later!