When I crave comfort food, I immediately think of a fresh bowl of katsudon. The perfectly fried pork cutlet topped with a mixture of sweet onions, eggs, and dashi broth satisfies my craving every time.
Katsu is traditionally prepared with pork chops or pork loin however, I personally prefer using a fattier cut of meat, like pork shoulder (or Boston butt). Since it has more fat and marbling, it results in a tender, juicy cutlet. Pork chops or pork loin are also easy to overcook and nothing's worse than overcooked meat in my opinion!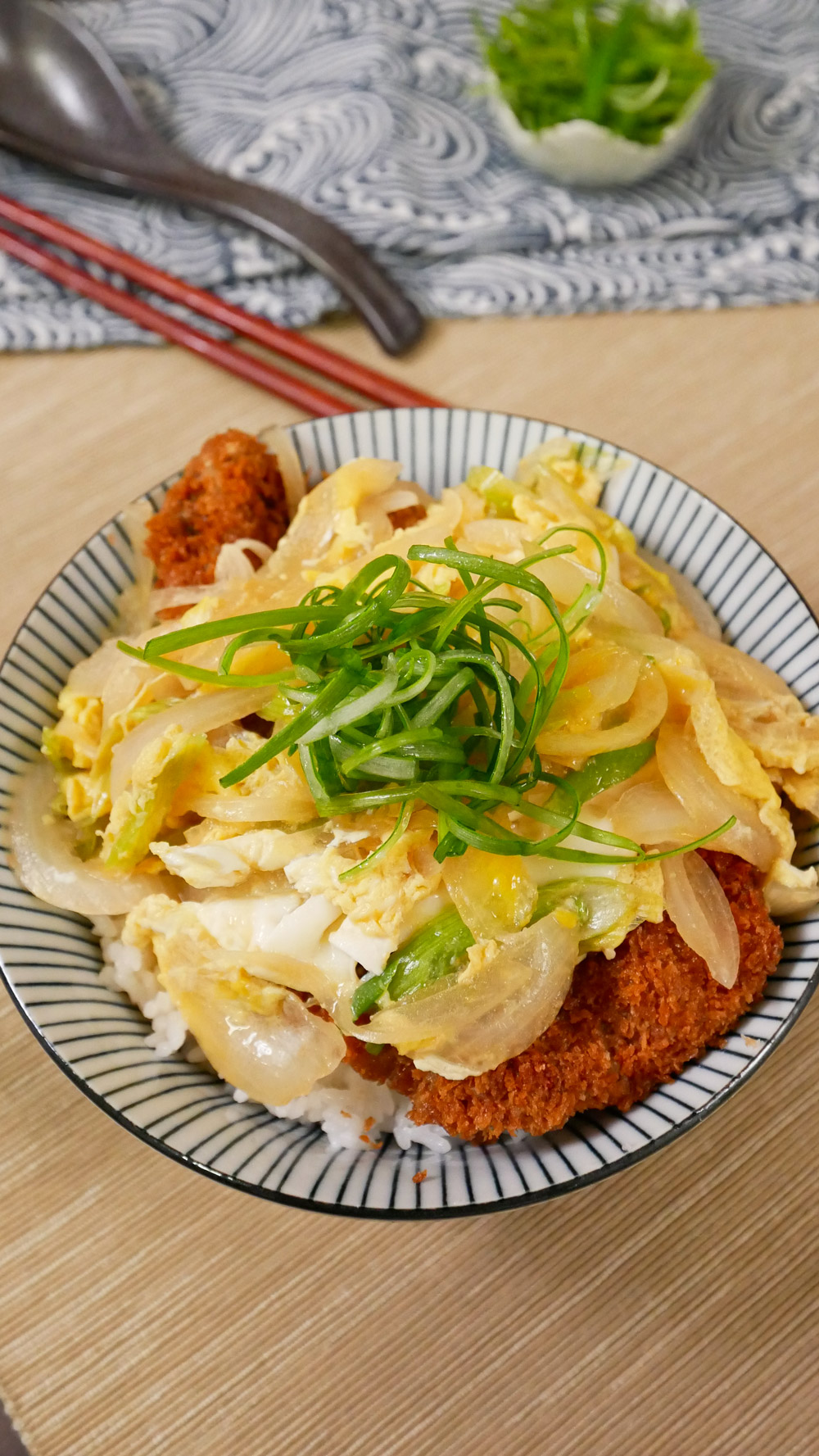 Pork Katsudon Recipe
Ingredients
2

pork shoulder (Boston butt)

substitute with pork chop or loin

2

cups

short-grain rice

cooked

1/2

onion

thinly sliced

1

green onion

whites and greens separated

2

eggs

neutral oil for frying
Broth
1

cup

dashi stock

see note 1

2

tbsp

mirin

1

tbsp

soy sauce

1

tbsp

sugar
Dredge
1/2

cup

all-purpose flour

1/4

tsp

salt

1/4

tsp

paprika

1/2

tsp

onion powder

1/2

tsp

garlic powder
Panko Coating
1

cup

panko breadcrumbs

1/4

tsp

salt

1/4

tsp

paprika
Instructions
Place the pork shoulder on a cutting board and lay out a sheet of plastic wrap on top. Using a meat mallet or rolling pin, pound the pork into 1/2 inch thickness.

Remove the plastic wrap then sprinkle a pink of salt on both sides of the pork.

For the dredge, combine all-purpose flour, salt, paprika, onion powder, and garlic powder in a shallow plate or bowl. Mix until well combined.

For the egg batter, whisk two eggs in a shallow dish or bowl.

For the panko coating, combine panko breadcrumbs, salt, and paprika in a shallow dish or bowl. Mix until combined.

Place the pork in the dredge, making sure it's complete coating. Shake off the excess flour then transfer it to the egg batter.

Once fully coated in the egg batter, transfer to the panko coating. Press the panko coating down to adhere to the pork on both sides.

Heat a deep pan or pot with about 2 inches of neutral oil to 350F (175C).

Carefully place the pork into the hot oil. Make sure to place it down in the direction away from you so the oil doesn't splatter.

Fry for 2 minutes on each side, or until golden brown with an internal temperature of 145F (62C).

Transfer to a wire rack to cool. Optional, but you can sprinkle the top with some flakey salt for extra flavor!

While the pork is resting, combine 1 1/4 cup water and 1 dashi packet in a small pot. Bring to a boil then reduce to a simmer over medium heat for 5 minutes. Remove the dashi packet and set the broth aside.

Transfer half the dashi broth (about 1/2 cup) into a small shallow pan. Add 1 tablespoon mirin, 1/2 tablespoon soy sauce, and 1/2 tablespoon sugar. Mix until the sugar has dissolved.

Add 1/2 of the sliced onions and the white part of the green onions to the pan. Simmer for 3 to 4 minutes until the onions have softened.

Crack and whisk one egg into a bowl. Pour the egg into the pan in a circular motion making sure the egg completely covers the pan. Cook for 30 seconds to 1 minute to your desired doneness.

To prepare the rice bowl, add 1 cup of cook short-grain rice to a bowl. Chop the cooked pork katsu into slices and place on top of the rice.

Top the pork katsu with the dashi, onion, and egg mixture. Garnish with the green part of the green onions. Serve and enjoy!
Notes
To prepare the dashi broth, I used a dashi packet with 1 cup of water (for 2 servings). However, you can substitute the dashi packet with dashi powder instead. Bring 1 cup of water to a boil then add 1/2 tsp of dashi powder. Mix to dissolve and it's ready!
Pin & save this recipe for later!