These soft and fluffy bao buns are the perfect vessel for your favorite fillings! I like to make a big batch of these ahead of time because they store really well in the freezer. To reheat, I simply steam them for 10 minutes and they're ready.
These bao buns are the perfect blank canvas for your meal so feel free to get creative with the fillings!
Need some inspiration? Check out my bao recipes: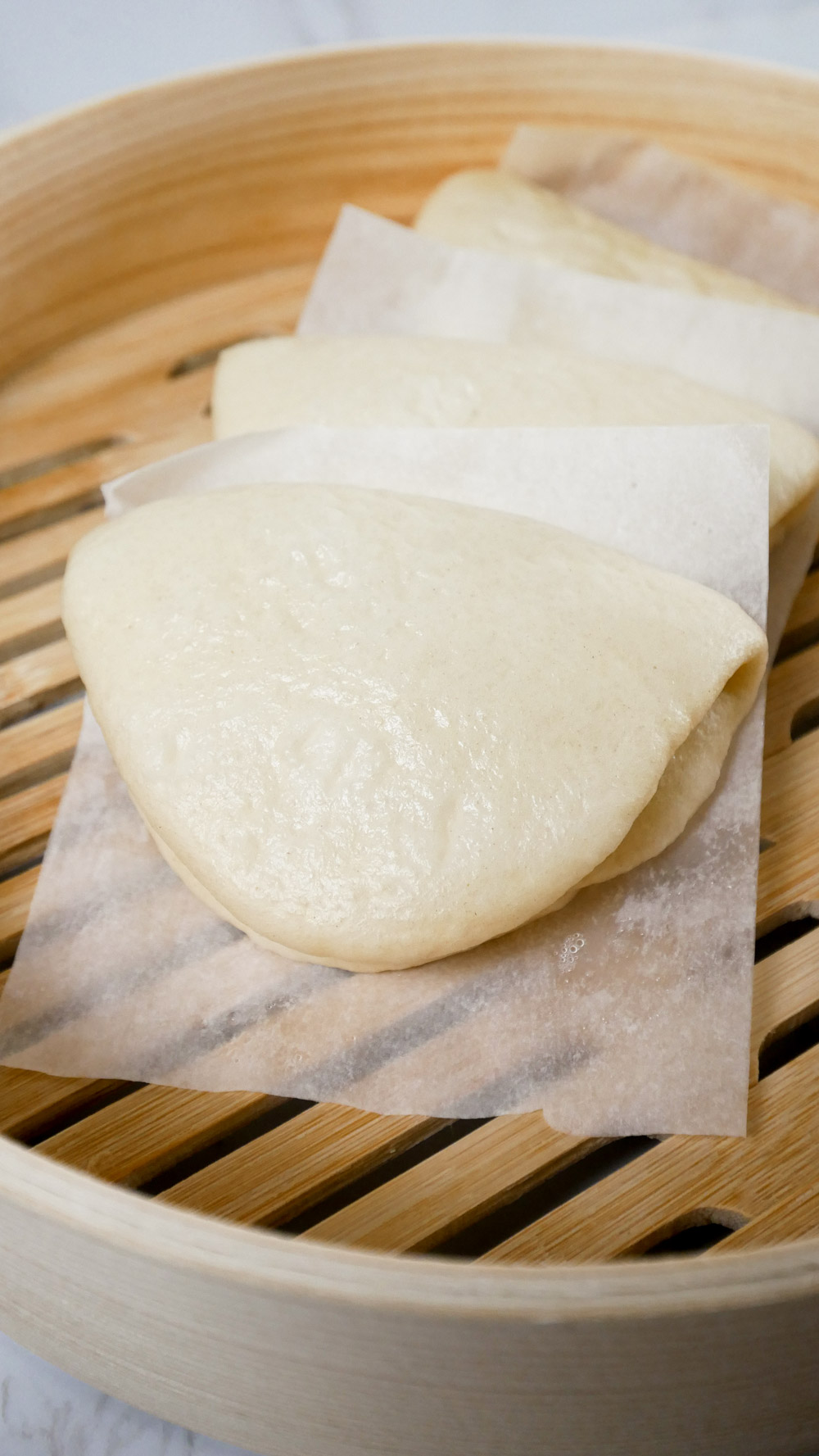 Steamed Bao Buns
Ingredients
2 cups

(300g)

all-purpose flour

plus more for dusting

1 tsp

(4g)

baking powder

1/4 tsp

(1.5g)

salt

1 tsp

(3.5g)

active dry yeast

4 tsp

(20g)

sugar

3/4 cup

(180ml)

whole milk

warmed to 100-115 F

2

tbsp

neutral oil
Instructions
Combine yeast, sugar and milk in a bowl and whisk to mix well. Set aside for 5 to 10 minutes to activate the yeast.

In a large bowl, combine flour, baking powder and salt. Whisk together until combined.

Once the yeast has bloomed, pour the yeast mixture into the bowl with the flour. Using your hands or a spoon, mix until a rough ball of dough forms.

Lightly dust cutting board or work surface with flour. Knead the dough for about 3 minutes. Cover the dough with a damp kitchen towel or saran wrap and let it to rest for 10-12 minutes.

Knead the dough for 1 to 2 minutes and form into a ball. Transfer the dough into a lightly oiled bowl and cover with a kitchen towel or saran wrap. Set aside and let the dough rise for at least 1 hour in room temperature.

While the dough is resting, prepare 10 (3×3) pieces of parchment paper for steaming.

After the dough has risen and doubled in size, punch the air out and cut into 10 pieces. Each piece should weigh approximately 45-50 grams. Cover with a damp kitchen towel or saran wrap to prevent them from drying out.

Lightly flour cutting board or work surface and form the dough into a round ball. Using the palm of your hands, press down to flatten the dough. Roll the dough out into a long oval shape, approximately 4 inches by 2 1/2 inches and 1/4 inch thick.

Gently brush oil on one side of the dough. Then fold the dough in half length-wise. Place the dough on top of a parchment paper. Repeat for the remaining dough

Transfer the dough onto a sheet tray and cover with saran wrap or kitchen towel. Allow the dough to rise for 15-20 minutes.

Once the dough has risen, assemble onto a steam basket. Set the steam basket over a pan with boiling water, cover, and steam for 10 minutes. After 10 minutes, turn the heat off and let it sit for 5 minutes making sure to keep the lid on.

Serve while hot and enjoy!
Notes
These baos can be made in advanced and stored in the freezer. Steam the baos then allow them to cool down completely. Once cool, individually wrap each bao with plastic wrap then transfer to the freezer. 
To reheat the baos from the freezer, steam for 5 minutes.
Pin & save this recipe for later!