Bossam is a Korean dish made of pork belly or pork shoulder that is boiled in various seasonings and aromatics. It is cooked low and slow, resulting in a flavorful, tender, melt-in-your-mouth bite. The literal translation of bossam is 'wrapped' since the pork is wrapped in a vegetable (like cabbage or perilla leaves) along with assorted side dishes.
In Korea, bossam is traditionally eaten after a long period of kimchi-making, called gimjang. The arduous task of making big batches of kimchi at one time for the entire year is rewarded with bossam for the hard work that goes into this process.
The other day, I hit 100,000 followers on Instagram and it only made sense to celebrate this milestone with bossam. It's actually very easy to make because you only need one pot and a little patience but it is absolutely worth it.
I personally don't think bossam is complete without the Bossam Sauce (a 5-minute dipping sauce) and the Spicy Radish Salad. The dipping sauce and salad are both commonly served with bossam so I highly recommend making them so you get the full bossam experience!
Next time, you're craving pork belly or have something special to celebrate, give this bossam recipe a try! 🙂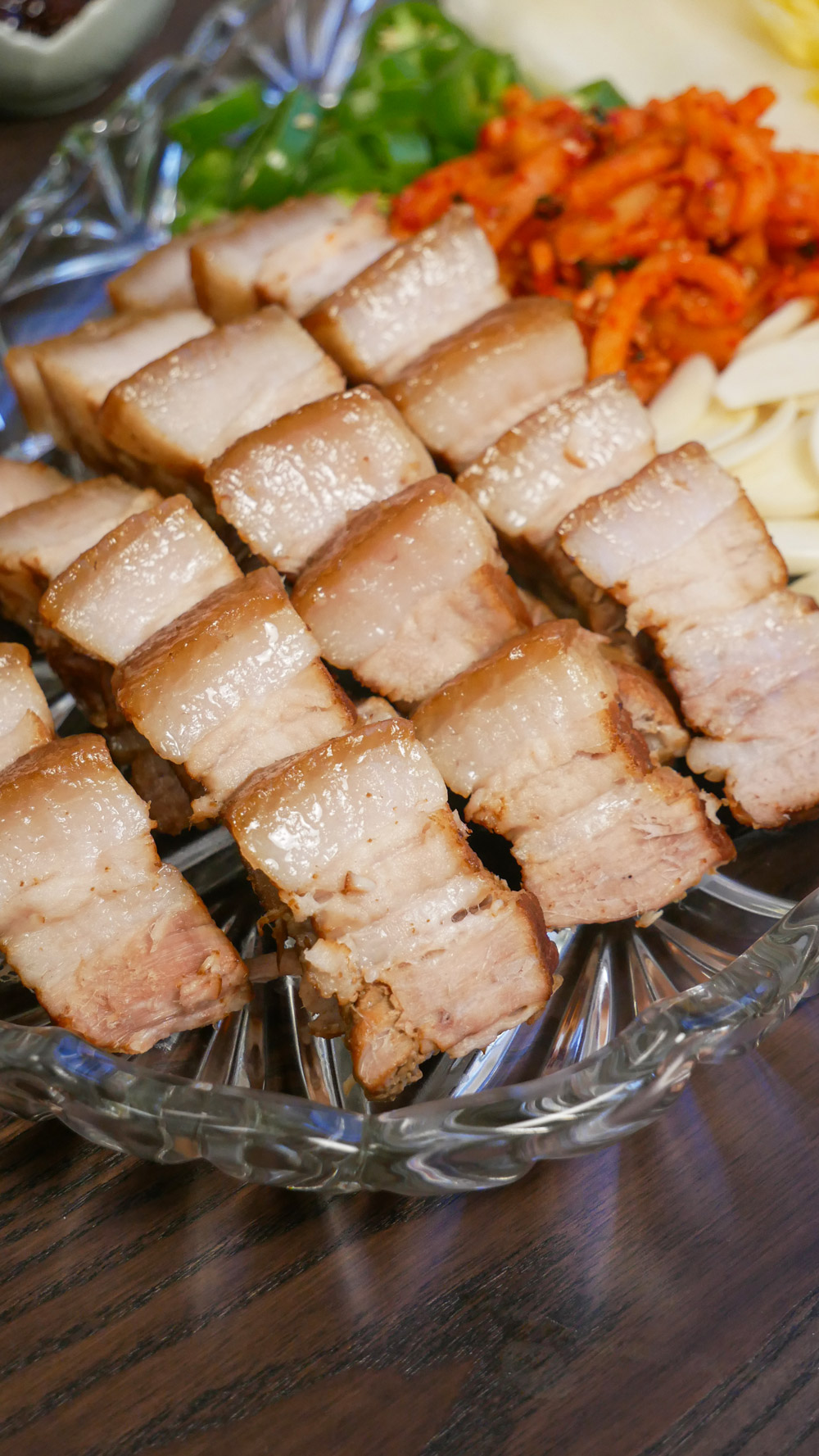 Bossam
Ingredients
Pork
1 1/2

lb

pork belly

cut into 1 1/2 – 2 inch strips

10

garlic cloves

whole

1/2

large onion

roughly chopped

2

scallions

white part only

1

inch

knob ginger

thinly sliced

1

tsp

whole black peppercorns

1

Thai chili pepper

substitute with jalapeno or serrano

1

bay leaf

1 1/2

tbsp

doenjang

Korean fermented soybean paste

1/2

tbsp

sugar

1

packet

Korean instant coffee mix

see note 1

1/2

tsp

salt

7

cups

water
Pickled Cabbage
1/2

lb

napa cabbage

washed

3/4

cup

sugar

1/4

cup

salt

1

cup

white vinegar

1

cup

hot water

2

cups

cold water
Recommended Side Dishes
shrimp dipping sauce

see note 2

korean radish salad

see note 3

ssamjang

Korean spicy fermented soybean paste, see note 4

sliced

garlic

sliced

peppers

like Cucumber pepper (asagi-gochu), Cheongyang pepper, jalapeno, or serrano
Instructions
In a deep pot, combine pork belly, garlic cloves, onion, ginger, scallions (white part only), black peppercorns, bay leaf, Thai chili pepper, doenjang, sugar, Korean instant coffee mix, salt, and water. Heat over medium-high heat. Once it begins to boil, reduce the heat to medium-low and simmer for about 90 minutes.

While the pork is simmering away, begin preparing the pickled cabbage. In a medium-sized heatproof bowl, combine 1 cup of hot boiling water, sugar, and salt. Mix until everything is dissolved. Once the sugar and salt have dissolved, add 2 cups of cold water and white vinegar then mix well.

Transfer the washed napa cabbage into a large mixing bowl. Pour the brine over the cabbage, making sure it's completely submerged. Set aside for 1 hour. Be sure to flip halfway so the cabbage is evenly pickled. After 1 hour, drain and squeeze the cabbage to get rid of the excess liquid. Place in the fridge to chill until ready to serve.

When the pork belly is ready, turn off the heat and allow it to sit in the pot for 15 minutes before transferring it to a cutting board. When the pork belly has slightly cooled down, carefully slice it into 1/2-inch thick pieces.

To serve, assemble the pickled cabbage and pork belly on the plate. If using the recommended side dishes from the ingredients list above, also assemble them on the plate or on the side. Don't forget the dipping sauce as well!

The best way to enjoy bossam is to take one piece of cabbage, dip a piece of pork belly into the shrimp dipping sauce then place it on top of the cabbage. Top with some Korean radish salad, sliced garlic, chopped pepper, and a dab of ssamjang. Wrap and enjoy!
Notes
Korean instant coffee mix is a packet that consists of instant coffee, creamer, and sugar. If you need to substitute it, you can use 1 tsp of regular instant coffee and add an additional 1/2 tablespoon of sugar. 

If you want the ultimate bossam experience, you need to make the bossam sauce. It's a dipping sauce that is commonly served with bossam. It only takes 10 minutes so I highly recommend making it!
The Korean radish salad is a common side dish to enjoy with bossam. If you're interested in making it, check out my Korean radish salad recipe! You can substitute it with kimchi as well. 
Ssamjang is a

spicy fermented soybean paste. It is a Korean condiment commonly eaten with 'ssam' or foods you wrap vegetables in. I enjoy having this with bossam, while it's entirely optional.