Today we're making my childhood favorite – char siu noodle soup! Growing up, I'd eat this with my dad very often and I always seem to crave this comforting bowl of noodle soup when I'm feeling homesick.
In my opinion, noodles are food for the soul so I hope this recipe brings you comfort, warmth and joy – just like it did for me!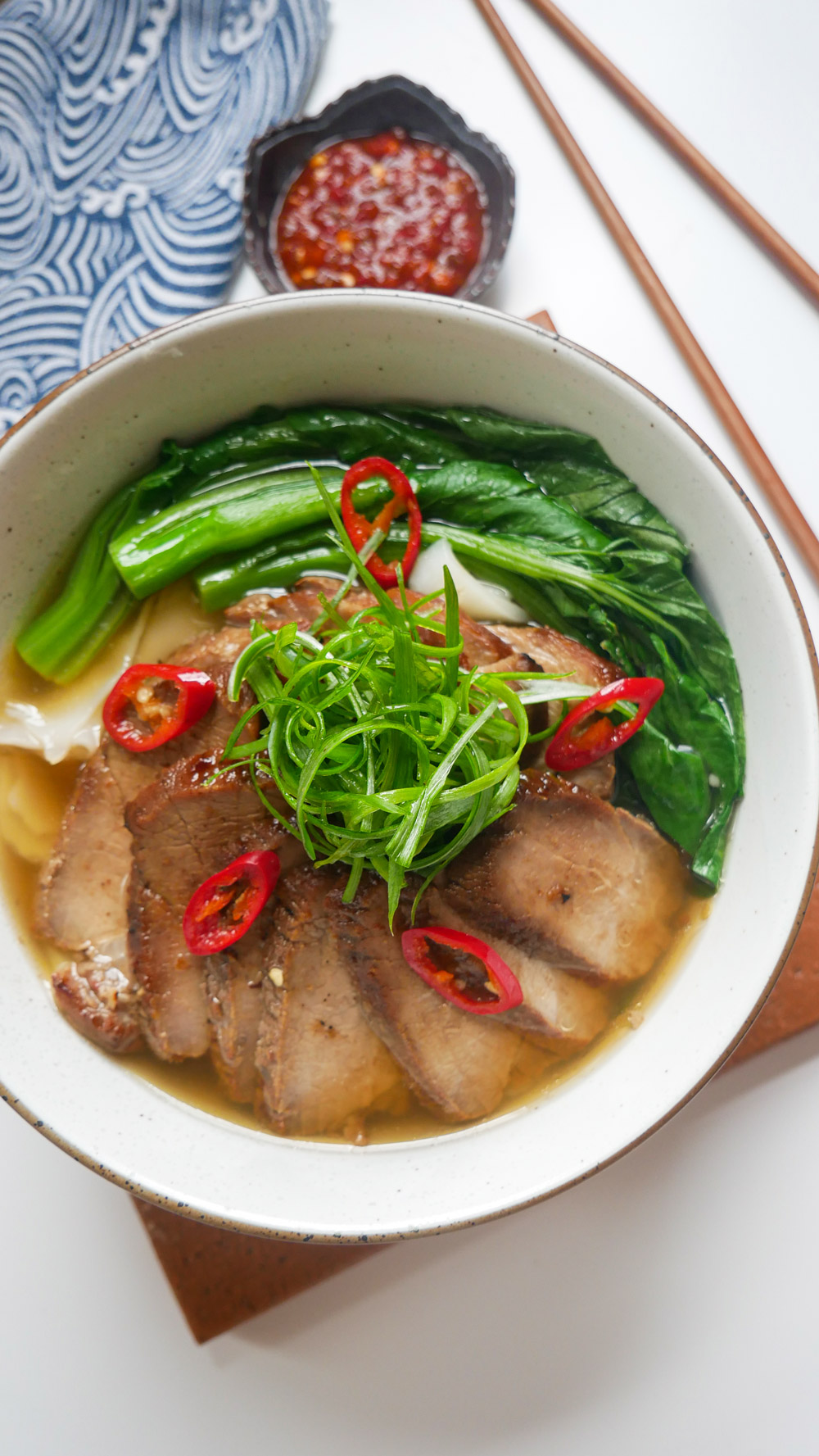 Char Siu Noodle Soup
Ingredients
1 1/2

lb

fresh wide rice noodles (hor fun)

substitute with your choice of noodles

4-6

yu choy

or your choice of vegetables

sliced peppers

optional for garnish

scallions

green part chopped for garnish
Soup
28

oz

chicken stock

two 14-oz cans

4

oz

water

4

slices ginger

about 1 inch knob

2

scallions

white part only cut 1-inch

1/2

tsp

sesame oil

1/4

tsp

white pepper

1

tbsp

neutral oil

like avocado, grapeseed, canola, sunflower seed, or vegetable
Char Siu
1 1/2

lbs

pork shoulder

4

tbsp

char siu sauce

Lee Kum Kee brand

1

tbsp

dark soy sauce

1 1/2

tbsp

Shaoxing wine

1

tbsp

honey

6

garlic cloves

grated

1

tsp

Chinese five spice powder

1/8

tsp

white pepper powder

1

fermented bean curd

optional

1

tsp

fermented bean curd brine

optional
Honey Glaze
2

tbsp

sauce marinade

from above

2

tbsp

honey

2

tsp

water
Instructions
Start by preparing the char siu marinade. In a small mixing bowl, combine Lee Kum Kee char siu sauce, dark soy sauce, Shaoxing wine, honey, grated garlic, Chinese five spice powder, white pepper powder, fermented bean curd, and fermented bean curd brine.

Mix together well with a whisk, making sure to break up the fermented bean curd. Reserve 2 tablespoons of the marinade to be used as a honey glaze. Set the rest of the marinade aside for later.

Prepare the pork by slicing them into 2 inch thick pieces. Using a fork, stab the pork on all sides. Transfer to a heavy duty Ziploc bag then pour the marinade over the pork. Close the Ziploc bag, making sure it's completely sealed.

Massage the marinade into the pork then transfer to the fridge for at least 12 to 24 hours.

To prepare the soup, heat a pot with neutral oil over medium heat. Once heated through, toss in the ginger slices and cook until fragrant, about 1 minute. Add the white part of the scallions then cook for an additional minute. Pour in the chicken stock and water, then bring to a boil.

Once boiling, add sesame oil and white pepper. Taste the soup to see if it's to your liking. For example, if it's bland, add a pinch of salt. If it's too salty, add a splash of water. When you're happy with the taste of the soup, turn it off and set it aside.

Preheat the air fryer at 400F (205C) for 5 minutes.

While the air fryer is preheating, prepare the honey glaze. Take the reserved marinade and add honey and water. Mix until well combined.

When the air fryer is ready to be used, arrange the marinated pork shoulder into the air fryer, making sure that there is enough space around each piece.

Air fry for 3 minutes, then baste with the honey glaze. Flip and baste the other side. Cook for another 3 minutes. Repeat 2 more times. Cook for a total of 12 to 14 minutes. Depending on the thickness of your pork, you may need to cook it for another minute or two. Fully cooked pork should read 145F (63C) on the thermometer.

Remove the char siu from the air fryer and let it rest for 10 minutes before cutting. Slice into 1/4 inch thick pieces or your desired thickness.

Reheat the soup to a simmer. Next, prepare a pot of boiling water and set it over medium high heat. Blanch the yu choy or your choice of vegetables for 1 to 2 minutes. Remove then set aside. Bring the same pot of water to a boil again then cook the wide rice noodles for 1 minute or until softened. If using dried noodles, follow the package instructions to prepare the noodles.

To assemble the noodle bowl, place one serving of noodles in a bowl. Top with yu choy and the sliced char siu. Garnish with sliced peppers and the green part of the scallions. Ladle the soup over the noodles. Serve and enjoy!