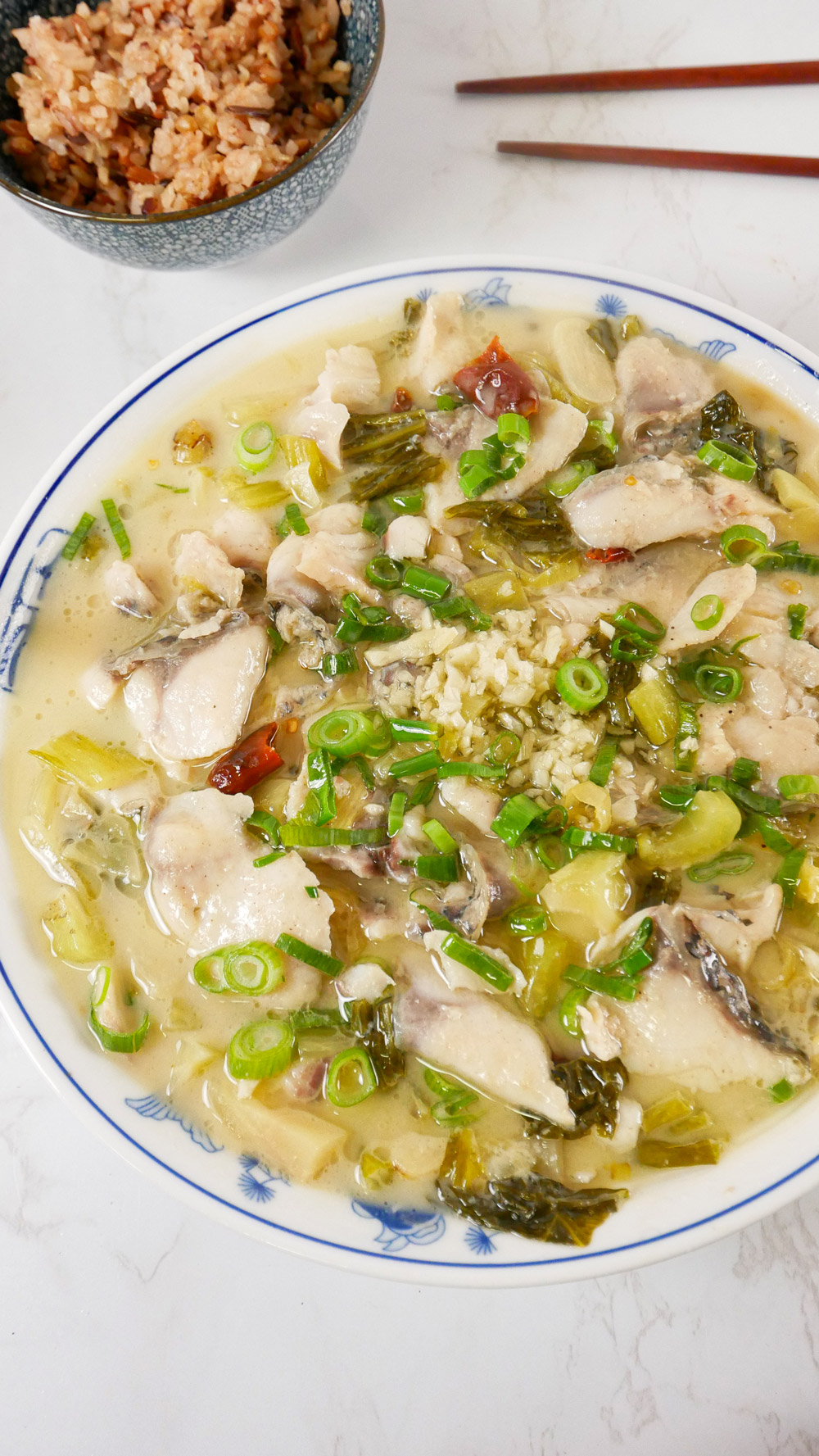 Suan Cai Yu [Sichuan Fish with Pickled Mustard Greens]
Ingredients
1

(2 lb)

whole white fish

(tilapia, catfish, cod, haddock, bass, snapper, grouper)

4

cloves of

garlic

sliced

1

inch

ginger

thinly sliced

2

tbsp

oil

1

cup

pickled mustard greens

roughly chopped

1

tsp

green peppercorns

12

dried chilis

6

pickled peppers

chopped, optional
Fish Broth (substitute with chicken stock)
Fish bones

1

tsp

salt

to clean fish bones

2

tbsp

Shaoxing wine

to clean fish bones

2

tbsp

neutral oil

6

cups

hot water

4

cloves of

garlic

smashed

4

slices

ginger

2

scallions

chopped into 2 inch pieces

2

tsp

green peppercorns
Fish Marinade
Fish fillets

1/2

tsp

salt

to clean fish

2

tbsp

Shaoxing wine or cooking wine

to clean fish

1

egg white

1

tsp

soy sauce

1

tsp

Shaoxing wine

or cooking wine

1/2

tsp

salt

1/2

tsp

white pepper powder

1

tsp

cornstarch
Garnish
2

garlic cloves

minced

1

scallion

finely chopped

2

tbsp

oil
Instructions
Start by filleting the whole fish and reserve the fish bones. You can also ask your fish monger to do this for you.
Fish Broth
*To speed this up, you can use pre-made fish broth or low-sodium chicken stock (about 4 cups). Skip this step if you're not making the fish broth from scratch!*

Chop up the fish bones into small pieces. Sprinkle salt and a splash of Shaoxing wine. This will help clean the fish and remove any odors. Carefully mix and set aside for 10 minutes.

After 10 minutes, rinse the fish bones with cold water until the water runs clear. Pat dry with a paper towel.

In a wok or deep pan, heat oil over medium high heat. Add the fish bones and sear on both sides until browned. Toss in the smashed garlic, ginger, and scallions and cook for about 1-2 minutes. Add green peppercorns and hot boiling water.

Cover and boil for 15 minutes. Strain the broth and set aside.
Fish Marinade
Take the fish filets and thinly slice it at an angle. Transfer the sliced fish into a bowl and add salt and Shaoxing wine. Gently rub and massage the salt and Shaoxing wine into the fish for 2 miuntes. Rinse the sliced fish with cold water until the water runs clear. Similar to the fish bones, this will help clean and remove any odors. Drain well and transfer to a clean bowl.

Mix the sliced fish with egg white, soy sauce, Shaoxing wine, salt, white pepper powder, and cornstarch. Mix together well, making sure to mix in circular motions in one direction.
Assemble the Dish
In a clean wok or deep pan, add 2 tbsp oil and heat over medium high heat. Add the pickled mustard greens and cook for 2-3 minutes to dry it out a bit.

Push the pickled mustard greens to the side and add sliced garlic, ginger, green peppercorns, dried chilis, and pickled peppers. Stir fry for 2 minutes.

Pour in the fish broth and boil for 10 minutes.

Remove the pickled mustard greens and aromatics and transfer it to a serving plate or bowl.

Bring the remaining broth to a boil. Add the sliced fish and cook for 30 seconds to 1 minute.

Remove the cooked fish and place it on top of the pickled mustard greens.

Carefully pour the broth over the fish.
Garnish
Place the minced garlic and chopped scallion on top.

Heat oil until smoking hot and pour it over the garlic and scallions.

Serve and enjoy with a bowl of rice!