This Japanese style beef rice bowl or gyudon is a reminder how much I miss Japan. My first time having this was at Yoshinoya, a popular Japanese fast food chain known for their beef rice bowls. While they offer a variety of other bowls, I always order the gyudon set which comes with a side of salad, soup and a raw egg.
The yolk is usually separated and placed on top of the gyudon as a topping and let me tell you… it's delicious! For this recipe, I wanted to recreate the gyudon in a way that I enjoyed the most!
Just a quick note for the dashi broth in this recipe, I used a dashi packet that I purchased from Dashi Okume (not sponsored), based in Brooklyn, NY. They sell pre-packed dashi packets or you can create your own from an assortment of 20+ dried vegetables and seafood. I stumbled upon this place during their grand opening and had a sample of their pre-packaged premium dashi broth. It was so good, I bought a pack of 15 and decided to use it for this recipe.
If you can't get a hold of dashi packets, you can substitute it with dashi powder, which you can easily find at any Asian supermarket. Alternatively, you can make your own dashi broth by combining water, kelp and katsuobushi (bonito flakes) and boiling it down into a broth. To get the full instructions on how to make dashi broth at home, check out my Oyakodon (Japanese Chicken Rice Bowl) recipe!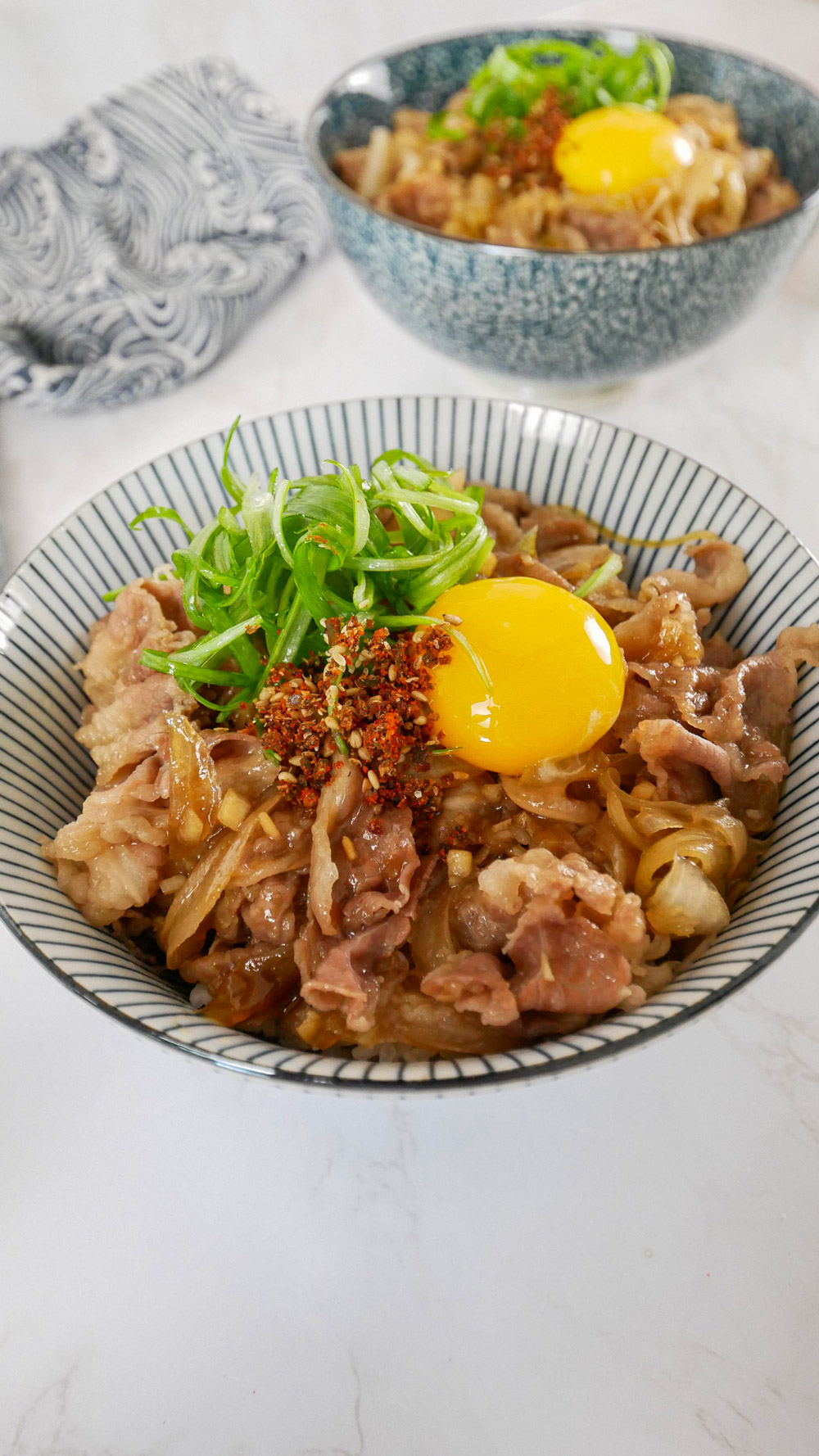 Japanese Beef Rice Bowl
Ingredients
8

oz

thinly sliced beef

shabu beef

2 1/2

cups

cooked white rice

short-grain

1/2

onion

thinly sliced

3

garlic cloves

minced

1

scallion

thinly sliced for garnish

1

tbsp

neutral oil

1/2

cup

dashi stock

substitute with 1 tsp dashi powder

2

egg yolks

1/2

tsp

sesame oil
Dashi Stock
1

dashi powder packet

1 1/4

cup (300ml)

water
Seasoning Sauce
3

tbsp

soy sauce

3

tbsp

mirin

2

tbsp

sake

2

tbsp

sugar
Instructions
Prepare the dashi stock by combining the dashi powder packet and water in a pot. Bring to a boil for 4-5 minutes. If using dashi powder, skip this step.

**This recipe yields two beef rice bowls. Be sure to divide the recipe ingredients in half since each bowl will need to be prepared separately. **

In a bowl, combine all the seasoning sauce ingredients.

Heat a pan with neutral oil over medium heat. Add onions and cook for 1 minute. Next, add the garlic and cook for another minute.

Add dashi stock and seasoning sauce. Simmer for 2-3 minutes then add thinly sliced beef. Cook for 2 minutes or until the beef is fully cooked. Turn off the heat and drizzle sesame oil on top.

Transfer cooked beef over a bowl of cooked rice, making sure to leave the sauce in the pan. Bring the sauce back up to a boil over medium heat for 1-2 minutes until slightly reduced. Pour the sauce over the beef.

Repeat for the second bowl.

Garnish with scallions and runny egg. Serve and enjoy!