This sesame sauce is an easy five-ingredient sauce that comes together in just 5 minutes. It's a popular sauce that was trending in Korea for good reasons. It's a multipurpose sauce that can be used in a variety of ways and the simplicity of the ingredients makes it easy enough for anyone to make. 
I love putting this sauce on everything – from rice to salads to noodles. It also makes a great dipping sauce for deep-fried foods like my Japchae Dumplings. What's great about this sauce is you have the freedom to adjust the seasonings according to your preferences. For example, if you want a sweeter sauce, you can add more sugar. But if you prefer a saltier taste, you can add more soy sauce instead. As a result, you can take this recipe as a guide and tweak it to make it your own!
What is Sesame Oil?
Sesame oil is a product of pressing sesame seeds to create a nutty oil that is commonly used in Asian and Middle Eastern cuisines. Sesame oil is available in a few varieties, but the most popular is the regular and toasted variety.
It's believed that sesame plants have been around for a long time because evidence shows that they were cultivated in Mesopotamia at least 4 millennia ago. 
Aside from cooking, the Egyptians, Greeks, and Babylonians also had different uses for the oil where they primarily used it as a source of fuel for lighting their lamps. Since then, it has made its way into kitchens globally and is now an integral part of many cuisines. 
Regular vs Toasted Sesame Oil
The process of toasting the sesame seeds before extracting their oils may seem like a minor step, but it actually makes a big difference in flavor and intensity.
Regular sesame oil is easy to distinguish from toasted sesame oil because it's usually paler or lighter in color. This oil is great for frying because it has a neutral flavor and high smoke point. Toasted sesame oil on the other hand has a rich reddish-brown hue that's great for flavoring or finishing dishes. It has a deeper nutty flavor and aroma that comes from toasting the sesame seeds. For this recipe, I prefer using toasted sesame oil because it adds an extra depth of flavor to the sauce.
Easy 5- Minute Korean Sesame Sauce
If you like sesame oil like me, you're going to want to pour this sauce on everything! This sauce is a combination of salty, sweet, nutty, and a little tangy. It also stores well in the fridge so you can make it in advance. 
Most of the ingredients should already be in your pantry or easily accessible at your local market so you can whip this sauce up in as fast as 5 minutes.
How do I prepare this Korean Sesame Sauce?
Aside from being versatile, this sauce is simple and easy to make. To make this delicious Korean Sesame Sauce, follow the steps below:
Step 1: Mix the ingredients
Add soy sauce, sesame oil, apple cider vinegar, sugar, and sesame seeds in a mason jar or container.
Step 2: Shake and mix!
Tightly close the lid on the jar or container and shake the contents until they're thoroughly combined. Alternatively, you can combine the ingredients in a bowl, and use a whisk to mix the ingredients together.
You can now use the sauce however you like, and store it in the fridge for up to 1 week!
Preparation Tips for Korean Sesame Sauce
This sauce recipe is foolproof because it only takes a couple of steps to make. But to make the process easier, here are a few tips to keep in mind:
Oil and vinegar don't normally mix together so it's important to shake or mix the sauce well for an emulsified sauce. Make sure to shake or mix the sauce before every use. 
Adjust the proportions according to your preferences. For a sweeter sauce, add more sugar. For a saltier sauce, add more soy sauce. For a tangier sauce, add more vinegar. You get the point!
Ingredient Substitutions
Sesame oil: since sesame oil is the star of this recipe, I wouldn't recommend replacing it. This is called Korean Sesame Sauce after all!
Apple cider vinegar: apple cider vinegar adds a natural tangy sweetness to the sauce, but you can also use rice vinegar or white vinegar instead.
Soy sauce: soy sauce is an essential ingredient in the sauce so I don't recommend substituting it.
Sugar: I prefer to use white sugar for this recipe, but you can also substitute it with brown sugar or honey if you prefer. 
Sesame seeds: sesame seeds adds texture and enhance the sesame flavor in this sauce. But if you can't find them in the store, you can also replace them with poppy seeds, and flaxseeds, or completely omit them altogether.
Where can you buy sesame oil?
Sesame oil can be found in any grocery store or Asian supermarket. They're typically sold by the bottle, however, you can find bigger tins of sesame oil at most Asian stores. Make sure to store it in a cool and dry place that's away from sunlight, like a kitchen cabinet or pantry.
In ideal conditions, unopened sesame oil can stay fresh for up to 1 year. While sesame oil that's stored at room temperature can last for up to 6 months. If you want to extend its lifespan, you can also store it in the fridge. You'll know when sesame oil has turned bad when it starts to smell rancid and taste bitter.
Can you store leftover sesame sauce?
Yes, you can store the leftover sesame sauce for up to a week in the fridge as long as it's kept in an airtight container. The great thing about this sauce is you can make a big batch and use it for different dishes throughout the week. 
If you notice that the sesame oil is starting to separate from the apple cider vinegar, just give it a good shake or mix them together with a whisk to recreate the emulsion. 
What does apple cider vinegar in the sauce?
Apple cider vinegar is a type of vinegar that's made from apples, yeast, and sugar. It's known to have plenty of health benefits, but I also like using it in this sauce due to the natural hint of sweetness that is derived from the apples. It's perfect for balancing out the saltiness and smokiness of soy sauce and the nuttiness of the sesame oil.
What can you put this Korean Sesame Sauce on?
Once you learn how to make this Korean Sesame Sauce, you'll wonder why you didn't make it sooner. This sauce can be used to jazz up plain noodles, salads, rice, dipping sauces – basically anything that needs an extra boost in flavor. 
Looking for more easy Korean recipes?
Check out my favorite recipes below: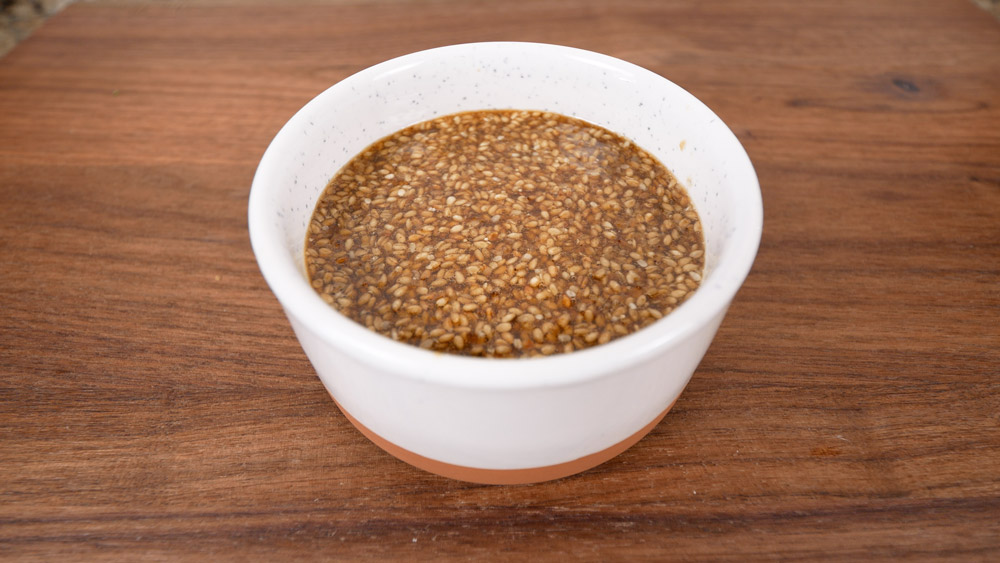 Korean Sesame Sauce
Ingredients
3 1/2

tbsp

soy sauce

3

tbsp

sesame oil

2

tbsp

apple cider vinegar

2

tbsp

sugar

2

tsp

sesame seeds
Instructions
In a jar, add soy sauce, sesame oil, apple cider vinegar, sugar, and sesame seeds.

Close the lid and shake until fully combined.

Store in the fridge for up to 1 week.
Notes
Substitute apple cider vinegar with any vinegar of your choice, including rice vinegar or white vinegar.
Adjust the seasonings according to your preferences.
Pin & save this recipe for later!