I used to struggle with a very unhealthy diet where I would avoid foods with fat because I was so worried about gaining weight. It got so bad in college, that I would eat my salads with ketchup to avoid those high-calorie and fatty salad dressings.
Now that I'm a bit older and wiser, I realized it's way more important to have a well-balanced diet than a flat tummy. As I started to develop a healthier relationship with food, I decided it was important to make food that is not only nutritious but guilt-free and delicious at the same time. 
And that's how I came up with this carrot, apple, and ginger dressing. It's so good that I always have a batch of this dressing in my fridge ready whenever I'm craving it!
Why you'll love this recipe
This carrot ginger and miso salad dressing have the perfect medley of sweet, umami, and tangy flavor. It is a refreshing twist from the usual high-caloric and fatty mayo or oil-based dressings. Although it's inspired by the flavors of Japanese cuisine, it can easily complement any salad of your choice. 
The great thing about salads is that you can mix different combinations of vegetables and fruits to create a nutritious and filling meal. You can customize this salad with ingredients you love and not worry about what dressing you're going to use because I got you covered. 
The carrots and apples add sweetness to the dressing, while the ginger gives it a hint of spice. To balance that out, I like to use a touch of miso to add a salty and umami flavor. All you need is to throw everything in a blender and blend it all up! This is a no-frills, quick, easy, healthy, and DELICIOUS dressing that I'm sure you'll also love!
How do I prepare Carrot Ginger Miso Salad Dressing?
This salad dressing will only take you 5 minutes to prepare so grab your blender or food processor and let's begin preparing this delicious dressing!
Step 1: Slice the ingredients
To start, cut the carrot, onion, apple, and ginger into small chunks.
Step 2: Blend
Transfer the ingredients to a blender or food processor. Add rice vinegar, miso, sugar, salt, sesame oil, and oil. Blend until you get a really smooth consistency. If the dressing is too thick, add 1 teaspoon of oil at a time to loosen it up. 
Step 3: Serve
If you have a salad prepared, pour a generous amount of the dressing and enjoy!
Preparation Tips for Carrot Ginger Miso Salad Dressing
Once you have your ingredients ready, preparing the dressing will be a breeze. But to help you master this recipe, here are a couple of tricks to keep in mind:
If the salad dressing is too thick, add oil 1 teaspoon at a time to loosen it up to your desired consistency. If the dressing is too thin, you can add more carrots, apples, or onions to thicken the dressing.
If you want the dressing to be spicy, you can also throw in more ginger or add any chili pepper, like jalapenos, or chili powder of your choice. For a Korean twist, you can even use gochugaru (Korean chili powder)!
Ingredient substitutions
Carrots: the carrots add a bit of sweetness and earthiness while giving the dressing a beautiful bright orange color. Since it is a major component of the dressing, I don't recommend substituting it. 
Apples: Not only do apples add sweetness, it also adds some tartness as well. If you're looking for apple substitutions, you can use pear, jicama, pineapple, or even mango!
Ginger: the ginger adds a subtle hint of spice that doesn't overpower the rest of the ingredients.
Rice vinegar: the rice vinegar adds some tang and sweetness to the dressing. It can be replaced with white wine vinegar, apple cider vinegar, or lemon juice. 
White miso: the salty and umami flavor of white miso can be difficult to replace so I don't recommend substituting it. 
Sesame oil: it can also be a bit difficult to replace the nutty taste of sesame oil so I also don't recommend substituting it. 
Neutral oil: any neutral-tasting oil will be suitable for this recipe, including:
Flavor variations
Although this dressing is absolutely mouth-watering on its own, here are a few ingredients you can also add to the recipe if you want to experiment with different flavors:
1. Nuts – if you want to add a nutty taste to the dressing, feel free to use any nut of your choice including:
2. Pears – if pears are in season, you can add them into the mix or use them as replacements for the apples.  Similar to the apples, they add a hint of sweetness and crispness to the dressing to round out its flavors.
3. Jicama – this ingredient tastes similar to apples but it is actually a root vegetable! If you want to amp up the sweetness of the dressing, a few slices of jicama will definitely do the trick!
4. Pineapple – for some added acidity, a few chunks of pineapple will level up the freshness of this recipe. Since pineapples are highly acidic, be sure to reduce the amount of rice vinegar so the dressing doesn't turn out overly tangy. 
5. Mango – mangoes are a summer staple, so if you can find some ripe and sweet mangoes. they would add a lovely tropical taste to the dressing.
Frequently Asked Questions
What is white miso made of?
White miso is a staple ingredient in Japanese cuisine that is commonly used to season dishes like miso soup, ramen, and teriyaki. It's made of soybeans, salt, rice, or barley, which are fermented for a few months or years with a type of mold, called koji. There are several varieties of miso, but the one I used for this recipe is white miso. White miso is the lightest and mildest miso out of the other varieties and I like using it because it doesn't overpower the fresh ingredients in the dressing. 
What is rice vinegar?
Rice vinegar is made from fermented rice to create its sweet and tangy flavor. It has a milder and less acidic taste than white distilled vinegar, so it's perfect for flavoring noodles, sauces, pickles, sushi, and salad dressings – like this one! Rice vinegar is also available in a variety of colors, ranging from red to brown, and can also vary in taste.  But for this recipe, make sure to use a transparent or light-colored version so it won't affect the color of the dressing.
How do you store the Carrot Ginger Miso Salad Dressing?
To store carrot ginger miso salad dressing, transfer it to tight-seal glass jars or airtight containers and store it in the fridge for up to 7 days. But if you want to extend their lifespan, you can also store them in the freezer in small cubes so you can defrost a couple at a time whenever you want to use them for your salad. 
How do you know salad dressing has gone bad?
Sometimes you forget that you have a homemade dressing that's shoved into the back of the fridge. To check if your miso dressing has gone bad, the first thing you should look out for are any foul or off-smells. Any change in color or texture is also an indication that the dressing isn't safe to eat anymore. Be sure to toss the dressing if you notice any weird odors or changes in color or texture!
What other dishes can you enjoy with Carrot Ginger Miso Salad?
If you're looking for main courses that you could enjoy with a salad dressed in this carrot ginger miso dressing, check out these recipes below!
1. Salmon – my Shiozake (Japanese Salted Salmon) and Pan Seared Miso Salmon recipes both use Japanese ingredients so I think they'd pair very well with this salad dressing!
2. Cod – for a lighter meal, you can also pair the salad with my Nobu-inspired Miso Marinated Cod recipe.
3. Pasta – a carrot ginger miso salad would be an excellent appetizer for any pasta meal. I highly recommend checking out my Kimchi Alfredo Pasta or Roasted Red Pepper Shrimp Pasta recipes!
4. Rice bowls – this delicious and refreshing salad would be the perfect side dish to any donburi or rice bowls including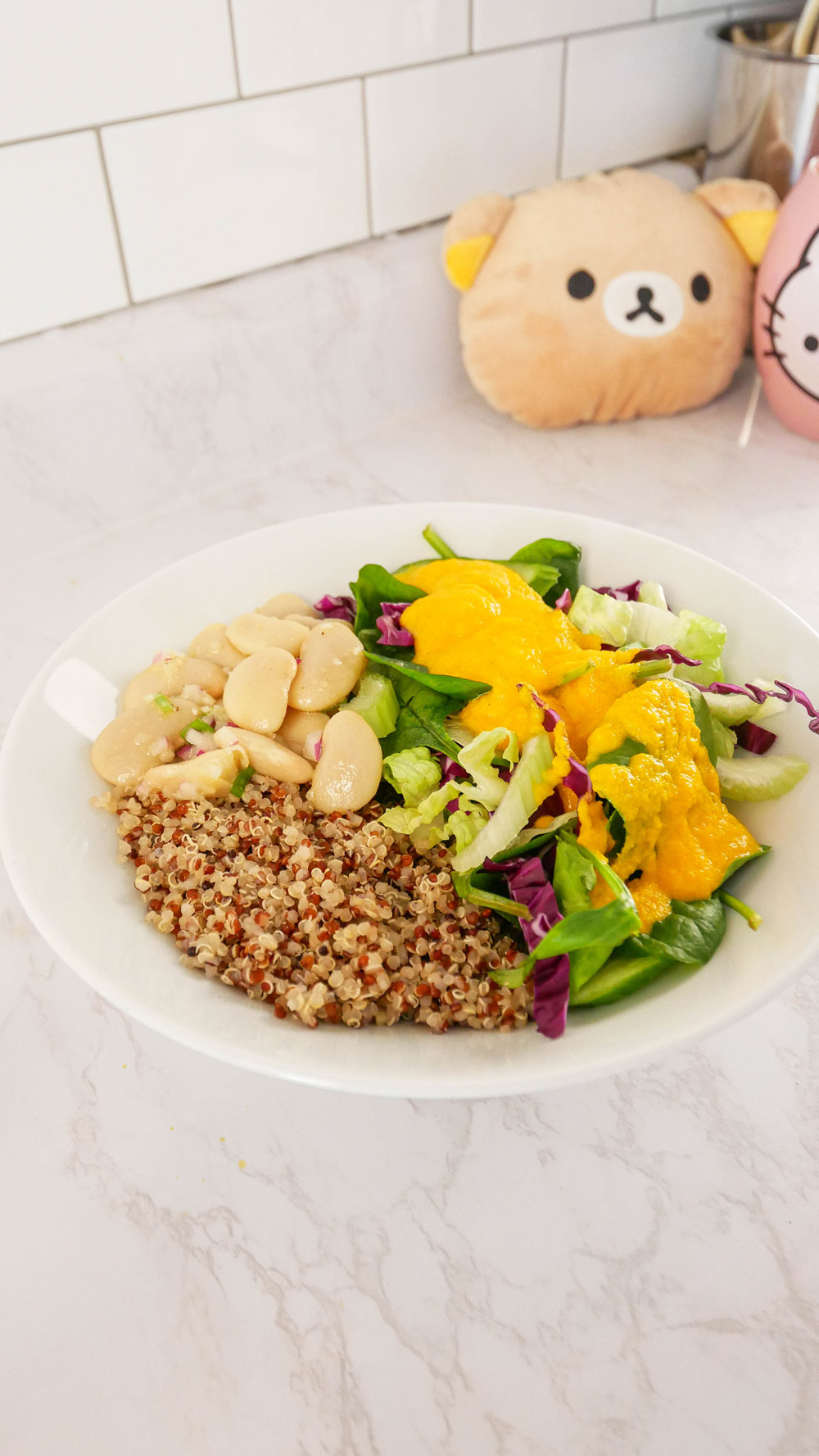 Carrot Ginger Miso Salad Dressing
Ingredients
1

carrot

4 oz

¼ 

cup

onion

¼ 

cup

apple

1

inch

ginger

1/3

cup 

rice vinegar

1

tbsp

white miso

also called 'shio miso'

1 ½

tbsp

sugar

1/4

tsp

salt

1

tsp

sesame oil

1/4

cup

neutral oil
Instructions
Cut the carrot, onion, apple, and ginger into small chunks.

Transfer to a blender or food processor. Add rice vinegar, miso, sugar, salt, sesame oil, and oil.

Blend until smooth. Adjust the seasoning according to your preference.
Pin & save this recipe for later!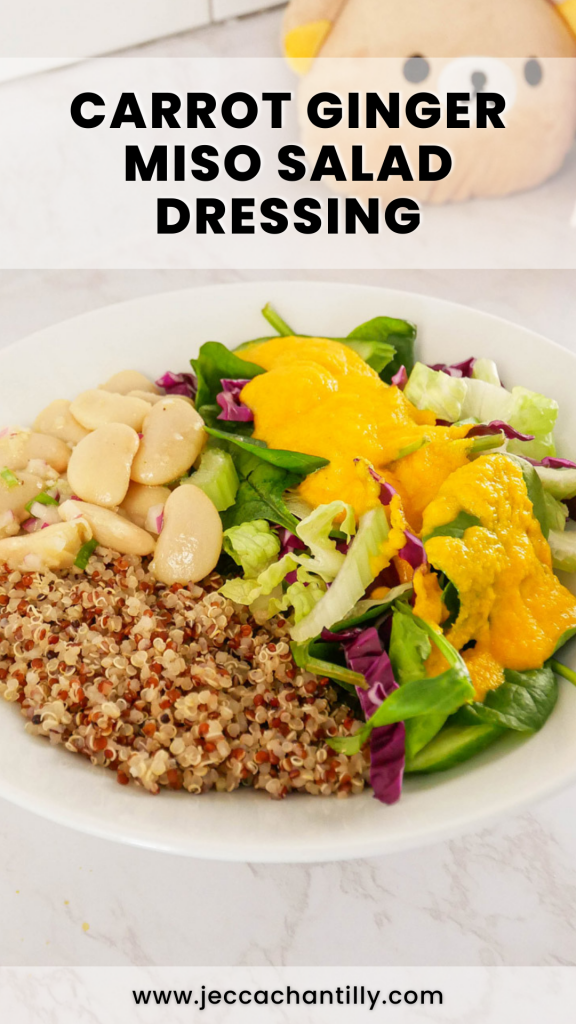 *Disclosure: I only recommend products I would use myself and all opinions expressed here are my own. This post may contain affiliate links that where I may earn a small commission, at no additional cost to you. *