If you've never added uni to your egg toast, you have to add it to your list. It's the perfect balance between sweet, savory, and briny with a buttery, melt-in-your-mouth texture.
I'm convinced if you put uni on anything, it'll be *chef kiss* and eggs are no exception. if you've never had uni or sea urchin before, it's rich and creamy with a consistency of a firm velvety custard. Flavor-wise, it's slightly sweet and briny with a subtle oceany taste. You've probably seen it served on sushi but there are so many other ways it can be used to elevate a simple dish.
It's a one-of-a-kind ingredient and is even considered a delicacy in some cultures so I highly recommend giving this recipe a try!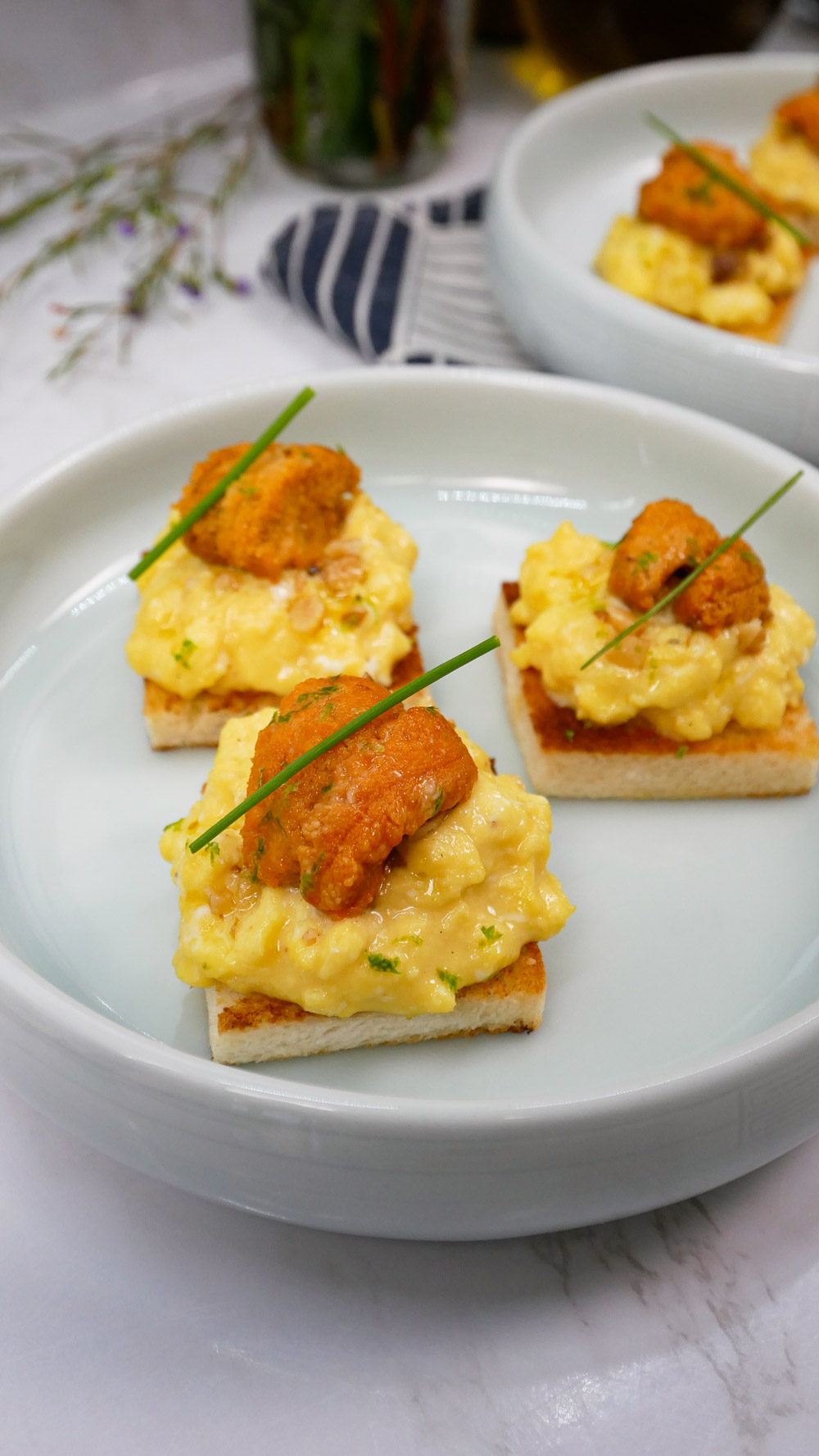 Uni Toast
Ingredients
1

oz

Uni (sea urchin)

(about 2 pieces per toast)

2

slices milk bread

substitute with white bread or brioche

1

tbsp

butter

unsalted

3

eggs

2

tbsp

heavy cream

2

tbsp

olive oil

divided

1

tbsp

walnuts

chopped

Lime juice

Lime zest

salt and pepper

to taste
Instructions
Combine eggs and heavy cream in a mixing bowl. Whisk until fully combined then, set aside.

Remove the crust from the milk bread. Then cut each slice in half (for 2 large pieces) or quarters (for 4 small pieces)

In a pan, heat butter over medium heat. Place each piece of bread into the pan and quickly flip so both sides are buttered.

Toast all pieces until crispy and golden brown. Remove then set aside.

In a pan, heat 1 tablespoon of olive oil over medium-low heat. Pour in the egg cream mixture. Continuously stir with a spatula until small curdles of egg form. Cook until your desired doneness (I prefer mine a bit runny). Season with salt and pepper.

To assemble the toast, layer on scrambled eggs, then add a drizzle of olive oil over the eggs. Top with walnuts, uni, lime juice, and lime zest. Repeat for all pieces of toast.

Serve immediately and enjoy!
Pin & save this recipe for later!