If you're a sucker for smoothies like me, you have to try this super refreshing and delicious mango pineapple spinach smoothie!
For this recipe, I used mango, frozen pineapple, spinach, bananas, and a really ripe peach that I found in my fridge but, you can really use any type of fruit you desire! Smoothies are great for fridge clean-out days and they are easily customizable too. 
I really wanted to do a cool contrasting aesthetic for this smoothie so I decided to make a green and orange smoothie by using similar ingredients. This is totally optional, so if you're pressed for time or want to make this faster you can just throw everything into a blender together for a pure green smoothie.
Lately, I've been looking for dairy alternatives and came across barley milk for the first time. When blended with the fruits, it tasted very neutral and reminded me of oat milk which I really enjoyed. This is a reminder to use ingredients you prefer and similar to the customization of fruits, feel free to use any liquid you like. Whether it's milk, non-dairy milk, coconut water, or just plain water, this smoothie will taste just as delicious!
Why you'll love this recipe
The combination of mango, pineapple, and banana creates a medley of sweet and tart flavors that transports you to a tropical destination. The beauty of most smoothie recipes is that the fruits used are interchangeable so you can have a delicious smoothie depending on what's in season or fruits you have sitting in the bottom of your crisper drawer. 
This recipe should only take you 10 minutes to make, so you can easily prepare this as a cool, refreshing beverage in the summer or as a healthy post-workout snack! Here's a little tip – using a combination of frozen fruit and fresh fruit will make this an even more refreshing smoothie! If you don't have any frozen fruits, you can toss in a few ice cubes!
How do I prepare Mango Pineapple Spinach Smoothie?
Making a good smoothie isn't complicated at all! As long as you have your favorite combination of fruits, you're considered golden. To make this vibrant, healthy, and refreshing smoothie, follow these steps below:
Step 1: Make the green smoothie
In a high-speed blender, combine mango, pineapple, banana, spinach, and your choice of milk. Blend the ingredients until they're smooth. Then, transfer the smoothie to a glass.
Step 2: Make the orange smoothie
In a blender, combine mango, pineapple, banana, peach, and your choice of milk. Blend the ingredients until they're smooth.
Pour the orange smoothie on top of the green one and top with chia seeds, sliced strawberries, or your favorite toppings. Serve and enjoy!
Preparation tips for Mango Pineapple Spinach Smoothie
This recipe is pretty straightforward, but here are a couple of tricks you can keep in mind to make your smoothie even better:
I highly recommend using a high-speed blender for the best smoothies. Depending on the ingredients you are using, and especially if you're using frozen fruits or ice, you want a blender that is powerful and durable. 
If you want a thicker smoothie, reduce the amount of liquid added to the mixture or add more frozen fruits or ice. For a looser smoothie, just add more liquid!
Freeze some of your fruit in a freezer-safe bag and toss a couple of pieces when blending the smoothie. This adds an icy and refreshing element to the smoothie. 
While I think the smoothie is sweet enough from the natural sweetness of the fruits, you can also make it sweeter by adding your preferred choice of sweetener including honey, agave syrup, condensed milk, or simple syrup. 
Ingredients & Substitutions
Mango: ripe juicy mango is ideal for a sweet and refreshing smoothie. I prefer using Alphonso or champagne mangoes but you can also use frozen mango too. 
Pineapple: the pineapple brings tropical vibes and tartness to the smoothie. I think fresh pineapples taste the best but you could also use canned pineapples too. 
Banana: sometimes I'll freeze my over-ripened bananas in the freezer so they last longer. The frozen bananas also make the smoothie extra cold and refreshing!
Spinach: any leafy greens will taste great in this smoothie, including kale, chard, and collard greens.
Non-dairy milk: feel free to use any type of milk for this smoothie. I like using oat milk or barley milk but you can also use coconut water or just plain water.
Peach: peaches bring sunshine and summer to the smoothies but you can also replace peaches with nectarines or cantaloupe since they have similar sweet and juicy consistencies.
Strawberry: the strawberries were used as a garnish here but you can definitely blend it in with the smoothie as well. Feel free to substitute strawberries with blueberries, raspberries, or blackberries!
Chia seeds: the chia seeds add texture to the smoothie which is completely optional but highly recommended. In addition to the crunch from the chia seeds, I like that they are highly nutritious. You can also substitute chia seeds with flaxseeds as well. 
Smoothie Customizations
If you're looking for inspiration on what ingredients you can add to this delightful smoothie, here are a few ideas that you might want to try:
1. Papaya – for the orange smoothie, you can add a slice or two of ripe papaya for some added sweetness and tropical flavors.
2. Greek yogurt – if you want the smoothie to have a thicker consistency but want to keep it low-calorie, you can add a dollop of Greek yogurt to the mixture. You can also use this as a substitute for milk. 
3. Avocado – for a creamy but non-dairy ingredient, an avocado can give the smoothie an unbelievably smooth texture because of its high-fat content!
4. Cucumber – aside from the leafy greens, cucumber can also be a wonderful addition to the green smoothie. Just be mindful of how much you add because its high water content can loosen up the consistency of the smoothie.
5. Dates – if you want to increase the sweetness of the smoothie but want to avoid processed sugar, adding 1 or 2 dates to the mixture will easily do the trick.
Frequently Asked Questions
Why are my fruits not blending?
If you've placed most of the fruits into the blender but it's not blending, you just need to add a bit of liquid to start the process. This usually happens when you place frozen ingredients like fruits and ice nearest to the blade. Since they're harder compared to fresh fruits, the blade may not be able to break the ice apart, but a bit of milk or water will do the trick. Once you add a splash of liquid, it should start blending smoothly. If it is still 'stuck', I recommend adding a splash of liquid 1 tablespoon at a time until it starts blending. 
To make sure this won't happen the next time you make a smoothie, try adding the fresh ingredients first and the frozen ingredients last. 
Are fruit smoothies better with milk or water?
Whether you choose milk or water, I promise this smoothie recipe will still taste just as good. It all depends on your preference for the taste and consistency of your smoothie. Using water will result in a looser smoothie while using milk will result in a creamier and slightly thicker consistency. 
Plant-based milk won't give the smoothie the same thick consistency as full-cream milk, but it will still be denser compared to using water. At the end of the day, just be sure to use the ingredients you like!
Why does pineapple make my smoothie bitter?
If you followed this recipe and used the same ingredients, you may notice a slightly bitter taste and that's thanks to the pineapple. Pineapples contain a natural enzyme called bromelain that reacts with milk so it can be more apparent if you use dairy milk in the smoothie. 
The bitterness can be toned down and masked as long as you prepare the pineapple properly. You can check out my post on How to Prepare a Pineapple so that you can have the best-tasting pineapples every single time! It's seriously a game changer and the only way I prepare pineapples!
How to Store Mango Pineapple Spinach Smoothie?
This smoothie will taste best when freshly made, but you can keep any leftovers or make them in advance. They can be stored in the fridge for 1 to 2 days but the sooner you drink them, the better. Just remember to keep the smoothie in an airtight container to retain its freshness. If you've added some frozen fruits to the smoothie, expect that the ice will eventually melt and loosen up the consistency of the smoothie. If you want to make it thicker again, just add ice or any fruit you choose and blend until it's smooth.
Can you freeze Mango Pineapple Spinach Smoothie?
Yes, you can freeze this smoothie recipe. If you like, you can even make a big batch and store them in the freezer for up to 3 months. Make sure to store them in an airtight freezer-safe container so they stay fresh and clear of any contaminants. If you have the space, you can also separate them into smaller cube trays so they're easier to thaw later. 
Freezing your smoothies is an excellent time-saver on weekdays since you don't have to break out the blender whenever you're craving it. You just need to place a portion in the fridge overnight so it's ready to drink by the next day.
Looking for more easy refreshing drink recipes?
If you're looking for more simple and quick drinks to enjoy with your meals or throughout the day, check out some of my favorite recipes below!
1. Avocado Shake – for a cooling drink that takes no time to make, this 4-ingredient avocado shake will quench your thirst any time of the day.
2. Homemade Matcha Latte – if you're not an avid coffee drinker but in dire need of a quick pick-me-up, this easy homemade matcha latte recipe will give you an energy boost in no time! 
3. Korean Banana Milk – if you love the super popular Korean banana milk beverage, you can recreate it at home with only 5 ingredients!
4. Misugaru Shake – this versatile drink is great as a filling snack or breakfast. It's a multigrain shake that only requires 4 ingredients to make, so you can easily whip this up in no time!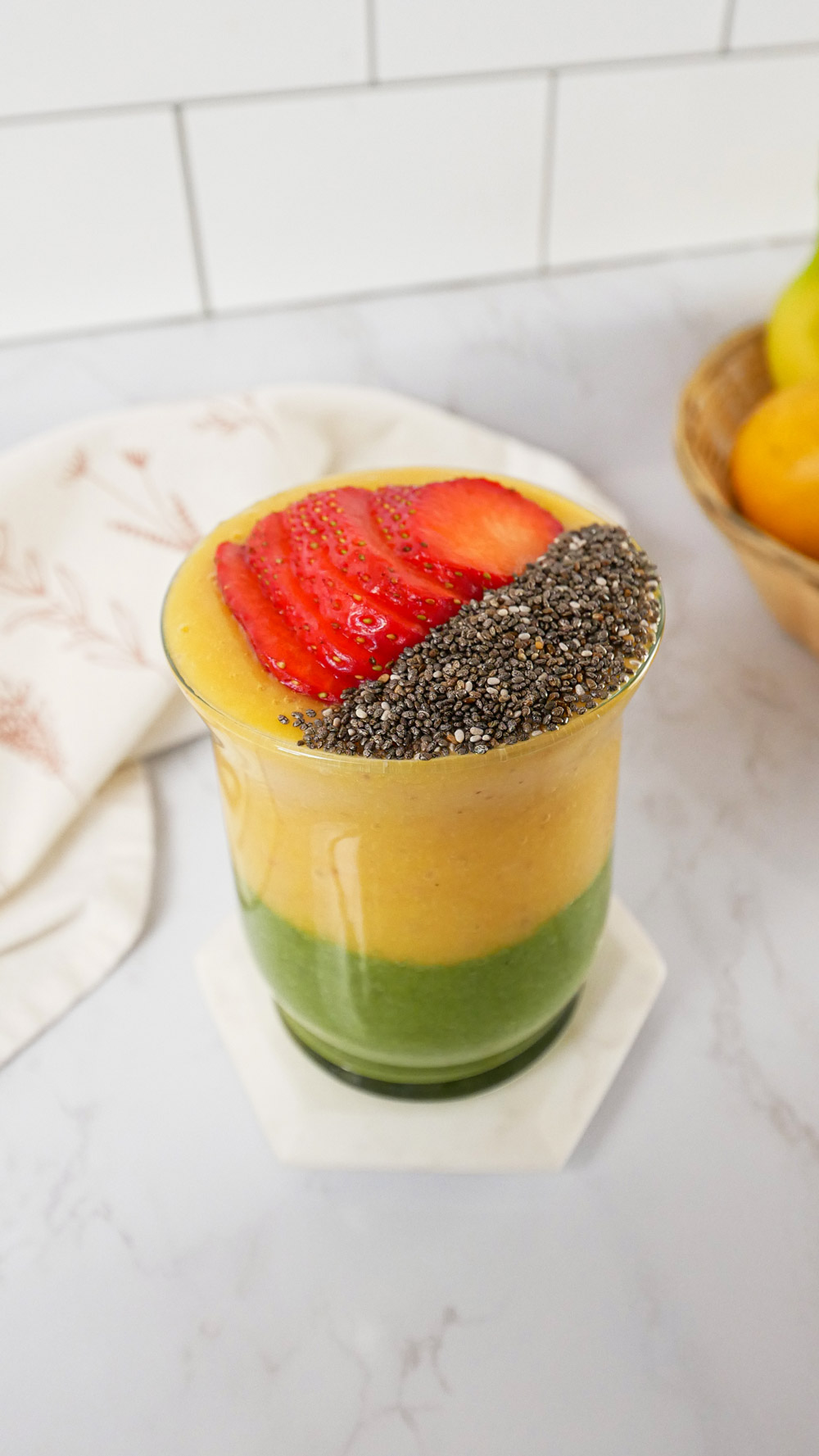 Mango Pineapple Spinach Smoothie
Ingredients
Green Part of Smoothie
1

mango

about 1/3 cup

1/4

cup

pineapple

frozen or fresh

1

banana

1

cup

spinach

1/4

cup

non-dairy milk

or liquid of your choice
Orange Part of Smoothie
1

mango

about 1/3 cup

1/4

cup

pineapple

frozen or fresh

1

banana

1

peach

1/4

cup

non-dairy milk
Toppings
1

sliced

strawberry

optional

1

tbsp

chia seeds

optional
Instructions
Green Smoothie
In a blender, combine mango, pineapple, banana, spinach and your choice of milk. Blend until smooth.
Orange Smoothie
In a blender, combine mango, pineapple, banana, peach and your choice of milk. Blend until smooth.

Top with chia seeds and sliced strawberries.
Notes
Customize your smoothie by using any fruit that you like!
I used barley milk as my choice of liquid but dairy milk, non-dairy milk, coconut water, and water would work well too.
If you want a thicker smoothie, reduce the amount of liquid. If you want a looser smoothie, add more liquid. 
Using a combination of frozen fruits with fresh fruits will add a cool and 'frozen' element to the smoothie. If you don't have frozen fruits, just add a few ice cubes!
Pin & save this recipe for later!