Today we are making fried chicken baos – and not just any fried chicken bao. We're making Taiwanese fried chicken baos with a delicious Thai basil aioli to complement it. These are seriously life-changing and my favorite bao from my bao series yet!
Taiwanese popcorn fried chicken is usually served with flash-fried Thai basil but I wanted to do something a little different with the herb. Instead of frying it, I made a super rich and flavorful Thai basil aioli. The sauce is creamy, tangy, a little spicy, and goes perfectly with the crispy chicken and fluffy bao.
It only takes a few minutes to make this delicious and addicting Thai basil aioli. Not only is this sauce great with this bao, but it's also great for sandwiches, to toast your bread with, or as a dip for fries!
For garnish, I used Asian Pickled Red Onions and fresh cilantro. The pickled red onions add tanginess and crunch while cutting through all the grease. The cilantro, on the other hand, adds freshness to help round out all the flavors.
Like I suggest for all my bao recipes, I highly recommend making the bao buns from scratch because they taste so much better than the store-bought ones. Be sure to check out my Steamed Bao Bun recipe!
If there's any bao you try from my bao series, it has to be this one! I hope you enjoy 🙂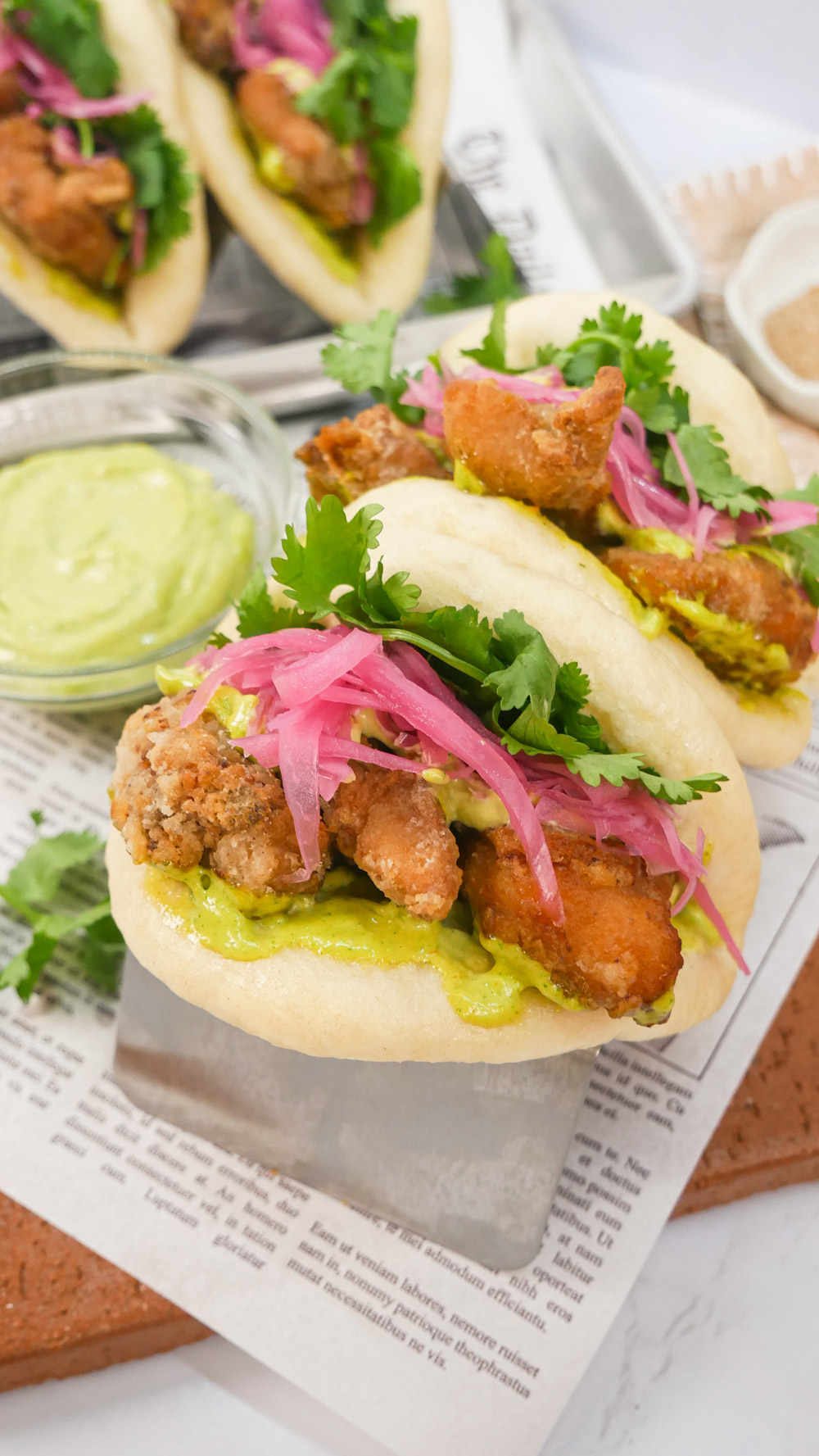 Fried Chicken Bao with Thai Basil Aioli
Ingredients
Main Ingredients
1/2 lb

(2-3 thighs)

chicken thighs

 boneless & skinless

5

steamed baos

see note 1

4

cups

neutral oil for frying

1

cup

tapioca starch

or potato starch

1-2

tsp

water

pickled red onions

for garnish, see note 2

cilantro

for garnish
Chicken Marinade
1/2

tbsp

soy sauce

1/2

tbsp

Shaoxing cooking wine

1/2

tsp

salt

1/2

tsp

sugar

1/2

tsp

Chinese five-spice powder

1/2

tsp

white pepper

ground

3

garlic cloves

grated
Thai Basil Aioli
15

Thai basil leaves

2

egg yolks

2

tsp

sambal

or chili sauce of your choice

1

garlic clove

1

tbsp

rice vinegar

substitute with lemon juice

1/2

tsp

kosher salt

1/2

cup

neutral oil

like vegetable, avocado, sunflower seed, canola

1/4

cup

extra virgin olive oil
White Peppercorn Seasoning
1/4

tsp

salt

1/4

tsp

sugar

1/8

tsp

white pepper

ground

1/8

tsp

Chinese five spice powder
Instructions
Prep the chicken thighs by cutting them into 1 or 1 1/2-inch thick pieces. Transfer to a medium mixing bowl. Add soy sauce, Shaoxing cooking wine, salt, sugar, Chinese five-spice powder, white pepper, and garlic. Mix until well combined. Cover with plastic wrap then set aside in the fridge to marinate for at least 1 hour.

While the chicken is marinating, prepare the Thai basil aioli. In a tall and narrow glass container, combine Thai basil, egg yolks, sambal, garlic, rice vinegar, salt, and neutral oil. Using an immersion blender, blend until thick and well blended. Pour in extra virgin olive oil and blend until just combined. Avoid over-blending otherwise, the aioli may become bitter. Cover with plastic wrap and place in the fridge until ready to use.

*If you don't have an immersion blender, you can use a blender or food processor. Combine all ingredients except for the neutral oil and olive oil. Blend the ingredients then slowly drizzle in the neutral oil. Once the aioli has formed and is well combined, slowly drizzle in the olive oil until just combined.

To prepare the white peppercorn seasoning, combine salt, sugar, white pepper, and Chinese five-spice powder. Set aside for later.

Preheat a deep pot over medium heat with 4 cups of neutral oil to 350F (175C). Place the tapioca starch into a large mixing bowl. Remove the chicken from the fridge.

Using your fingers, sprinkle 1 tsp of water into the tapioca starch then immediately stir. This will create small beads that will be coated over the chicken to create crunchy bits.

Dip each piece of chicken into the tapioca, making sure all sides are coated. Carefully place into the hot oil and fry for 2 to 3 minutes. Be sure to work in batches to avoid overcrowding the pot. Transfer to a wire rack or plate lined with paper towels. Repeat until all chicken has been fried.

To double fry, increase the heat to 400F (205C). Carefully place the chicken into the hot oil and fry for 1 to 2 minutes or until golden brown and crispy. Work in batches to prevent overcrowding. Transfer to a wire rack or plate line with paper towels. Immediately sprinkle the white peppercorn seasoning on top. Repeat for the rest of the chicken.

To assemble the baos, first have the steamed baos hot and ready! Take one bao and add 1 to 2 teaspoons of the Thai basil aioli to the bottom, making sure to spread it out evenly so the entire bottom layer of the bao is coated. Layer on 2 to 3 pieces of fried chicken. Add more Thai basil aioli on top of the chicken. Garnish with pickled red onions and cilantro. Serve and enjoy!