If you like Korean fried chicken, wait until you try this sweet and spicy Korean fried chicken bao. The chicken is double-fried for a super crispy exterior and glazed with a delicious garlicky gochujang sauced.
For a juicy and succulent fried chicken, I like to marinate chicken thighs in milk, aromatics, salt, and pepper for at least 2 hours or overnight to help tenderize the meat.
In my opinion, Korean fried chicken isn't complete without the pickled radish. It's called 'chicken mu' in Korean, which literally translates to chicken radish. It's sweet, tangy, a little salty, and very refreshing. Plus, you only need 5 ingredients!
This garlicky gochujang sauce will come through with most of the flavors and in order to prevent the chicken from getting soggy, I recommend brushing on the sauce. You don't want to drench the chicken!
I recommend using homemade steamed bao buns for this recipe but if you're pinched with time, store-bought frozen baos work too!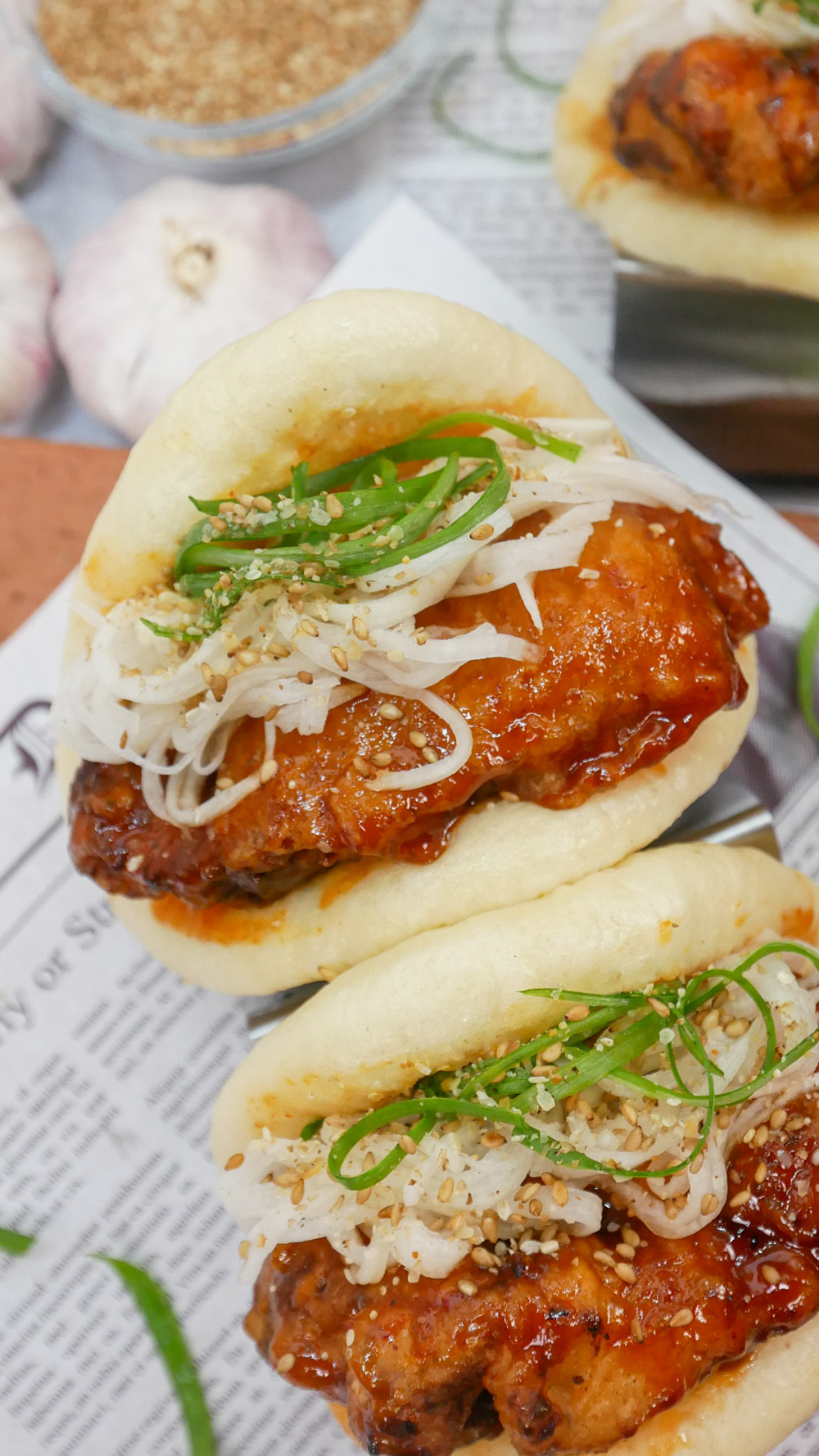 Korean Fried Chicken Bao
Ingredients
8

steamed baos

homemade or store-bought

1

lb

chicken thighs

boneless & skinless
Brine
1/2

cup

whole milk

1

tsp

ginger

minced

2

garlic cloves

grated

1

tsp

salt

1/4

tsp

black pepper
Dredge
1/2 cup

(75g)

all-purpose flour

3/4 cup

(110g)

cornstarch

1/3 cup

(40g)

rice flour

1

tsp

baking powder

2

tsp

salt

1/2

tbsp

garlic powder

1/2

tbsp

onion powder

1/2

tsp

cayenne pepper

substitute with paprika or chili powder
Wet Batter
1

cup

dredge

from above

2/3

cup

cold water
Pickled Radish (Chicken Mu)
1

cup

dredge

from above

2/3

cup

ice cold water

6

oz

Korean radish

thinly sliced

3/4

cup

water

3/4

cup

white vinegar

3/4

cup

sugar

3/4

tsp

salt
Sauce
1

tbsp

gochujang

Korean red chili paste

1

tbsp

soy sauce

1

tbsp

ketchup

2

tsp

rice vinegar

substitute with white vinegar

1

tbsp

honey

1

tbsp

sugar

1

tsp

sesame oil

3

garlic cloves

grated
Instructions
Prepare the chicken thighs by cutting into 2 to 3 pieces, depending on the size.

For the brine, combine chicken, milk, garlic, ginger, salt and black pepper. Set aside for at least 4 hours or overnight.

For the pickled radish, peel the skin. Then, peel the radish to create thin ribbons. Stack the ribbons then slice into thin strips. Combine water, sugar, white vinegar, and salt. Mix until sugar and salt has fully dissolved. Transfer radish into a mason jar or container. Pour the brine into the jar until the radish is completely submerged. Transfer to the fridge and refrigerate for at least 2 hours.

For the sauce, mix together gochujang, soy sauce, ketchup, rice vinegar, honey, sugar, sesame oil, and grated garlic. Set aside for later.

Pat dry the chicken and allow it to air dry at room temperature for 30 minutes before frying.

For the dredge, combine cornstarch, flour, rice flour, baking powder, salt, garlic powder, onion powder, and cayenne pepper. Whisk together to combine.

For the wet batter, combine 1 cup of the dredge with 2/3 cup cold water. Mix until just combined. The consistency should be like pancake batter.

Heat oil over medium heat to 350F / 175C.

Dip the chicken in the dredge, then into the wet batter. Allow the excess batter to drain before carefully placing in the hot oil. Fry for 3 minutes. Be sure to work in batches to avoid overcrowding.

Remove and transfer to a wire rack or plate lined with paper towels. Repeat for the rest of the chicken.

To double fry the chicken, increase the oil temperature to 400F / 205C. Fry for 1 to 2 minutes until golden brown and crispy. Make sure to work in batches to avoid overcrowding.

Brush the sauce onto each chicken piece until fully coated.

To assemble the baos, layer the chicken, pickled radish, scallions, and sesame seeds.
Pin & save this recipe for later!