Ice cream is one of my favorite desserts and with the whole TikTok corn trend this summer, I wanted to create something original and unique.
My inspiration for this dessert was caramel popcorn, similar to Cracker Jacks. I grilled fresh corn that I found at the farmer's market and created a super delicious ice cream base.
While you can definitely eat the corn ice cream on its own, I wanted to create a fully composed dessert with it. So, to accompany the ice cream, I made a gochujang caramel that has a hint of spiciness and a sweet and salty crispy corn topping for texture. When eaten together, it really tastes like an elevated Cracker Jack dessert!
I really let my creative juices flow with this one and I'm really happy with the way it turned out! 🙂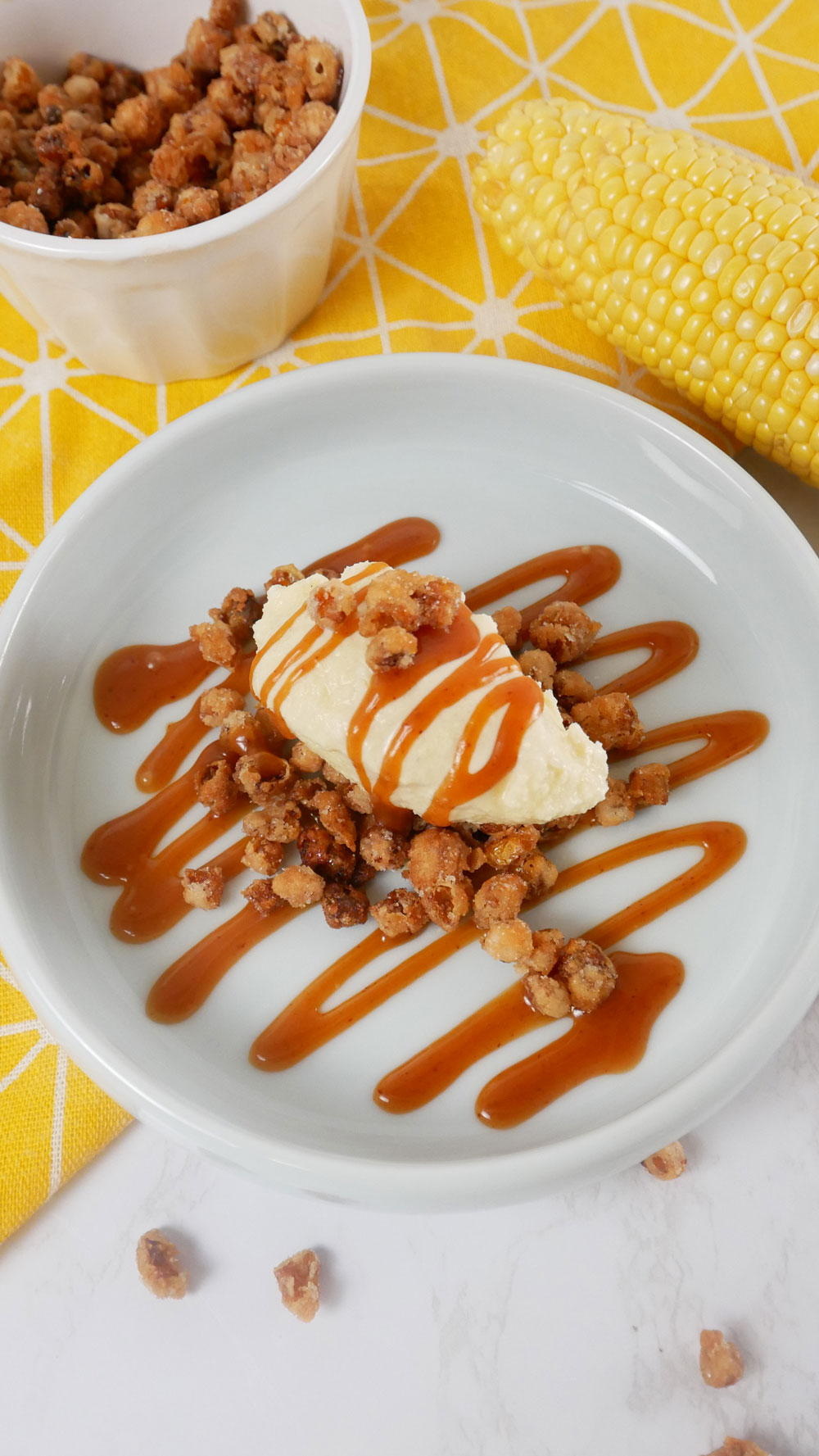 Corn Ice Cream Recipe
Ingredients
2

ears of

corn

approximately 2 cups

2

tsp

olive oil

2

cups

heavy cream

2

cups

whole milk

6

egg yolks

1/2

cup

sugar

pinch of

salt

1

tsp

vanilla extract
Toppings (Optional)
Gochujang Caramel

see note 1

Sweet & Salty Crispy Corn

see note 2
Instructions
Remove the corn husks and clean the corn ears thoroughly. Pat dry with a paper towel.

Lightly brush the corn with olive oil and grill or broil until charred all around, about 5-7 minutes. Remove and set aside to cool.

When the corn has cooled to the touch, stand it upright and cut off the kernels from the cob. Reserve the kernels and cob separately. Transfer the corn kernels into a blender with milk and blend until smooth.

Pour the blended corn and milk mixture into a pot. Add the heavy cream and corn cobs. Bring to a simmer then turn cover the pot and turn off the heat. Allow this to steep for 2 hours. Strain the mixture and set aside.

In a bowl, combine egg yolks, sugar, and salt. Whisk together until it turns into a pale yellow color, about 5 minutes. You'll know it's ready when you drizzle the mixture and see a 'ribbon effect' as it falls back down onto the mixture.

Using a ladle, pour in the corn milk mixture into the eggs, making sure to whisk at the same time. It's important that constantly whisk – you don't want the eggs to cook into scramble eggs!

Continue to pour in the corn milk mixture ladle by ladle. When you're about halfway through, pour in the rest of the mixture, while whisking. Add the vanilla extract and mix together well.

Run the ice cream base through a seive. Cover and place in the fridge for at least 12 hours.

Churn the ice cream according to the instructions on the ice cream machine. Freeze for 4 hours to harden.
Pin & save this recipe for later!