These soft, chewy mango mochi have the perfect sweetness and QQ bounce! They're so addicting and only takes 10 minutes to make 🙂
I really wanted to incorporate the mango flavor inside and out so I used mango nectar to flavor the mochi. The mochi is traditionally flavored with coconut milk but I prefer mango with this!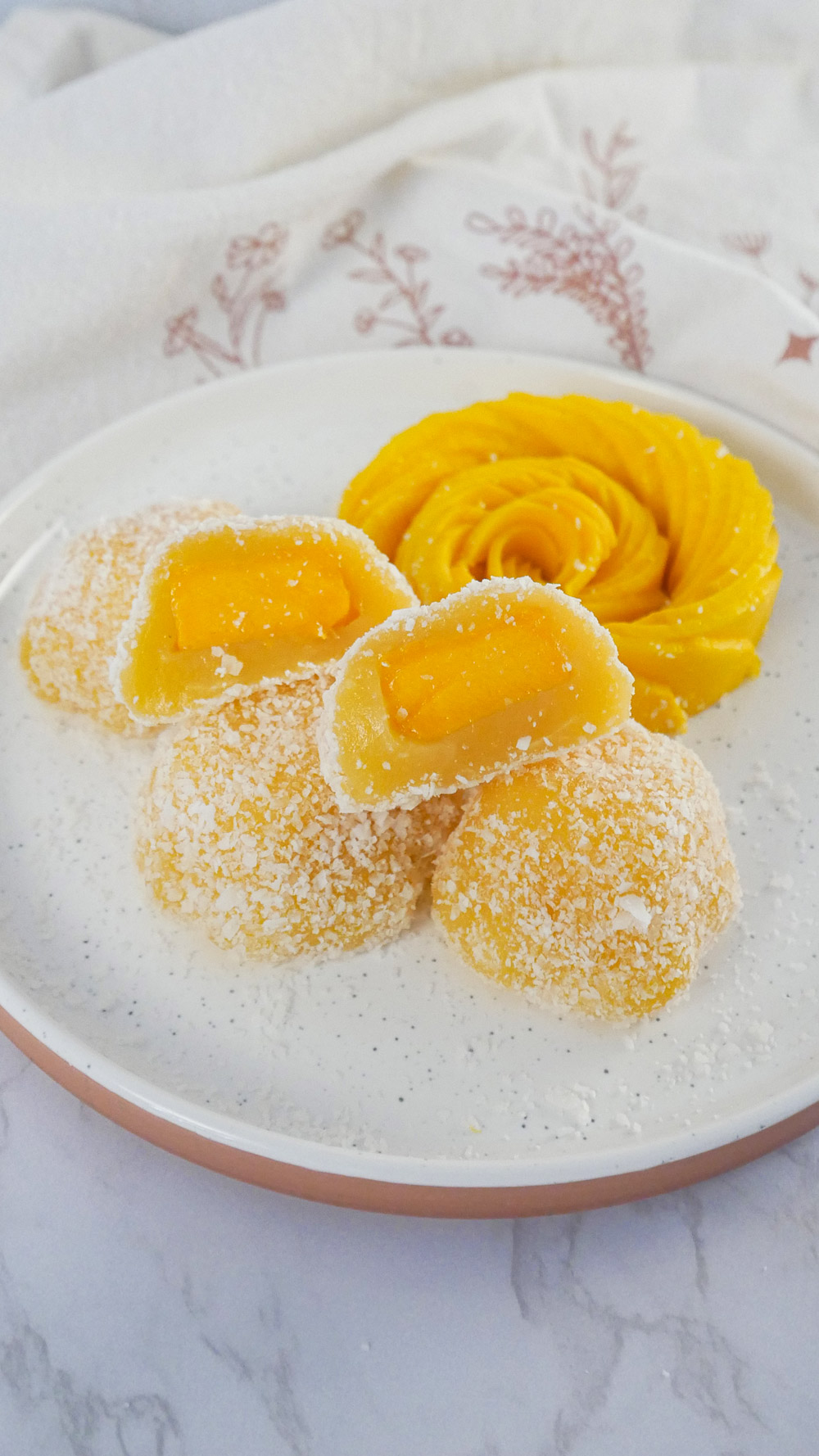 Mango Mochi
Ingredients
1/2

cup

glutinous rice flour

1/2

cup

mango nectar

substitute with mango juice or puree

2

tbsp

sugar

adjust to taste

1

tsp

neutral oil

1

ripe mango

1/4

cup

coconut flakes

1/4

cup

potato starch

more for dusting
Instructions
In a microwave safe bowl, combine glutinous rice flour, mango nectar, sugar, and oil. Stir and mix well.

Cover with plastic wrap and microwave for 3 1/2 minutes in 1 minute intervals, followed by the last 30 seconds. Be sure to mix the mochi in between each interval so it cooks evenly throughout.

While the mochi is cooling down, cut the mango into square pieces. The pieces should fit in the middle of the mochi so you don't want them to be too big otherwise, it'll be challenging to form.

Dust some potato start on a clean work surface area or cutting board. Transfer the mochi onto the cutting board and sprinkle some potato starch on top. Coat the rolling pin with potato starch as well.

Carefully roll the mochi out until it reaches 1/4 inch thickness. Using a ring mold or lid, cut the mochi out into 4 pieces.

Place one piece of mango in the center of the mochi and fold the sides towards the center. Be sure to crimp the mochi so it sticks together. Repeat for the rest of the mochi.

Once the mochi is formed and shaped to your liking, brush the mochi with mango nectar. This will help the coconut flakes stick to the mochi.

Toss the coated mochi into the coconut flakes and enjoy!

These can be made in advance and stored in the refrigerator. They taste really good chilled!
Pin & save this recipe for later!