If there's one dessert you should make for Lunar New Year, it has to be this Nutella hazelnut-filled tangyuan. Tangyuan is a classic Lunar New Year dessert and they are glutinous rice balls usually filled with black sesame or peanut butter. This Nutella variation is a delicious way to add a fun and unique twist.
The filling is inspired by my love and obsession with Nutella so this fusion just naturally made sense. In addition to the Nutella, hazelnuts are added for some texture and crunch. The key ingredient in the filling is a little salt and if you have flakey salt that's even better. It's going to balance out all the sweetness so don't skip it!
If you're worried about this being overly sweet, you can reduce the amount of filling or adjust the Nutella-to-hazelnut ratio to find that perfect balance.
In my opinion, tangyuan isn't complete without ginger soup for this recipe, I added orange peels and spices inspired by the flavors of mulled wine to make it extra comforting.
To make assembling a little easier, pop the Nutella filling in the freezer for about 30 minutes so it hardens up. After assembling, all you need to do is boil them until they float. Then serve with the soup and enjoy!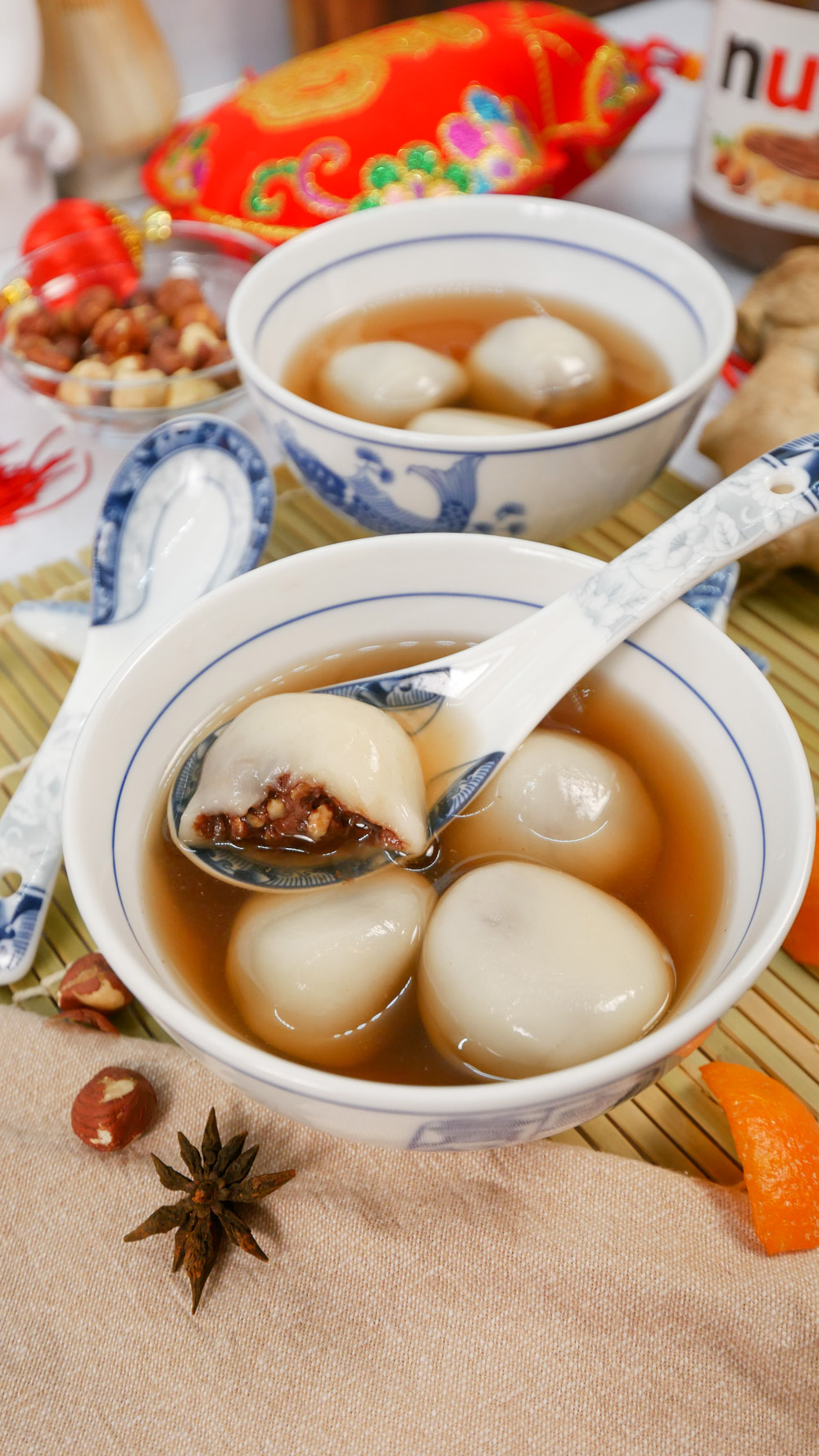 Nutella Tangyuan
Ingredients
Dough
1 cup

(130g)

glutinous rice flour

1/2

cup

lukewarm water

1/8

tsp

salt
Nutella Filling
2

tbsp

Nutella

1/4

cup

chopped hazelnuts

roasted + unsalted

1/8

tsp

salt
Spiced Orange Ginger Soup
4

cups

water

1/2 cup

(100g)

rock sugar

or regular sugar

2

cinnamon sticks

2

star anise

8

whole cloves

2

oz

ginger

sliced

4

fresh orange peels
Instructions
In a bowl, whisk together glutinous rice flour and salt. Slowly pour in warm water, making sure to constantly stir until a dough forms. Knead the dough a few times until smooth. Cover with a damp paper towel and set aside to rest for 15 minutes.

Combine Nutella, crushed hazelnuts, and salt in a small freezer-safe bowl. Mix together until well combined. Cover with plastic wrap and place in the freezer for 30 minutes to harden.

To a pot, combine water, sugar, cinnamon sticks, star anise, whole cloves, ginger, and orange peels. Bring to a boil then reduce to a simmer for 10 minutes. Strain then set aside for later.

Take the dough and roll it out into a long log. Cut into 12 even pieces, about 20 grams each. Using your hands, roll each piece of dough into a round ball. Cover with a damp paper towel to prevent the dough from drying out.

Remove the filling from the freezer. Scoop out the filling using a small spoon, about the size of a teaspoon. If the filling is too hard, let it soften on the counter for a few minutes. If the filling gets too soft, place it back in the freezer for 15 minutes.

Take a dough ball and gently flatten it into a 2-inch circle. Place the filling in the center of the dough then seal the dough around the filling. Roll the dough into a smooth round ball. Repeat until all Nutella balls are made.

Bring a pot with 4 cups of water to boil. Reduce to a simmer then add the Nutella balls. Gently stir to prevent them from sticking to the bottom. Simmer until the dough balls begin to float, about 4-5 minutes.

While the dough balls are cooking, reheat the soup. Immediately transfer the cooked Nutella balls into a bowl and serve with hot soup. Enjoy!
Notes
1. Tangyuan can be prepared in advance and stored in the freezer. After they are assembled, place them on a lined sheet tray with enough space in between each tangyuan. Tightly wrap the sheet tray with plastic wrap then transfer it to the freezer to harden. Once hardened, transfer to a ziplock bag then store in the freezer.
2. Nutella can be substituted with peanut butter, sesame paste, red bean paste, and even Hershey's kisses.
3. Hazelnuts can be substituted with any nut of your choice including peanuts, walnuts, pecans, pistachios, cashews, and almonds.
4. It is essential to allow the dough to rest for 15 minutes after it forms to facilitate the absorption of water and make it easier to shape.
5. To prevent the dough from cracking or drying out, always cover it with a damp paper towel when not in use.
6. Feel free to customize the soup by adding or removing spices to suit your preferences.
Pin & save this recipe for later!