As an Asian-American, my family never celebrated Thanksgiving in the traditional Western way but if there's one thing that's on our table, it's pomme purée!
This is the silkiest, creamiest pomme purée infused with bay leaf, peppercorns and a whole lot of garlic! It's rich, indulgent, garlicky and so delicious. Feel free to add other herbs like rosemary or thyme!
Here are a few helpful tips to help you create the best holiday side dish:
Boil the potatoes skin on to minimize the amount of moisture it absorbs
Press the potatoes through a ricer for an even, lump-free consistency.
To make it extra silky smooth, run the potatoes through a fine mesh sieve right before plating.
Aside from the holidays, this recipe is great for any day of the week or special occasions like date night or Valentine's Day!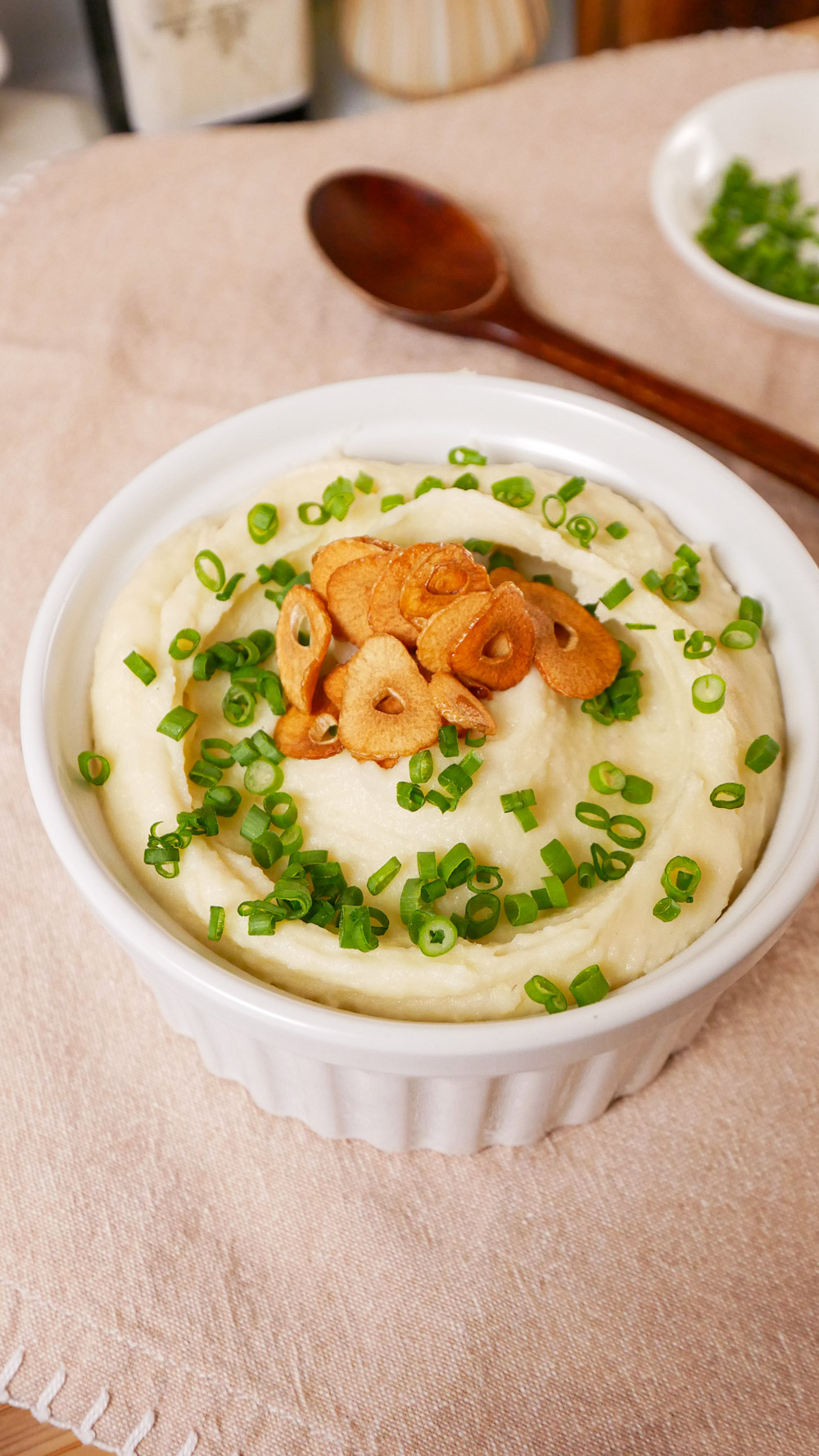 Garlic Pomme Puree
Ingredients
4-5

red skin potato

whole + skin on

5

oz

heavy cream

5

oz

whole milk

2

bay leaf

8

black peppercorns

8

oz

butter

1

whole garlic head

5

tbsp

olive oil

divided

1/2

tsp

salt

divided (adjust if needed)

ground black pepper
Garnish
3

thinly sliced

garlic cloves

for garlic chips

chives or scallions

chopped
Instructions
Preheat oven to 400F / 205C. Cut off the top of the garlic head and place on a sheet of aluminum foil. Drizzle 2 tbsp. of olive oil and season with 1/4 tsp salt. Wrap the aluminum foil so the garlic head is completely covered. Place in the middle rack of the oven and roast for 40 minutes until soft and tender.

In a pot of salted boiling water, add potatoes and boil for 15-20 minutes or until fork tender. Strain and allow potatoes to slightly cool.

Combine cream, milk, bay leaf, and peppercorns in a small pot. Bring to a boil then reduce to a simmer for 5-7 minutes or until reduced by 1/4. Remove from heat and set aside.

Carefully peel the cooked potatoes and push them through a ricer. Transfer the potatoes to a pot over medium heat to dry out any excess moisture. Reduce heat to low and add butter cubes while stirring.

Pour in 3/4 of the cream mixture and mix until well incorporated. Depending on your preferred consistency, add more cream if needed.

Squeeze the roasted head of garlic into the potatoes. Then season with 1/4 tsp salt and groung black pepper.

*Optional* – For a smoother and silkier result, press the potatoes through a fine mesh sieve.
Garnish
Heat 3 tbsp of olive oil in a small pot or pan over low-medium heat. Add thinly sliced garlic and fry until light golden brown, about 2-3 minutes. Remove and allow the garlic chips to drain on a bed of paper towels.

Garnish plated pomme puree with garlic chips and chopped chives or scallions.