Not exaggerating but these air fryer Taiwanese popcorn chicken are just as good or even better than the original deep-fried Taiwanese popcorn chicken. They turned out so crunchy and juicy without the extra calories so if you're looking for a healthier alternative to this indulgent snack, you've come to the right place.
Taiwanese fried chicken is a popular street food in Taiwan and is commonly found in many bubble tea shops as a tasty treat to snack on. While there are many variations of Taiwanese popcorn chicken, the combination of the sweet, salty, and spicy flavors in this recipe is hard to resist. The addition of my secret ingredient – orange – also helps to tenderize the chicken and add a subtle citrusy flavor.
Crack open a beer or your favorite beverage and brace yourself because these are deliciously addicting and guilt-free. Enjoy!~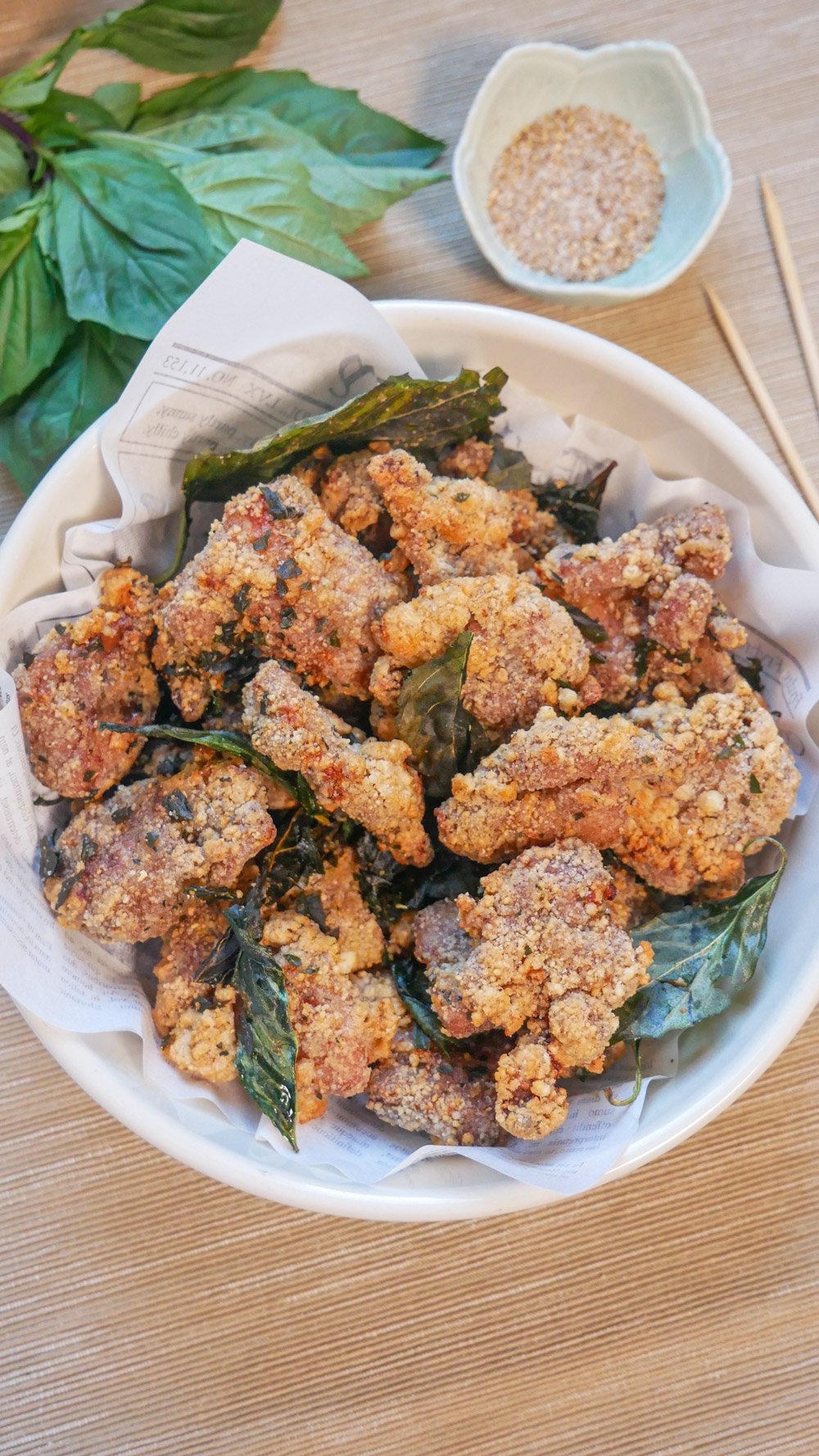 Air Fryer Taiwanese Popcorn Chicken
Ingredients
1

cup

sweet potato starch

substitute with potato starch or tapioca starch

1/2

cup

Thai basil leaves

washed and thoroughly dried

cooking oil spray
Chicken Marinade
1

lb

chicken thighs

boneless & skinless, about 3-4 thighs

4

garlic cloves

grated

1

tbsp

soy sauce

1

tbsp

Shaoxing wine

substitute with dry sherry or mirin

1

tbsp

orange juice

optional

1

tsp

salt

1

tsp

sugar

1

tsp

Chinese five-spice powder

1

tsp

white pepper powder

1

egg white
Sichuan-White Pepper Seasoning
1/2

tsp

white peppercorns

substitute with white pepper powder

1/2

tsp

Sichuan peppercorns

1/2

tsp

salt

1/2

tsp

sugar
Instructions
Cut the chicken thighs into 1-inch thick pieces.

Transfer the chicken to a medium-sized mixing bowl. Add grated garlic, soy sauce, Shaoxing cooking wine, orange juice, salt, sugar, Chinese five-spice powder, and white pepper. Mix well and marinate for at least 1 hour or overnight.

For the Sichuan white peppercorn seasoning, heat a small pan over medium-low heat. Then, add Sichuan peppercorns and white peppercorns (if using whole). Toast for 2 to 3 minutes, making sure to constantly stir to prevent the spices from burning. Remove from the heat then grind into a powder using a spice grinder or mortar and pestle. Transfer to a bowl then add salt and sugar. Mix then set aside for later.

Preheat the air fryer to 400F (205C).

Crack an egg and separate the white from the yolk. Add the egg white to the marinated chicken and mix until combined.

To a small mixing bowl, add sweet potato starch. Coat each piece of chicken well on all sides. Optional, but highly recommended – sprinkle a few droplets of water into the sweet potato starch to create small beads. This will create crispy crunchy bits on the chicken.

Arrange the chicken in the air fryer basket, making sure they have ample space on all sides. Make sure they do not touch!

Spray both sides of the chicken with cooking oil spray then air fry for 5 minutes.

Flip the chicken then spray with cooking oil spray. Air fry for another 5 minutes.

Toss the Thai basil leaves into the air fryer with the chicken, and spray with cooking oil spray. Air fry for 5 more minutes or until brown and crispy.

Sprinkle the Sichuan white pepper seasoning on top of the chicken. Serve and enjoy!