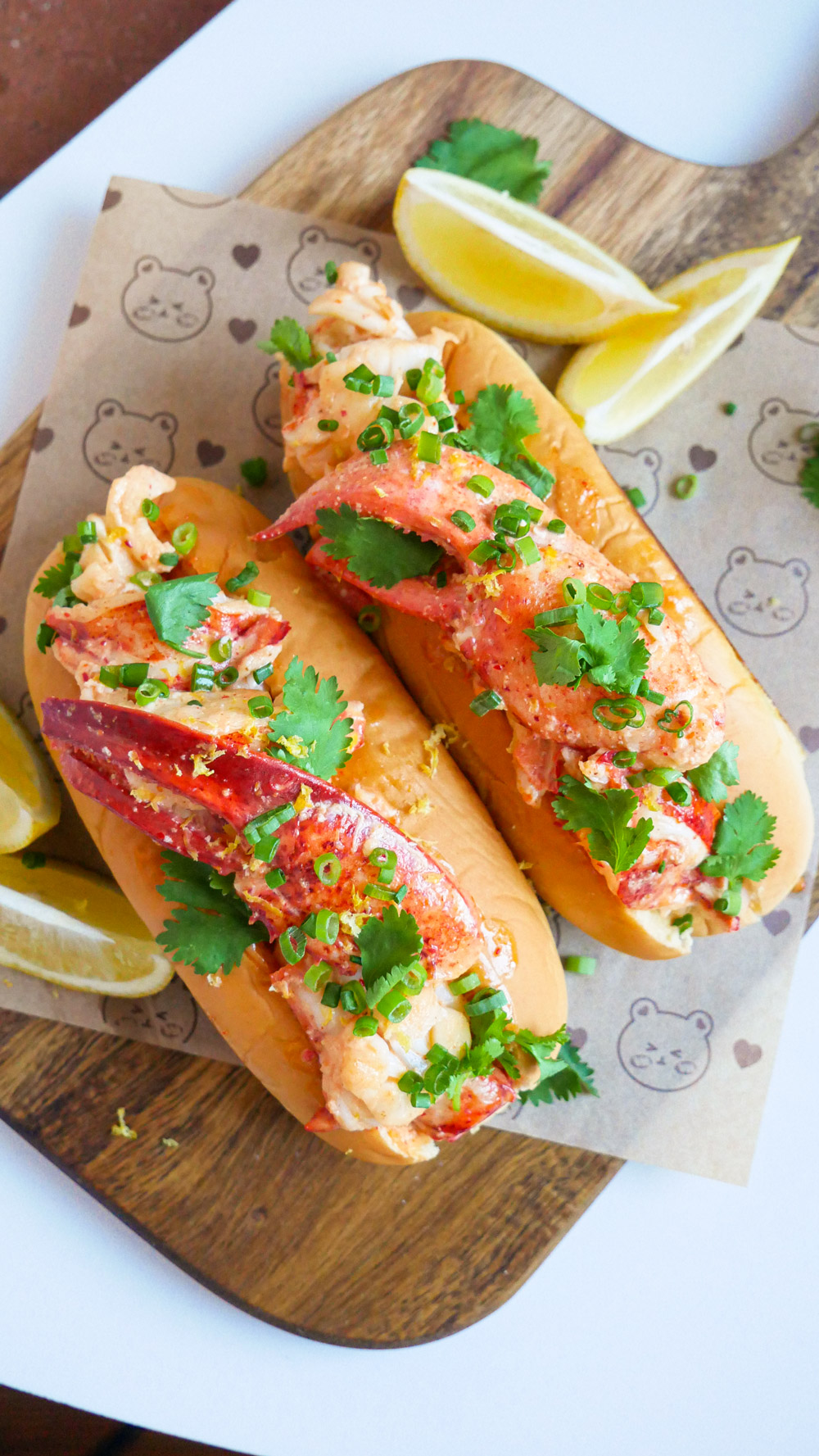 Warm Lobster Rolls
Ingredients
2

1-1/2 lb

lobster

or 1lb cooked lobster meat

2

potato roll hot dog buns

substitute with regular hot dog buns

3

tbsp

unsalted butter

room temperature

2

tbsp

Japanese Kewpie mayo

substitute with regular mayo

2

tsp

lemon juice

adjust to taste

1/2

tsp

lemon zest

for garnish

chives + cilantro

for garnish
Seasoning Mix (Substitute with Old Bay Seasoning)
1/2

tsp

celery salt

1/2

tsp

garlic powder

1/2

tsp

cayenne pepper

substitute with paprika
Instructions
Place the live lobster into the freezer for 30 minutes to put them to sleep. In the meantime, bring a large stock pot with water to boil over medium-high heat. Take the lobsters out from the freezer then remove the rubber bands around the claws. At this point, they should not be moving.

Place the lobsters into the boiling water then cover with a lid. Depending on the size of the lobsters will affect the cooking time. For reference, 1 1/2 lb lobster should take about 7 to 8 minutes to cook. Be sure to start the timer once the water comes to a boil after adding the lobsters.

While the lobsters are cooking, prepare an ice bath by filling up a large mixing bowl with ice and cold water. Once the lobsters are done cooking, immediately transfer them to the ice bath to prevent them from overcooking.

Once chilled, break down the lobster and separate the meat from the tail and claws. Cut the lobster tail into 1-inch thick pieces, while leaving the claws whole. Set the lobster meat aside.

In a small mixing bowl, combine the seasoning mix which includes celery salt, garlic powder, and cayenne pepper. Mix well then set aside. Alternatively, you can use Old Bay Seasoning.

Heat a medium-sized pan over medium-low heat. Spread 1 tsp of butter on each side of the potato hot dog bun. Toast the hot dog buns on each side until golden brown. Set aside to cool.

Heat the remaining butter in the same pan over medium-high heat. Toss in the lobster meat and add a pinch of the spice mix. Cook for about 15 seconds while continuously stirring. Remove from the heat and transfer to a mixing bowl.

To the mixing bowl with the cooked lobster, add mayo, lemon juice, and half of the remaining seasoning mix. Add more seasoning if needed.

To assemble, place the lobster in the potato hot dog buns. Garnish with lemon zest, chives, and cilantro.