These Korean pickle brine fries is an original recipe that was inspired by The Pickle Guys in NYC.
My boyfriend and I stopped by The Diller in Lower East Side to try their dill pickle brine fries and we were completely hooked!
We thought this might taste great with the brine from one of our favorite Korean side dishes that we usually eat with Korean fried chicken, which is chicken mu or Korean pickled radish! It's a sweet, salty, and sour flavor profile and it was the perfect way to put our own spin to this unique recipe.
The result? A french fry you've never had before! The texture of the fries is quite unique because it has a little bite to it. The brine pulls the moisture out of the potatoes and salt and vinegar penetrate deep into the potatoes to create an extremely flavorful bite. You'll need to let these potatoes brine for at least 12 hours but if you can wait a little longer, I recommend brining them for 24 hours. I promise it's worth the wait!
I'm a firm believer that all fries need a side of dipping sauce and this gochujang mayo is the perfect pairing for this pickled brine fries recipe.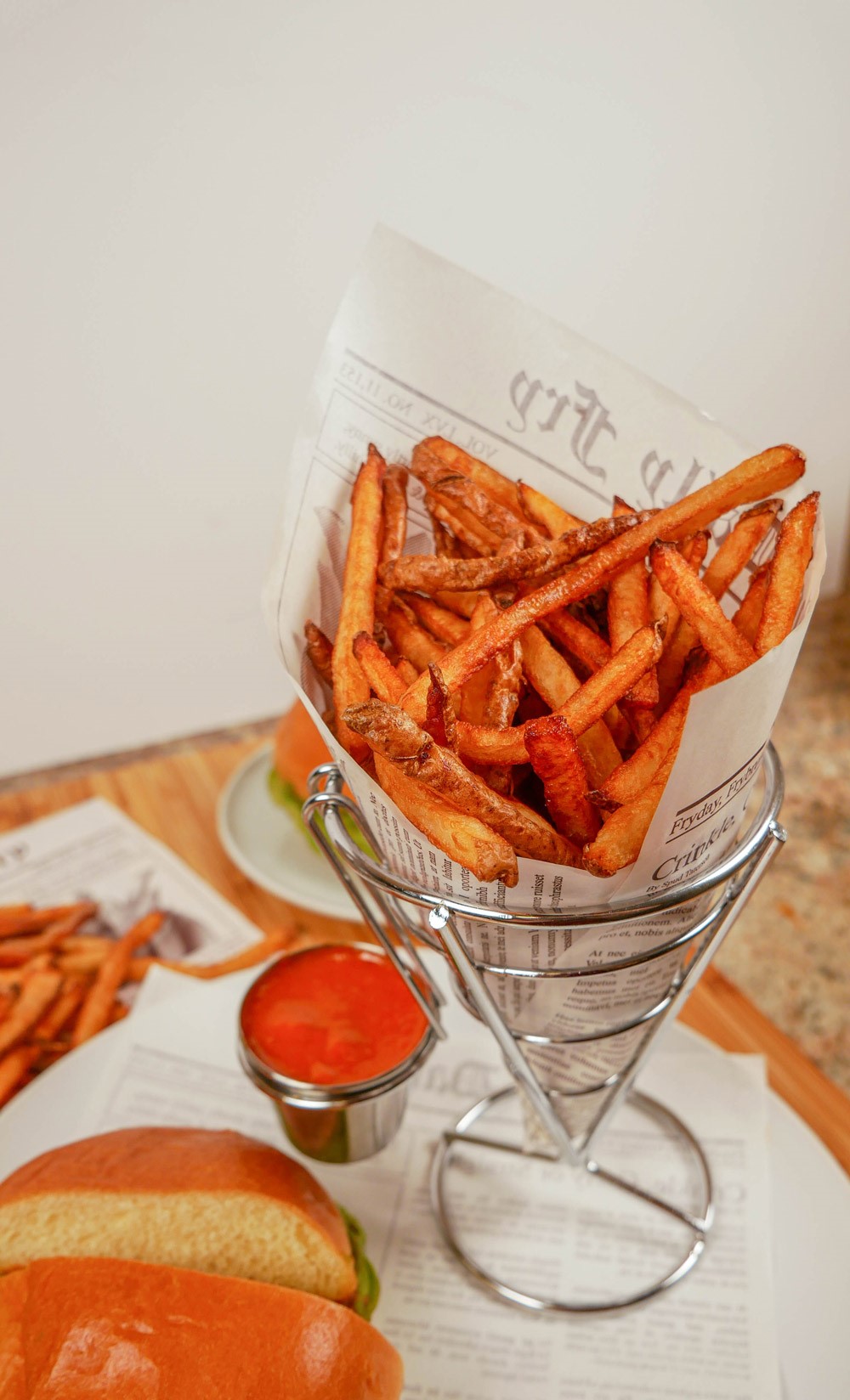 Korean Pickle Brine Fries
Ingredients
4-5

potatoes

russet

5-6

cups

frying oil

pinch of

flakey salt

to taste
Korean Pickle Brine
2/3

cup

sugar

2/3

cup + 2 tbsp

white vinegar

2

tbsp

salt

2

cups

water
Gochujang Mayo Dipping Sauce
1.5

tbsp

gochujang

Korean red pepper paste

1/2

tsp

gochugaru

Korean red pepper flakes

1/2

tsp

sugar

1/4

cup

mayo

preferably kewpie

2

cloves of

garlic

grated

1/2

tsp

sesame oil

1/2

tsp

rice vinegar
Instructions
In a bowl, combine the sugar, white vinegar, salt, and water. Mix well until most of the sugar and salt has dissolved. Set aside.

Wash the potatoes and pat dry. Slice the potatoes into 1/4 inch thick strips.

Place the sliced potatoes into a air tight container. Pour the brine over the potatoes until fully submerged. Cover and place in the fridge overnight, at least 12 hours or preferably 24 hours.

Remove from fridge and drain the potatoes well. Lay the drained potatoes on a bed of papertowels and pat dry.

In a deep pot, heat up the frying oil to 325°F / 163°C. Fry the potatoes in batches for 4-5 minutes, making sure not to overcrowd the pot. The potatoes should not be browning at this stage because it will be double fried. Remove and place on a wire rack or paper towels to drain. Repeat this step for the rest of the potatoes.

Turn the heat up until the oil reaches 375°F / 190°C. Fry the partially cooked potatoes in batches for 1 minute or until golden brown. Remove and place on wire rack or paper towels to cool. Sprinkle with a pinch of flakey salt or regular salt, to taste. Repeat this step until all potatoes are cooked.

Serve immediately with dipping sauce and enjoy!
Gochujang Mayo Dipping Sauce
In a bowl, combine the gochujang, gochugaru, sugar, mayo, garlic, sesame oil, and rice vinegar. Mix well until thoroughly combined.